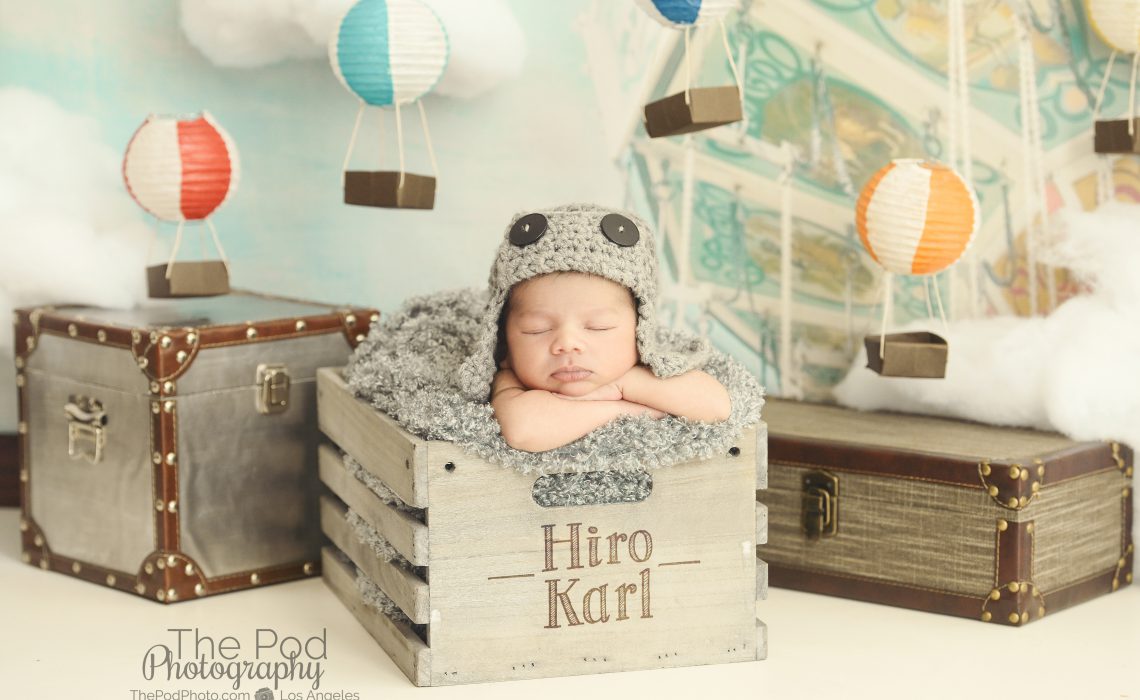 My favorite part of newborn sessions is getting to know the parents. About a month before a couple's due date we'll set a time for them to come to our Los Angeles photography studio for session design appointment where we plan every detail of their photo shoot. This is when they look through our plethora of backdrops and outfits, talk about the colors they like – whether they want over the top or minimalist styling, and if they want to go rustic, modern, sleek, monochromatic – whatever! We have heard absolutely every request and have all the props to custom design a newborn session for anyone's particular taste.
This lovely family brings two cultures together: dad is Indian and mom Hawaiian Japanese. When we sat down for our session design we were thinking of ways to show this lovely blending – but we didn't want to be cheesy about it. After a lot of asking questions, I found out that they had just had their baby shower and there were some very special decorations that were made for the occasion. One of these special decorations was an elephant garland and then they had 1,000 origami cranes at their wedding.
As many of you might know, elephants are considered good luck in some cultures and are "a symbol of strength, power, stability and wisdom." Also, there is the tradition of One Thousand Origami Cranes that is "An ancient Japanese legend promises that anyone who folds a thousand origami cranes will be granted a wish by the Gods. Some stories believe you are granted eternal good luck, instead of just one wish, such as long life or recovery from illness or injury. This makes them popular gifts for special friends and family. The crane in Japan is one of the mystical or holy creatures (others include the dragonand the tortoise) and is said to live for a thousand years: That is why 1000 cranes are made, one for each year. In some stories it is believed that the 1,000 cranes must be completed within one year and they must all be made by the person who is to make the wish at the end. Cranes that are made by that person and given away to another aren't included: All cranes must be kept by the person wishing at the end."
Of course I asked this family to bring in those lovely garlands since it would be the perfect way to tie in both of their cultures and add a personal touch to the newborn pictures of their new baby boy.
Visit us online to view more of our super cute baby pictures and give u a call at 310-391-4500 to tour our Los Angeles studio and learn more about our newborn sessions!