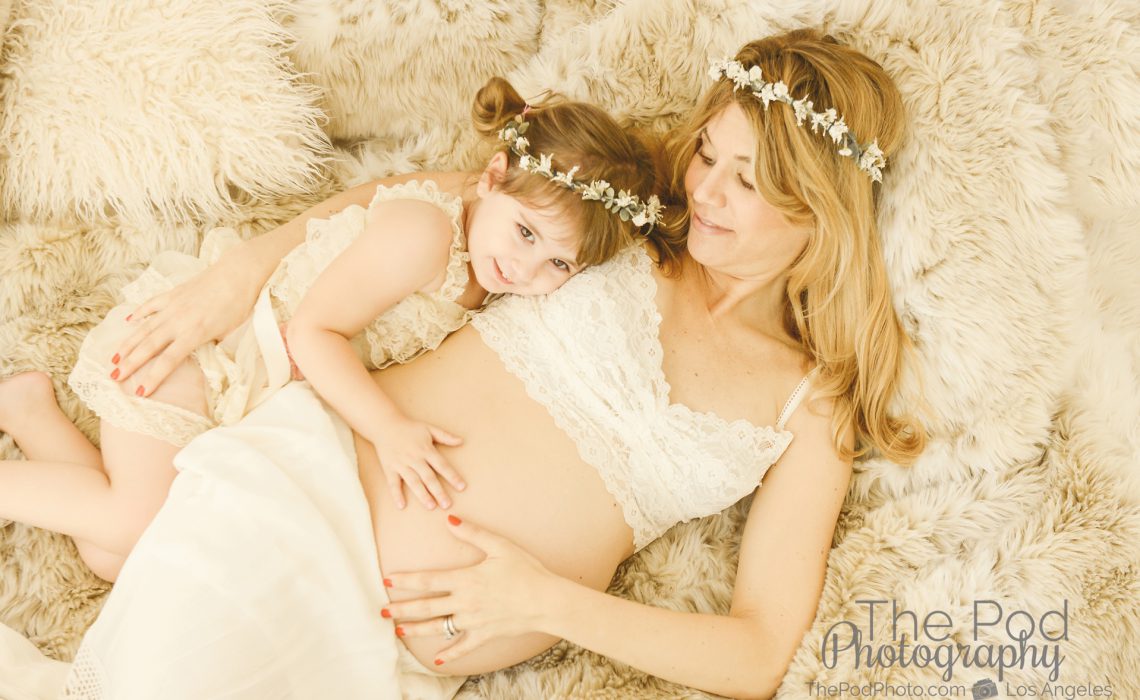 It seems that every maternity client I get these days loves Bohemian styling.  They are fans of the flower crowns, gold leaf headbands and flowy pregnancy dresses that are at our studio for clients to use. As a gal who had a rustic, outdoor Sonoma wedding and wore cowboy boots under her dress – these clients are talking to the right person! I LOVE boho styling, vintage wood and fields of tall grass – and I love to bring those girly, floral elements to our clients who prefer an in-studio maternity photo shoot, but still love that style.
This mama to a soon-to-be second first contacted me because she loved the mommy and me, bohemian styled maternity photos on our website. She loved the neutral colors we use, the intimate feel of mommies cuddling with their kids, and of course – floral crowns!! This Manhattan Beach Mama looked stunning in her boho pregnancy styling, and we were so excited to capture the gorgeous mommy and me belly pictures she was looking for!
Here's What Wikipedia has to say about the modern Boho-Chic style since the 1960's:
"Journalist Bob Stanley remarked that "the late 1960s are never entirely out of fashion, they just need a fresh angle to make them de jour".[125]Thus, the features of hippie fashion re-emerged at various stages during the ensuing forty years.
In the mid-to-late 1980s, variants of the short and fundamentally un-Bohemian rah-rah skirt (which originated with cheerleaders) were combined with leather or demin to create a look with some Bohemian or even gothic features (for example, by the singing duo Strawberry Switchblade who took inspiration from 1970s punk fashion[126]). In the 1990s the term, "hippie chic", was applied to Tom Ford's collections for the Italian house of Gucci. These drew on, among other influences, the style, popular in retrospect, of Talitha Getty (died 1971), actress wife of John Paul Getty and step-granddaughter of Dorelia McNeil, who was represented most famously in a photograph of her and her husband taken by Patrick Lichfield in Marrakesh, Morocco in 1969.[127] Recalling the influx of hippies into Marrakesh in 1968, Richard Neville, then editor of Oz, wrote that "the dapper drifters in embroidered skirts and cowboy boots were so delighted by the bright satin '50s underwear favoured by the matrons of Marrakesh that they wore them outside their denims à la Madonna [the singer] twenty-five years later".[128]
In the early 21st century, "boho-chic" was associated initially with supermodel Kate Moss and then, as a highly popular style in 2004-5, with actress Sienna Miller. In America similar styles were sometimes referred to as "bobo-" or "ashcan chic", or "luxe grunge", their leading proponents including actresses Mary-Kate Olsen and Zooey Deschanel. As if to illustrate the cyclical nature of fashion, by the end of the noughties strong pre-Raphaelite traits were notable in, among others, singer Florence Welch and model Karen Elson."
Our photography studio services the Manhattan Beach area, and we would love to capture your family's maternity portraits!