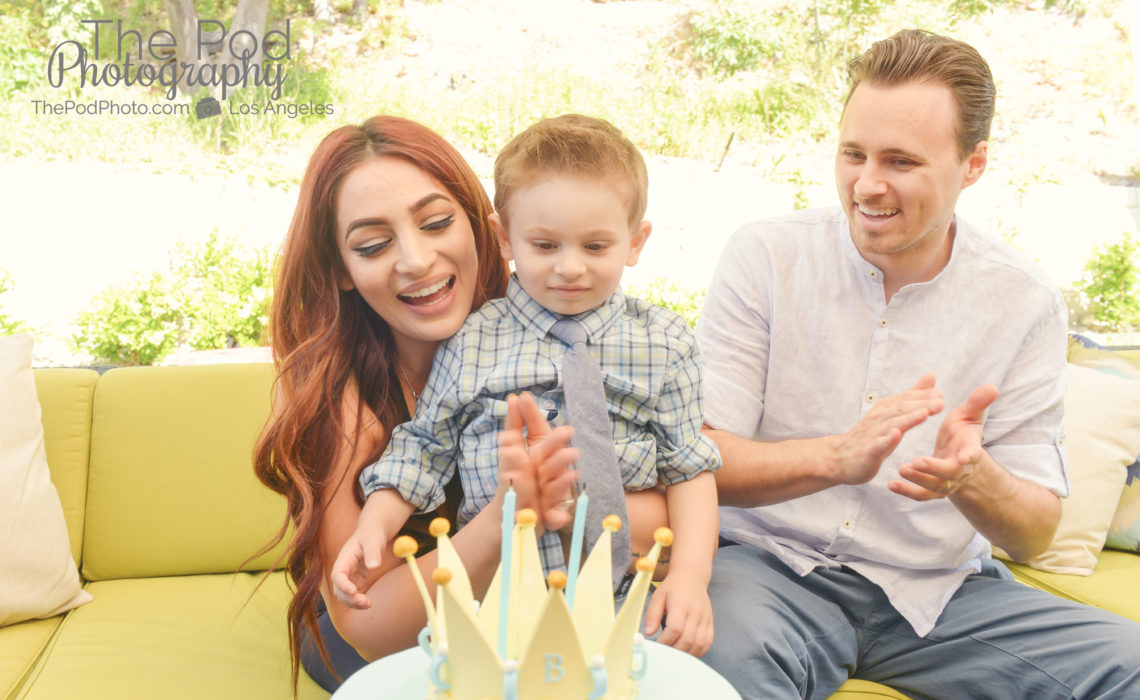 It is always so rewarding to see when a family appreciates photography so much! I mean that's what us photographers live for right? When I arrived at the house, the first thing I noticed was all the wonderful family portraits displayed upon their walls. So, of course I had to capture some updated family portraits of Barron's Second Birthday! It was so cute when it was time for Barron and his dad to take their photos because they looked at each other and made this cute Zoolander face– I was definitely not expecting that!
Little Prince  was the theme for the party and they couldn't have picked a better one! It was perfect for the Birthday Boy. Family, friends and neighbors started to trickle in and mingle, catching up and enjoying the delicious catering food from Wood Ranch (one of my personal favorites!) in Agoura Hills.
All the kids including the Birthday Boy loved the jump house in the backyard! During the party if you were looking for any of the kids, they were bound to be in the jump house. Parents were able to take a little break but soon enough the kids wanted to jump with their parents. I will say it was fun to spend time in the jump house with all kids capturing how high their jumps were!
Barron's guests were all fantastic- they gave the party such a fun atmosphere and it was especially so fun to photograph! Towards the end of the party, they all gathered in the living room and cleared out the furniture for a birthday dance party; what a way to end a birthday party!
Have a little one with a birthday coming up? We would love to document their milestone party! Visit our website and call us at (310) 391-4500 to schedule your consultation today for your child's Birthday Party!
We service the Entire Los Angeles area as well as Santa Monica, Beverly Hills, Manhattan Beach, Culver City, Playa Vista, Marina del Rey, Sherman Oaks, Studio City, Encino, Brentwood, Westwood, Century City, Hollywood and West LA.