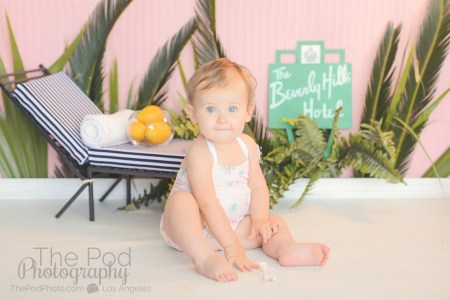 For one-year-old Chloe's first birthday party, mom & dad rented a poolside cabana at The Beverly Hills Hotel.  Rather than a big, over-the-top themed party, they just wanted to chill out with a few close friends at one of LA's historic landmarks.
Now, one thing that we really pride ourselves in here at The Pod Photography is custom set designs for each and every client – our mission is to bring your style and/or vision to life! So when Chloe's momma and I talked, she didn't really have a particular vision in mind – just a cute Janie and Jack dress and photos that were fun, sweet and girly.
But I got inspired.
Like.. really, really inspired. I took a trip to The Beverly Hills Hotel that very same week and looked around to get my creative juices flowing.
Then.. it was off to fabric shops, craft stores, and even stealing a few palm leaves from Erika's front yard!
The result was AWESOME. A soft peachy background to simulate the walls of the hotel, a miniature lawnchair (made from an adjustable kitchen shelf, foam and striped fabric), a hand-painted sign, and even down to the details with a little rolled up towel and bowl of lemons.
We about lost it when Chloe put on her retro bathing suit. Seriously. Can this get any more adorable?? And the sunglasses. I mean, come on with the cuteness!!
In addition to Chloe's custom setup, mom wanted to bring in her Jimmy Choos and have her playing a little dress-up in mom's shoes! This soft, feminine set was the perfect match for Chloe's blush tutu and crown, and those little pops of teal in the background brought out those gorgeous baby blues of hers!
We are total prop junkies, and most of what you'll see in our photos on our website, blog, Facebook, Google+ or Instagram are all things that we have at the studio, and we are constantly buying more!
If you have a particular vision in mind and want us to create a one-of-a-kind custom set for your little one's session, let us know! We are master set designers and LOVE bringing your vision to life! Set design fees generally range anywhere from $100-$300 depending on the theme and how elaborate we want to go!
Give us a call at 310-391-4500 to begin planning your first birthday portrait session today!