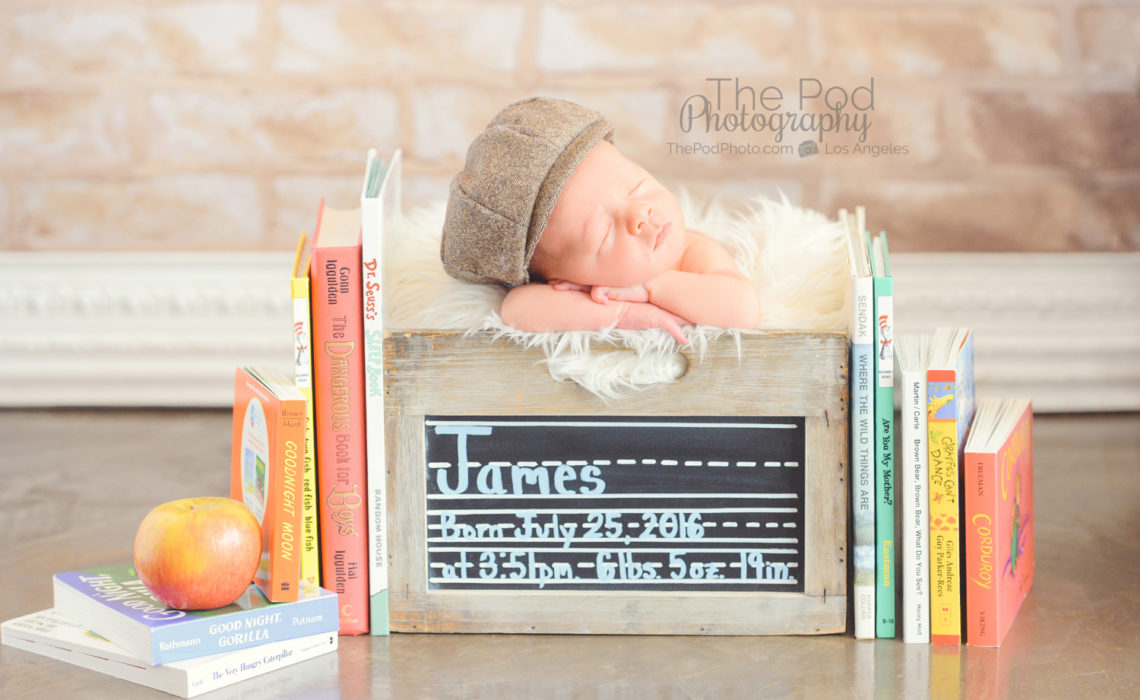 One of my favorite parts about photographing newborns is getting to know the parents. Even though I am lucky enough to do it everyday, it blows my mind that one day I am sitting with a pregnant couple planning their baby's photo session and then the next time I see them they have been though a life-changing birth experience and are now a family. Getting to know this new family was especially fun, because they had a lot of ideas they wanted to incorporate into their newborn boy's photo session with us.
First of all, this couple met and then fell in love at Camp Emerald Bay on Catalina Island and so it was important to them that we have a set that represents their history in the photo shoot. Since the camp is on a beach – we decided to create a beachy, nautical set that the parents topped off with a super cute staff banana for the baby.
Next up is – of course – the one that we loved the most: the Star Wars Set! Dad brought this Millennium Falcon plus action figures to our photo studio for the newborn pictures. In addition to it being super cool, it is also meaningful since this dad has owned it since he was a child. Knowing how precious it is I was most concerned that our sleepy, warm, cozy baby would pee on it – but luckily there were no accidents on the set! We played with some different poses on the prop, but I have to admit that I am especially proud of the photo where James is balancing his head on his hands while laying on the ship – priceless!!
Since dad's hobby was documented, we had to incorporate mom into some of the pictures as well. She is an elementary school teacher, and so we thought it would be super cute to create a special stat box picture for baby James. Leah is our master calligrapher and wrote his name and birthday in the cutest way, and we topped off this custom set with books and an apple.
Getting to know families and bringing their vision for their newborn's pictures is our specialty! We have tons of amazing props at our Pacific Palisades photography studio and love to custom design images that are incredibly meaningful to our clients. Interested in finding out more about having us document your baby's newborn photos by a professional photographer? Visit our website to learn more!