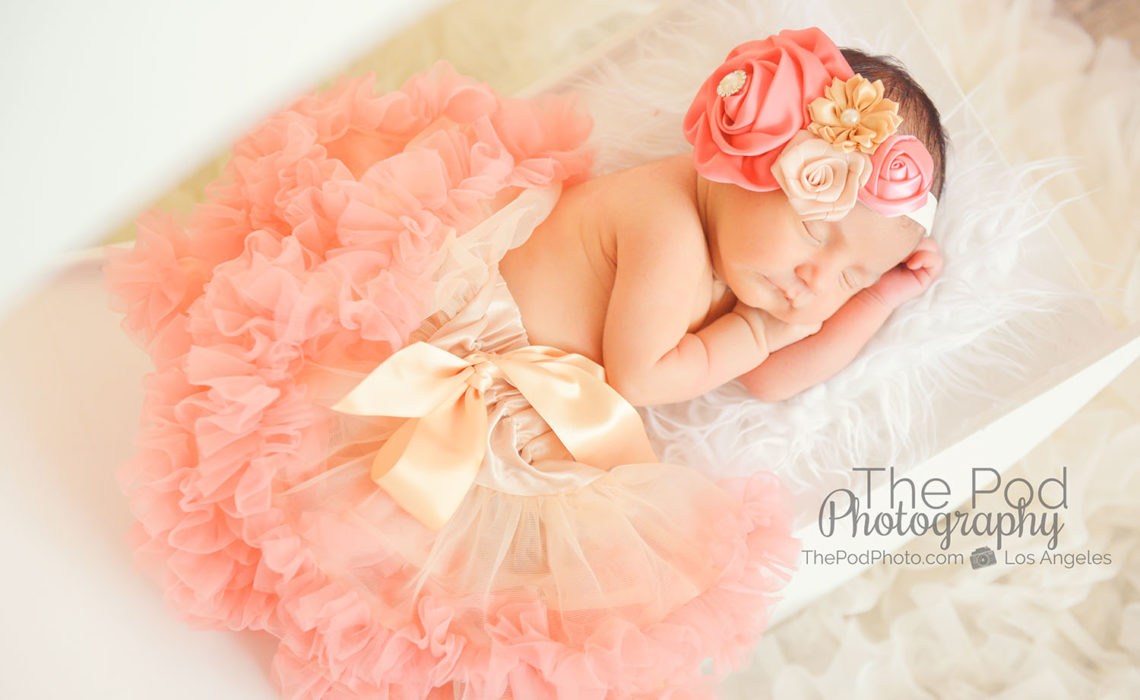 Here's what this new Mom said about our studio on Yelp:
"Love this place.
I was hesitant to go to a studio for my newborn photos as my daughter was only a week old. It's stressful having to take out your first child after a week but the ladies here were just wonderful.
Erika did our newborn photos. My daughter pooped right as we started and then wanted to feed and I thought this is going to be a disaster. An hour went by and I got a little nervous. After she ate Erika powered thru several different layouts and even did a couple different outfits and looks we brought in. She is so wonderful and professional. The team there is really amazing.
Plus they give you yummy coffee and oatmeal cookies and snacks. That helped take the edge off for a first time mom like me.
We got a peak at some of the photos and we are so excited for the rest."
Sometimes it's fun to just embrace girly-ness and make a newborn baby girl's pictures pretty! This little lady's mom loved girly photos and even brought an over-the top headband and cute tutu to the photo session. We used those props on the gold and cream moon set that we designed for her, and they ended up being some of my favorites from the session! We generally don't do headbands that big on newborns – but wow did  it look amazing!
Also, because this family loved the styled sets, we ended up with so many images that were showcase art pieces that stood on their own.  We generally love to tell the story of a photo session though a series of images – but this little lady's angel wings picture, the moon photo, the moon from above showing her tutu, the Paris Set, the grass set and even the snuggly teddy bear shot were all so beautiful on their own that we ended up wanting to do larger individual images as opposed to a series.
We would love to talk with you about your family's pictures! Give us a call at 310-391-4500 and visit us online at www.ThePodPhoto.com!
We have so many clients from Redondo Beach and we would love to get to know your family and capture great pictures of your newborn baby as well!