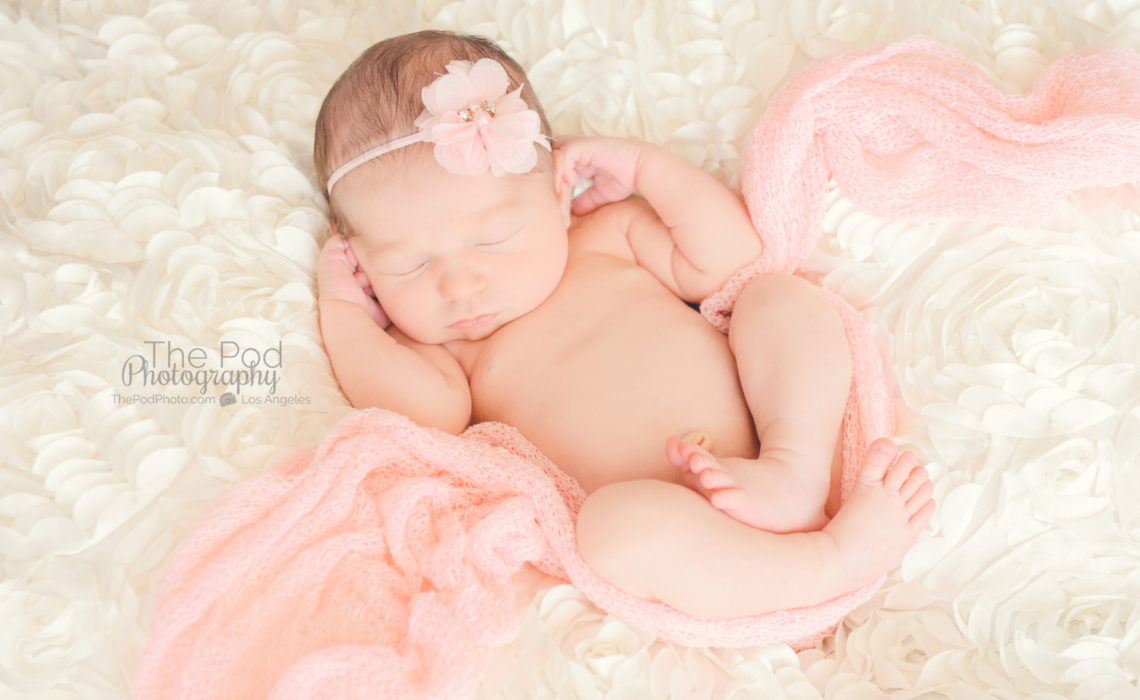 Planning a newborn baby's photo session takes a lot more thought than one might think. We already own every prop, basket, background and snuggly fabric imaginable at our photography studio – so that's a good start – but talking with the parents and finding out their goals is the next step. You see, at our studio that services Redondo Beach, we believe in a full service approach to newborn baby pictures. We start by asking the parents what kinds of colors they like, as well as the style they prefer: minimalist, rustic, over the top… whatever they would like! Most people look at me like a student that forgot to do his homework since they only thought as far as "I want professional photos of my new baby," so I always have to assure them that it is my job to ask them questions and get the answers I need out of them.  Most people know what they do and don't like when I show them pictures and it is usually very easy for me to understand what these parents to be will want for their infant's pictures. So, I'll write down the 2-4 colors that they like so that I can use them as a thread throughout the different sets that we design. Generally, our newborn photo sessions last 2-3 hours and within that time we can capture 4-5 different sets with the baby. Therefore, when creating these different setups, we use the same 2-4 colors in each set so that the pictures are harmonious and ties together with unifying themes.
Once I have gotten a sense of the colors a family prefers, I'll move on to different styled sets – do they like the over the top pictures? Do they prefer more simple styling? Do they prefer a mix of both? Those answers and looking at even more pictures together give me the second piece of information so that I can custom design the perfect newborn photo session for them.
Third, I like to ask about goals for displaying the pictures. Here, again, I get the look of "oh, no, I didn't do my homework!" Most people don't take a full-circle approach to their baby's pictures and until I ask, they usually have not given this question much thought. However, it is very important for me, as the professional, to ask since I use a very different approach to the actual photo session if I know that the client's goal is an album, pictures for the living room, pictures for the baby's room, birth announcements, or any other specifics. I always ask about any goals for hanging the pictures on the walls of their home first – because the specific location and existing colors and decor in that room are very important details. Can you imagine if I didn't ask these things and then after the fact I find out that a vertical family photo does not work above the client's fireplace, and I should have shot it horizontally – where they have always dreamed of hanging an amazing family picture? Also, what if the family wears yellow accented colors in their family pictures, but then they say that yellow clashes with the decor and color scheme of their living room? These are all things that the average person doesn't think about – but as professional photographers, it is our job to be on top of these things! The same thing goes for albums: when I know a client definitely wants an album, I am sure to focus on a multitude of storytelling, unique angles and variety in the client's pictures so that the album id dynamic and interesting. With albums it is very important that we keep that thread of the color scheme consistent throughout the images so that the entire album feels cohesive, and not one spread is white, the other is yellow, another blue.
This is just the beginning of the photo session process – there's so much more like the equipment used, editing techniques and re-touching that I'll be touching on in future posts 🙂
Our professional, natural light photography studio services the Redondo Beach  area since we are only a few minutes drive from that area. We would love to speak with you to design the perfect photos of your new baby – give us a call at 310-391-4500 and visit our website!