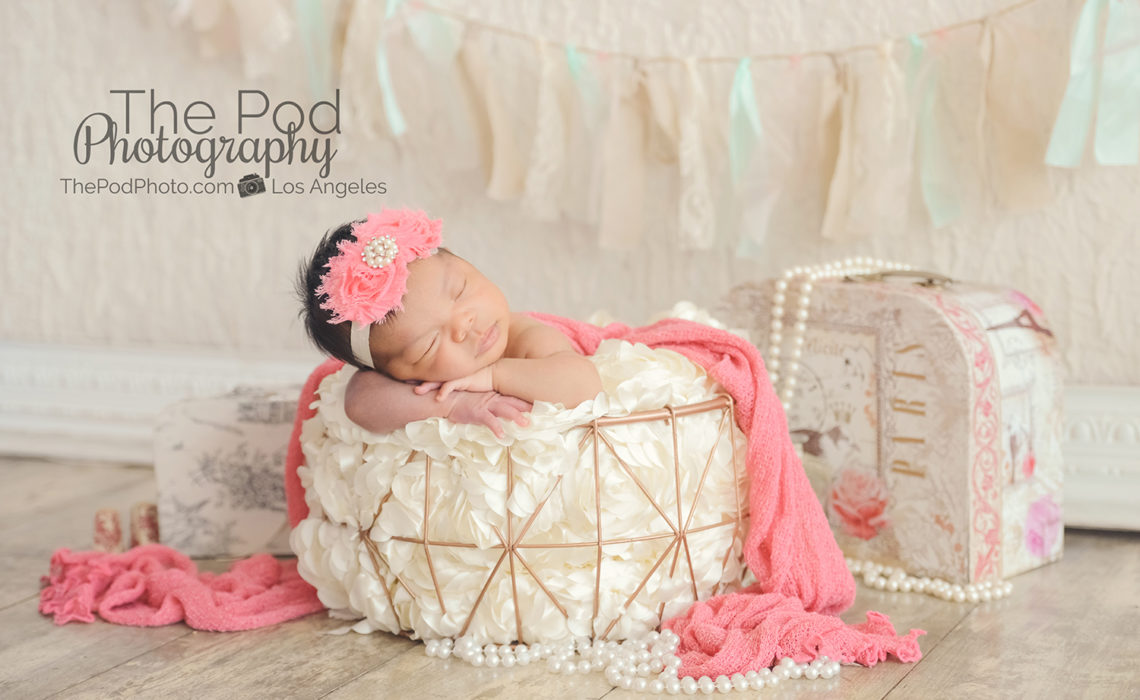 There is something very special about having baby number three join the family – and since we specialize in Redondo Beach Baby photography we are pros at captures those first precious days after the new baby has joined your family.
This family came to our studio for their third daughter's newborn pictures. The older sisters were so excited about the new addition to their family, and always wanted to touch, dote on her and were right there to help mom with all baby duties. Of course mom was very busy before the session, so we had several outfit options for the girls ready when they arrived to our studio for the session. Even though mom is a big fan of pink, she wanted to go with a modern-mint color pop for the family pictures and girls' outfits. As a result, we styled the kids in whites and mint, and kept the parents in white. We love how fresh and happy the family photos turned out with these colors!
For the baby's newborn portraits, we opted to bring in a little more pink to the pictures. My favorite set is the girly neutrals and pink set that we created. The trend at the moment with infant photography is to have simpler, more neutral and timeless colors as the primary colors in the set and then add "pops" of color. In this set we accomplished the color pop with a bold peachy-pink headband and matching swaddle fabric. We love to style our newborn sets with these layering fabrics to add texture and color to our shots.
Want to learn more?
Whether you are having your first or your third, we are your go to for Redondo Beach Baby Photography for Newborns and Families! We would love to set up either an in-person or phone consultation to chat with you about your baby's newborn pictures. We generally book up with due date reservations a few months in advance, so give us a call at 310-391-4500 and visit us online at www.thepodphoto.com to start planning your baby's pictures.