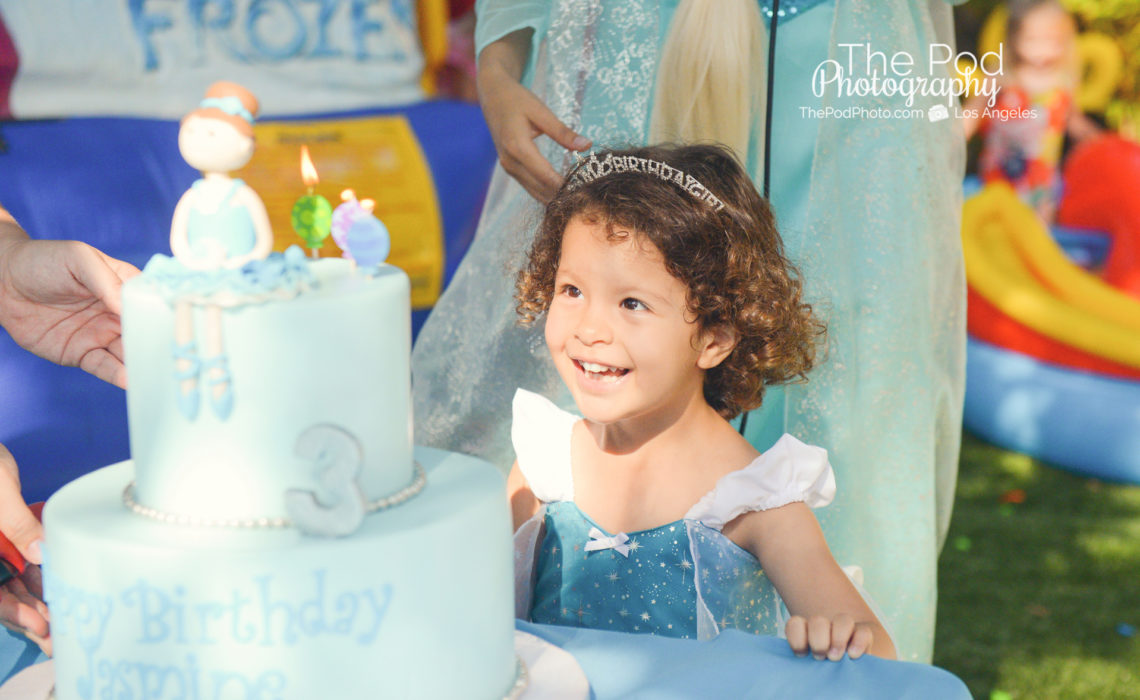 Another year another birthday party! The Pod couldn't miss being the professional photographers at Jasmine's Third Birthday Party, afterall, this was the third year documenting all the fun! See last year's party photos here.
Details, portraits, candid and action shots – there is a lot to be documented at events (which is one reason why I love them!) and in order to document it all, you need to have a game plan or a checklist to make the magic happen.
Birthday parties are non-stop from the moment they start so I always like to begin with family photos before all the party guests arrive – it gives me a chance to have plenty of room for family photographs. Next are the detail shots of the birthday cake. Of course that yummy birthday cake has to be documented right away since that is what birthdays are planned around, right?? We take cake design very serious around our Los Angeles Studio since we love themed Cake Smash Sessions for one year olds so it is always great to see what detailed and patterned designs are on a cake to match the theme of the party.
By the time I am done photographing all the party details and family photos, the guests have started to arrive. It is the perfect time to grab some candid shots since the parents and kids have a little sparkle in their eye when they first arrive! The rest of the party unfolds naturally as everyone is busy interacting with each other and partaking in all the fun party activities. Lots of smiles are photographed in this time, both posed and candid, since they are so distracted with all the fun. I had to make sure I was on a fast shutter speed to get the water balloon fight that happened between the adults which gave some guests the chance to cool off from the heat! You can see I was able to get the water balloon explosion because of the fast shutter speed!
While the kids are playing, the parents are off mingling (or throwing water balloons) with friends they haven't caught up with in a long time. Here I like to gather groups of people for a few posed group photographs – who knows when they'll all be together again!
The final big activity to document is singing Happy Birthday and blowing out the candles. This usually happens quickly, so make sure you have a conversation at the beginning of the party about where this is going to take place. You want to make sure you have the advantage by being in the perfect position. Pick a place that the background and lighting works well for photos! If it is all planned out, you are good to go!
We are an on-location photography studio specializing in children's birthday party photography, first birthday photo shoots, kids events photos and candid style documentary event photography. We are located in Los Angeles and service all the surrounding neighborhoods: Santa Monica, Playa del Rey, Playa Vista, Marina Del Rey, Manhattan Beach, Culver City, Beverly Hills, Hollywood, Brentwood, Westwood and West Los Angeles. Visit our events gallery online and give us a call at 310-391-4500!