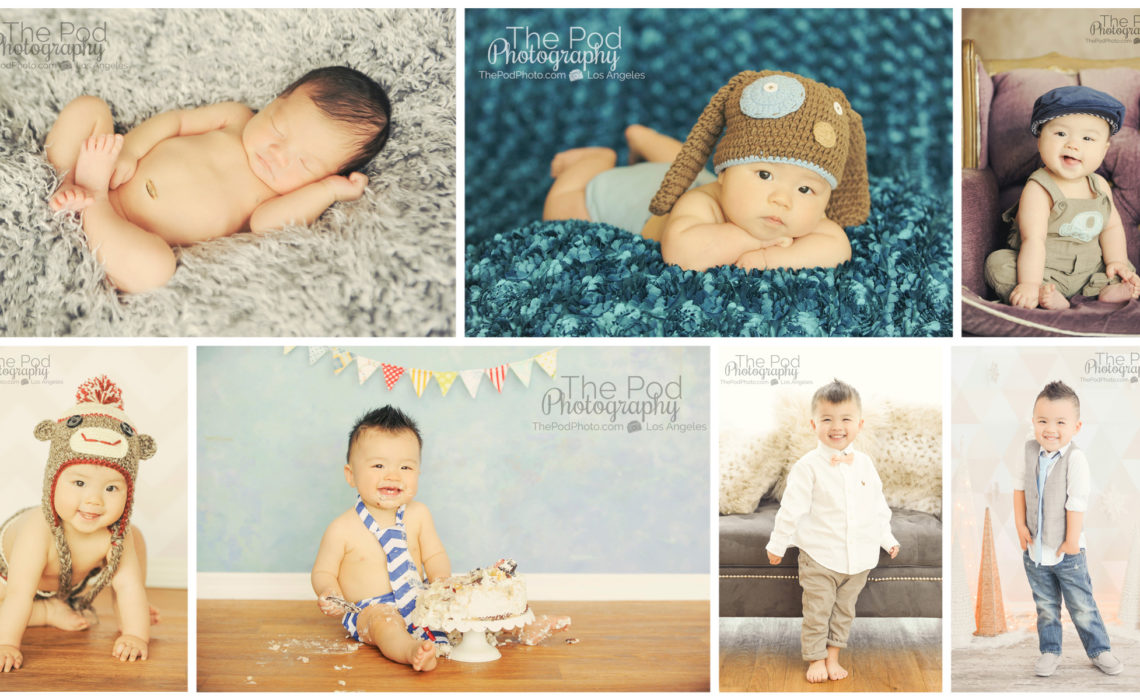 You know, I started this blog post with some beautiful photos of this fun-loving family, and once I started typing, I realized that this was their eighth photography session with us in the past three years!!  I was so moved when I thought back to their very first session. I remember the second they left the studio, the girls and I all looked at each other and said, "oh my gosh, I LOVE them! They are so fun!!" And since then, every single session has been even more fun than the last!  Take a little peek from their most recent session with us:
I think the most rewarding part of what we do here at our Los Angeles Portrait Studio, is that we get to watch the entire process through all of the major milestones. We get to watch our clients become parents, we get to see the ups and downs, adjustments and the growth. We get to watch as babies develop from brand new life, to figuring out this crazy world – learning their little bodies, rolling over, working tummy time, balancing, trying to sit up, learning to smile, laugh, drool and cry, and then show off as they begin to stand up and take their first steps! And that's just in the first year!! From there, we watch these incredible little babies actually start to develop personalities – and all of a sudden, this little baby is not so little anymore, and the studio door opens and in walks this person! With their skinny jeans and styled hair, coming in proudly announcing,"hi, I'm three!" as they head straight for the lollipops. They start speaking their minds, giving their opinion, making choices… and man… it is just so fascinating to get to watch that from the sidelines. I know I speak for all of us girls here at The Pod Photography when I say that we are so honored that our clients choose US to be a part of that incredible journey with them.
We were inspired to take a trip down memory lane and pulled some photos from the past three years of this family.  Take a look at how the family has evolved from bump to babies:
And of course, how much this handsome little dude has grown and changed over the years!  Baby Sean, you melt our hearts!
And even though this family moved away and couldn't visit us as often as they did with Baby Sean… they had a second baby!!  They made the trip up to see us for holiday photos last year when Kayla was just three months old, and then again this year for their latest photo session.  She has grown so much!
We have had so much fun documenting this family over the years, and we can't wait to continue on this path with them as the kiddos continue to evolve. And not just with this family. The fact that we get to do this with each and every one of our clients is such an amazing experience, and it is so great to wake up every day and know that we get to go to a job that we LOVE, and that we get to do something that makes a difference for each one of our families. Thank you PodMoms, PodDads, and PodBabies, for letting us be a part of your lives!!
Give us a call at 310-391-4500 to set up a consultation with your photographer and be sure to follow us on our Blog, Facebook, Instagram and Google+ to see what we've been up to, or explore out YouTube page and Pinterest Boards for more!