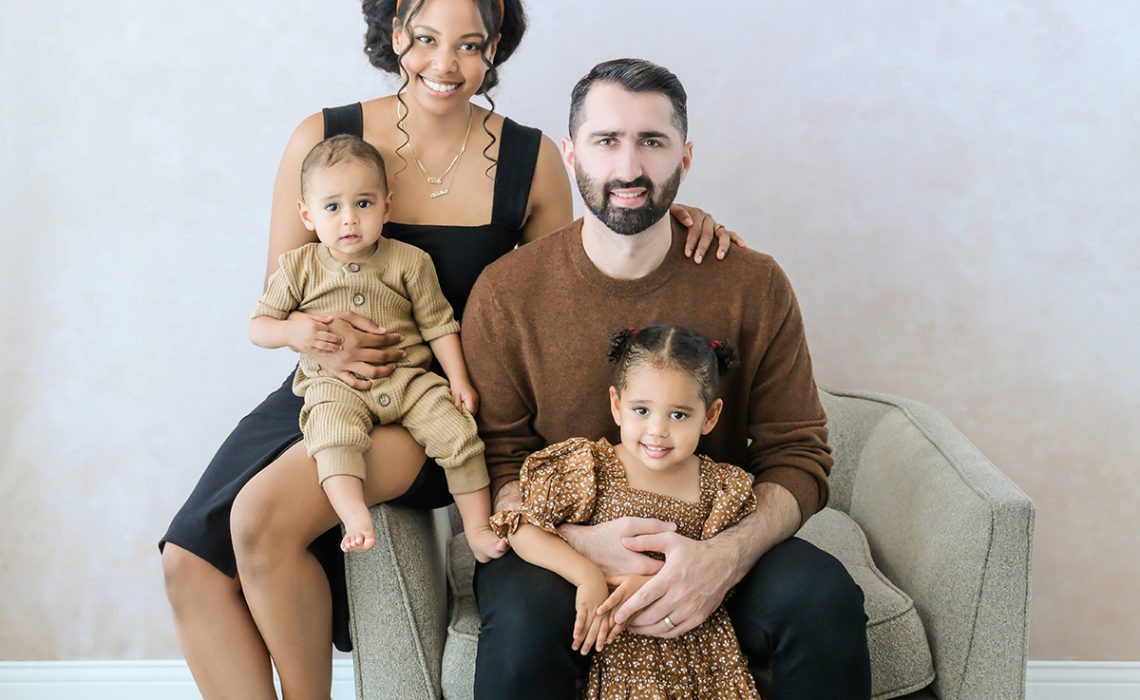 Another year will soon come to an end.  Have you documented your family's growth with a beautiful portrait session?  If not, then you should!  The Pod Photography specializes in gorgeous Family Portrait Sessions.  We work with all-sized families, and we even love to include pets because they are a huge part of the family.  However, for this family portrait session in our Los Angeles, California studio, it was all about the closeness of mom, dad, and the kids.
There were no fancy backdrops or glamorous outfits for this family portrait session.  It was just a family hanging out together, making precious memories.  And, with portraits, you can keep those precious memories alive.  Portraits are great for gifts and sharing with the entire family.
Backdrop For The Family Portrait Session
Sometimes simplicity is all you need when it comes to a portrait session.  This session had a minimal colored photography backdrop.  Minimal backdrops allow the photographers to draw attention to the subjects of the portraits without the distractions of bold or flashy colors standing out in the background.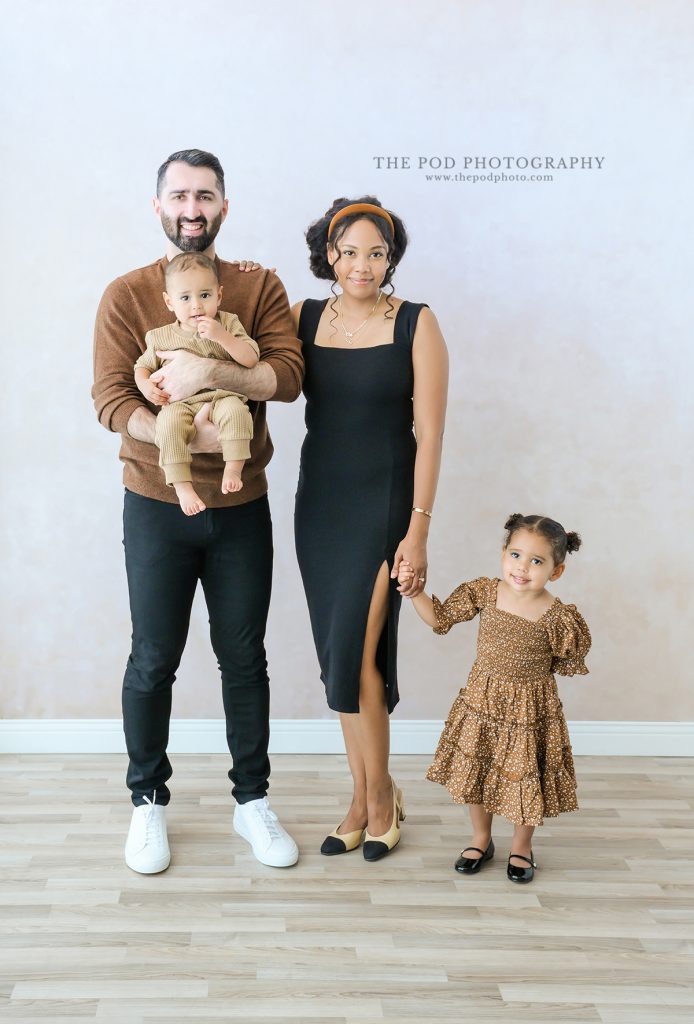 Family Portrait Session Props
We decided for this session to use only two props.  The first prop we chose was a big, gray, comfy chair.  The second prop was a mini chaise lounge which we used for the sibling portion of the portrait session.  The gray chair was, of course, used for cuddling with mommy and daddy, and then for a family portrait!
Outfit Choices
The family chose minimal colors for their outfit choices.  Mom wore a classy black ribbed dress with a split, while dad wore black jeans and a brown top.  Mom's headband and shoes also had a touch of brown, which complimented the brown tones of the other family members' outfits.
For the sibling's outfits, mom chose a light beige, ribbed onesie for brother and a brown, ruffly dress for sister.  Both children had big, brown, adorable eyes that stole the show!  Big sister also wore pigtails. Isn't she the cutest?  And she had a smile that could melt your heart.
Portrait Poses
Our professional photographers took several different poses of the family during this portrait session.  The first was mom and dad together.  You could see their love for one another in this gorgeous image our professional photographers captured.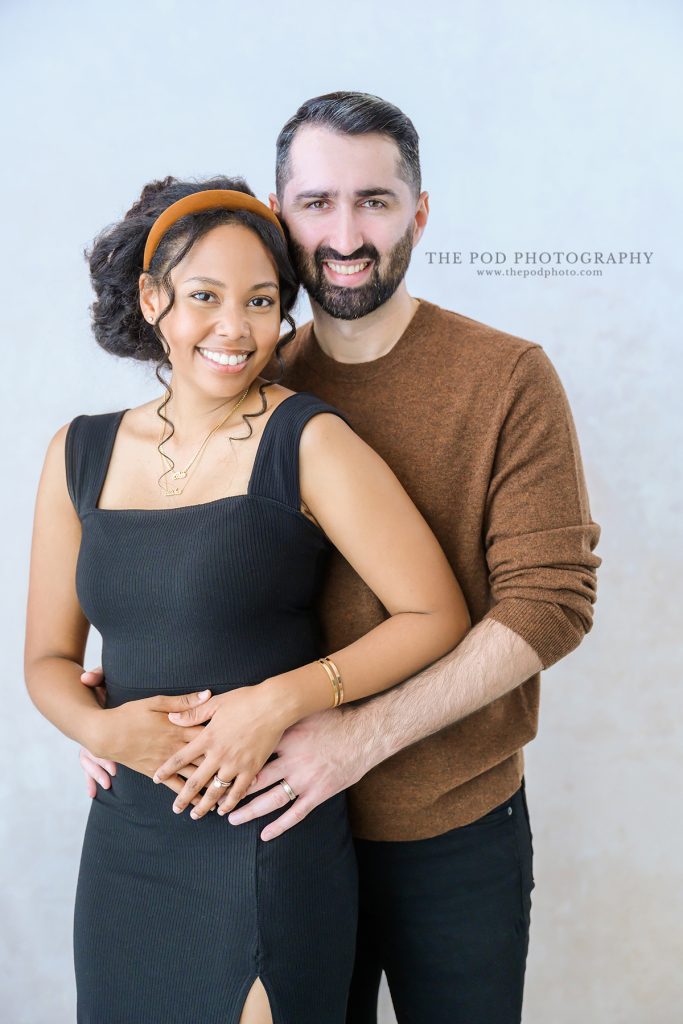 For another part of the portrait session, we decided to take capture several different images. One with Mom and the kids, one with Dad and the kids. This family was so happy and full of smiles.  Keep in mind, there are so many options when it comes to poses for your family portraits.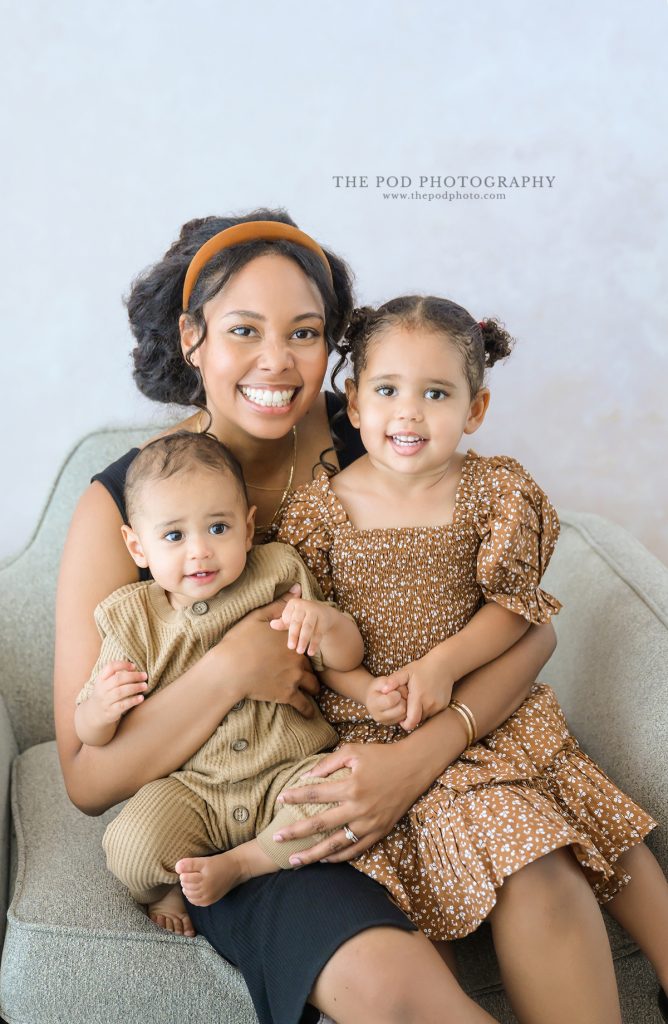 Lastly, the photographers captured an image of big sister and little brother together on our mini chaise lounge.  How cute are they?  These two are going to share a bond like no other! We had so much fun with this family in the studio!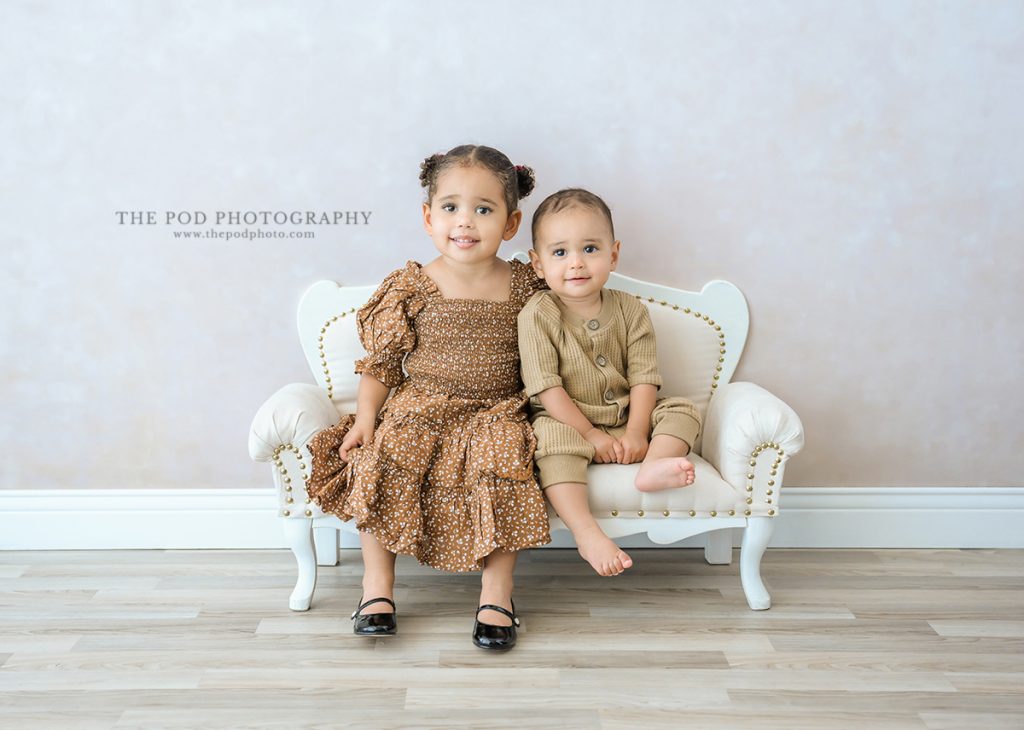 Get Social With Us
We would like to invite you to follow us on our Facebook and Instagram pages, where we share images from our portrait sessions.  You can also find us on Pinterest and  YouTube for more portrait inspiration.  Visit our website at ThePodPhoto.com for scheduling information, and portrait inspiration, and meet the photographers here at our luxury studio in Culver City, California.  We look forward to meeting you and your family!