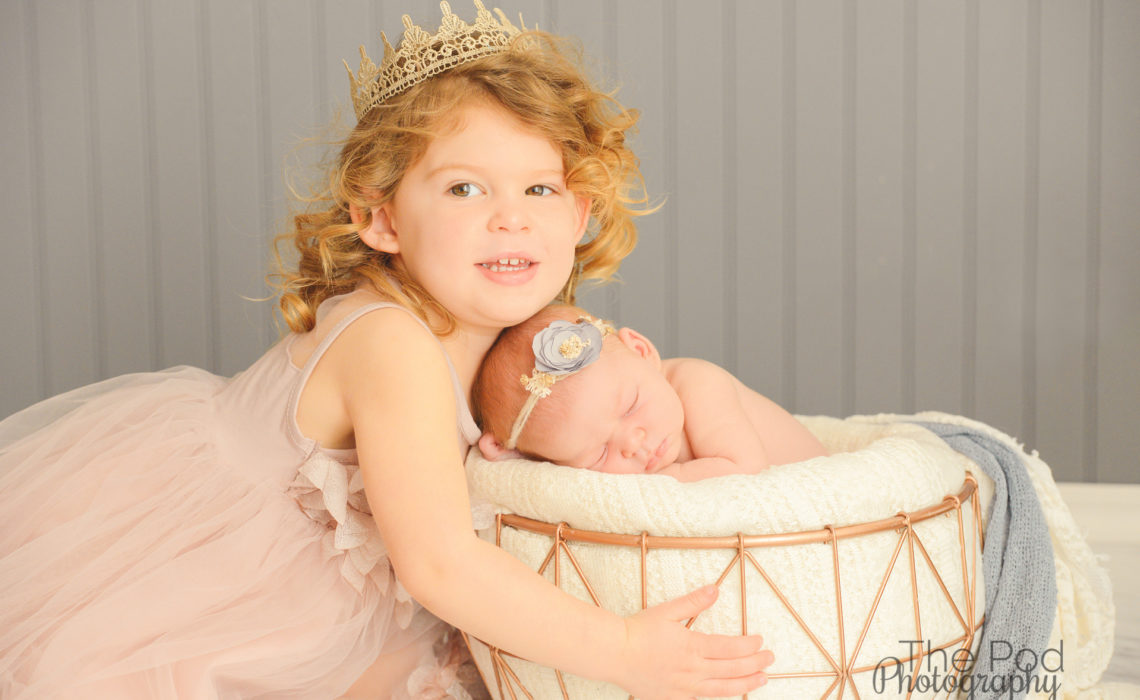 We first met this couple shortly after they gave birth to their first baby girl, and came to our studio for their daughter's newborn photo session. We fell in love with them then – but now with the addition of their older daughter to the baby and pictures – we were doubly smitten with this family!! Families come from all of the Los Angeles area for their baby pictures with our studio especially from Redondo Beach.
In addition to being incredibly nice people, there are two things that I loved about working with this family: The first was their color scheme. This mama wanted to use "dusty rose," gray and ivory for the new baby's pictures. Luckily we had a bit of lead-time, since we always do our newborn session design appointment about a month before the client's due date, and we were able to do a little shopping! Mom loves girly touches, so we purchased a dusty rose lace for the baby's pictures and a lovely textured dress for big sister. Mom already had her own rose colored top, and since guys are so easy with just a simple button down – the family photos were styled! We kept big sister in the same dress for the sibling photos, but she somehow saw one of our simple crowns and decided that she wanted to wear it in her pictures. That soft gold color of the crown paired with the muted rose and gray plus our marble floor looks absolutely dreamy!
The second reason I loved these newborn pictures, is because this mama likes mermaids. I didn't tell her until the session, but as a surprise I got the baby a knit mermaid tail and beyond cute starfish headband from etsy.com . I spent a lot of time thinking about how to put a newborn in s fish-tail and not have it feel cheesy… and after some research I decided to go ultra minimalist with the baby's  face as the focal point, and the tail as just a little background accent. This little looks stunning in both the bold and muted colors we used for her pictures, and we hope she will cherish them when she is older!
Interested in visiting our Redondo Beach photography studio and having us document your newborn baby's portraits? Awesome! Give us a call at 310-391-4500 and visit up online at www.thepodphoto.com