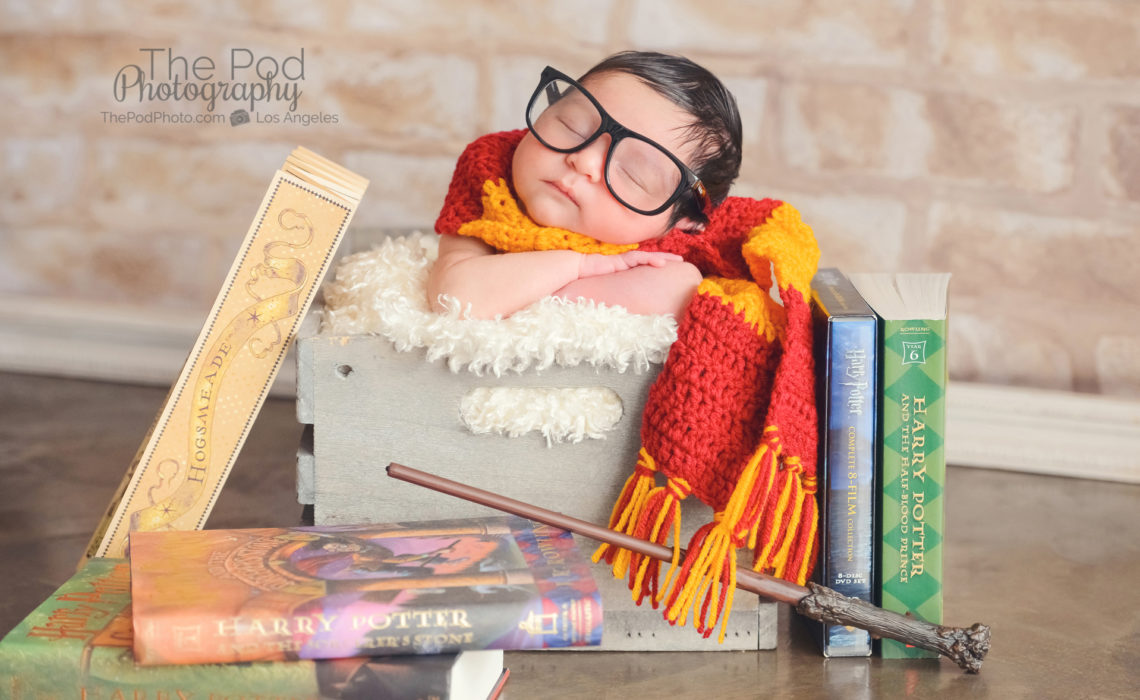 Newborn baby pictures are a great opportunity to have fun and capture whimsical images. When babies are in that oh-so-cute sleepy newborn phase we absolutely love to document them in cute snuggled up positions and with their heads sleepily balanced on their hands. When else in a baby'd life will the get to create such amazing artwork with their bodies? Therefore, at our photo studio that services Pasadena, CA and the surrounding Los Angeles area – we love to do a mix of different looks for a newborn photo session.
Typically I start the session with an ultra minimalist "fabric to infinity" shot where the baby is positioned with their tush in the air in that iconic newborn pose.  This is a good setup to start with since it is very easy on the baby's body and it allows them to fall nice and deeply asleep on that set before we move them to one of the more challenging buckets setups. As a professional newborn photographer, I have all kinds of special tricks up my sleeves for fussy babies – one of them is the awesome Baby Shusher which we also sell at our studio. Our clients would always ask us what the little contraption was, and most of them would Amazon Prime it right then and there – so we realized we should save them the step and just carry them at our office.
Anyhow – this baby was a great sleeper and slept through just about every funny pose we put him in. This new mama is a big Harry Potter fan and really wanted a setup to showcase her passion. So, we purchased this super cute scarf and paired it with mom's books for a truly whimsical baby portrait!
If you are interested in visiting our Pasadena photographers and booking your baby's newborn session – give us a call at 310-391-4500 and check us out online at www.thepodphoto.com