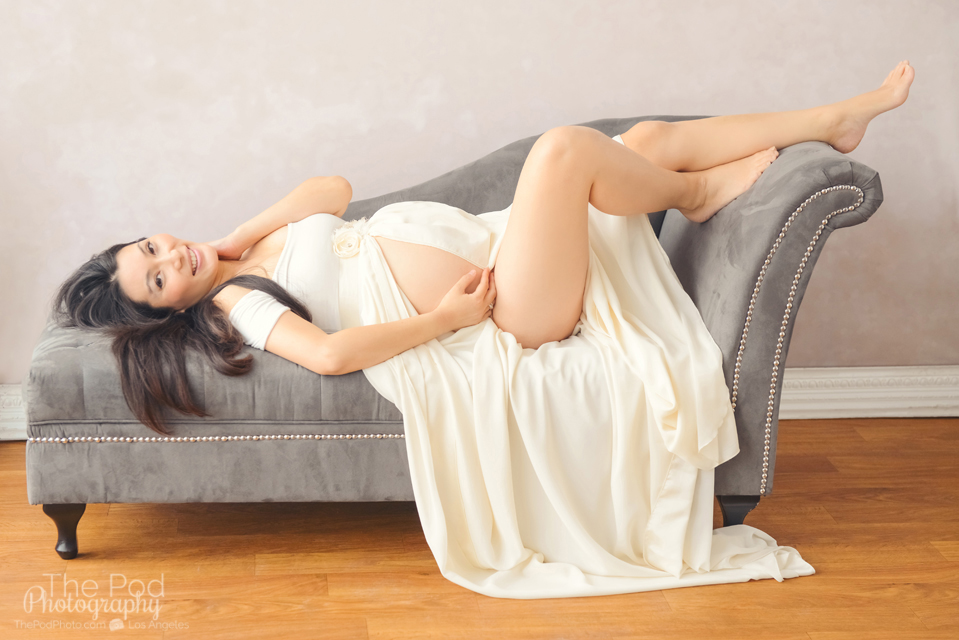 I absolutely love to capture maternity photography at our studio. Going on location to capture these special, milestone pictures is definitely cool because you get to incorporate the environment – but there is something so beautiful about the minimalism of an in-studio photo session.
At our studio, that services the Redondo Beach Area, we have all of the outfits, maternity fabric wraps, pregnancy gowns and cute tops and skirts that show the belly off. When photographing these mamas to be at our studio, I love to change up my client's outfits several times to get a nice variety. I generally like to do three outfits during one session: one outfit that is the clients' clothing and shows off their unique style and personality, a second outfit in one of our maternity dresses that is form fitting and shows off the baby bump as a nice silhouette. Third, it's time to show off some skin! We have all kinds of beautiful fabric wraps and gowns that show either just a little bit or more belly skin. Every one in a while I have a request from a client to show even more skin, and that is the great thing about the privacy of our studio – we can bring any client's vision to life with the utmost discretion. Capturing"skin" photos and the more intimate body shots are pretty tough to capture on location when there are other people around, and so I always recommend an in-studio photo session for maternity couples looking to really show of their bodies.
This awesome couple was actually in for their newborn photo shoot yesterday, so I figured it was time to blog their maternity photos! We went for a minimalist look with this mama's portraits and changed her up in different outfits to show varying degrees of belly skin. I love the skin-tight dress she brought as her "personality" outfit since it shows off her curves in the perfect way plus you get a sense of the artsy, thoughtful and beautiful woman that she is!
Interested in visiting our Redondo Beach photography studio and having us document your pregnancy pictures? Give us a call at 310-391-4500 and visit our website for more info!