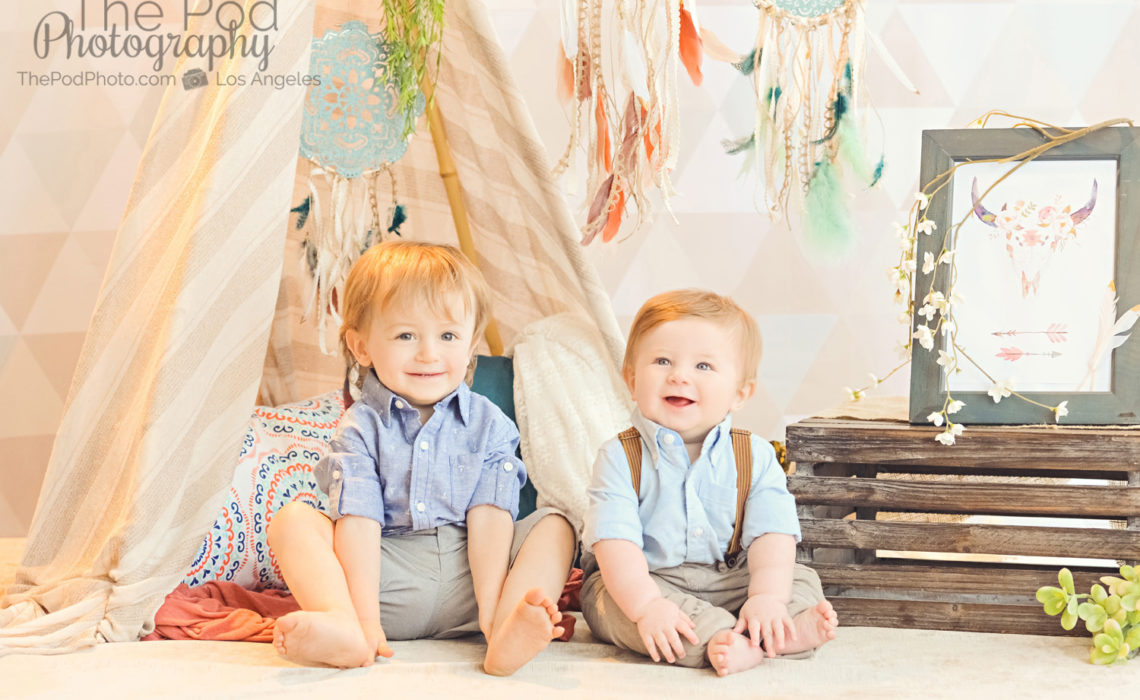 Here at The Pod Photography, we specialize in milestone photography, and one of the best milestones to document at our Brentwood, CA portrait studio is the six/seven month milestone.  Most of our clients who come to see us at the newborn stage (our most popular), will see the work we do for older babies and end up booking their whole Baby's First Year package with us.  This session includes the Newborn Session and your One Year Session and then that middle-of-the-road Seven Month Session is essentially free!  With those sessions, they are designated for "baby only," meaning no family shots or sibling portraits are included in the fee, however sometimes we gotta just bend the rules a little bit!
And rules are meant to be broken!
Especially when you're such a smiley, happy kid, and you've got a big brother who is just as cute as you are!  We couldn't help it at Baby Beckett's seven month session – we just had to include big brother Sawyer in his photographs as well.  Mostly because Sawyer was so fascinated with Beckett's little bohemian set and just jumped in some of his baby brother's photos, and so we just kept on shooting! 🙂
Take a look at some of our favorites from the session here:
Interested in setting something up for your little one's milestone at our Brentwood photography studio?  Give us a call at 310-391-4500 to set up a consultation with your Brentwood photographer and be sure to follow us on our Blog, Facebook, Instagram and Google+ to see what we've been up to, or explore our YouTube page for more!