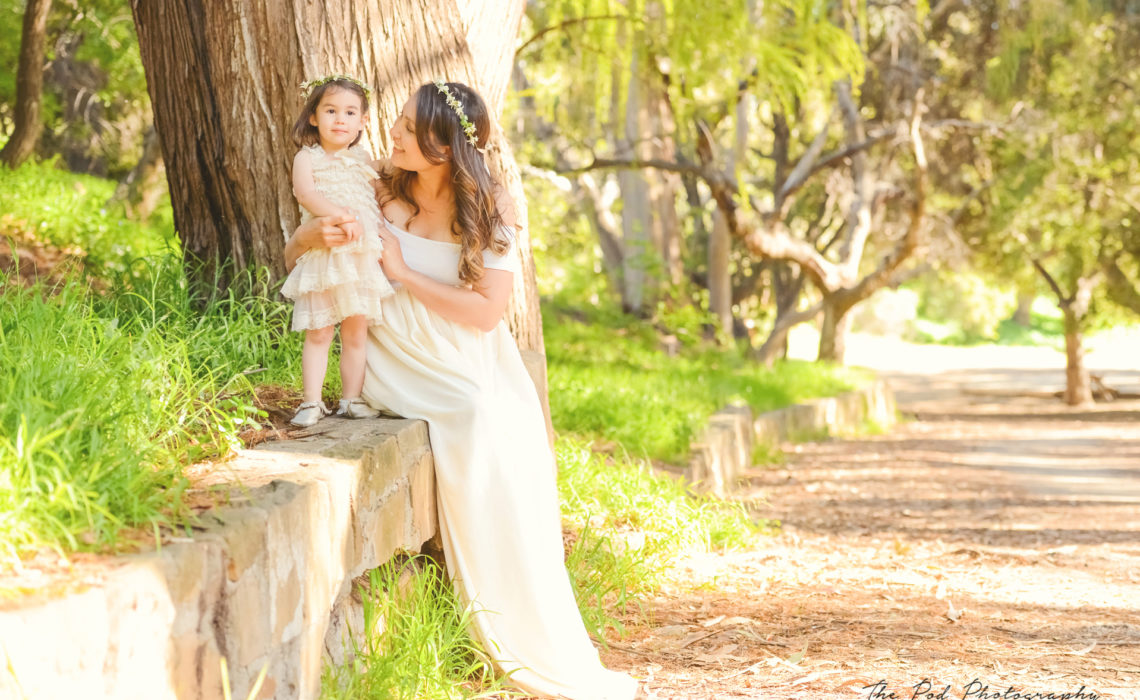 There is something so fun about a maternity photo session when there are older kids included in the pictures! This little girl was such a pleasure and she loved hamming it up for the camera during her mom's maternity photo shoot. my favorite shots from the session though are the candid mother daughter pictures!
This location in Malibu is one of our favorites for pregnancy photo shoot and pretty much any type of family portrait photo session – it's Temescal Canyon. The reason it is so great is because it looks like you are in the middle of nowhere. There are amazing mature trees, beautiful paths, and rustic fences and stone walls… but, believe it or not – you are a few minutes from the parking lot 🙂 That is why when our maternity photographer, Erika, hears a pregnant client wants a rustic location bust doesn't want to climb to the top of a hill – this is our go-to spot in Malibu and the Pacific Palisades.
Another great tip to take away from these pregnancy photos – are their outfits. When photographing in nature – be it at a park, the ocean, a rustic field – whatever, it is a good idea to wear a color that is not found in your surroundings. This family changed outfits during their maternity session, from a white theme to t a blue theme. Both of those colors really popped from the background and helped them stand out amongst all of the greens and browns naturally in the background. I am particularly fond of the bright blue dress this mama borrowed from our maternity wardrobe – it is such a stunning color on her and brings a happy feel to the images. Not to mention, it brings with it a little subliminal hint to the sex of the baby 🙂
Interested in having our professional maternity photographer capture your expecting pictures? Visit our website and give us a call at 310-391-4500!