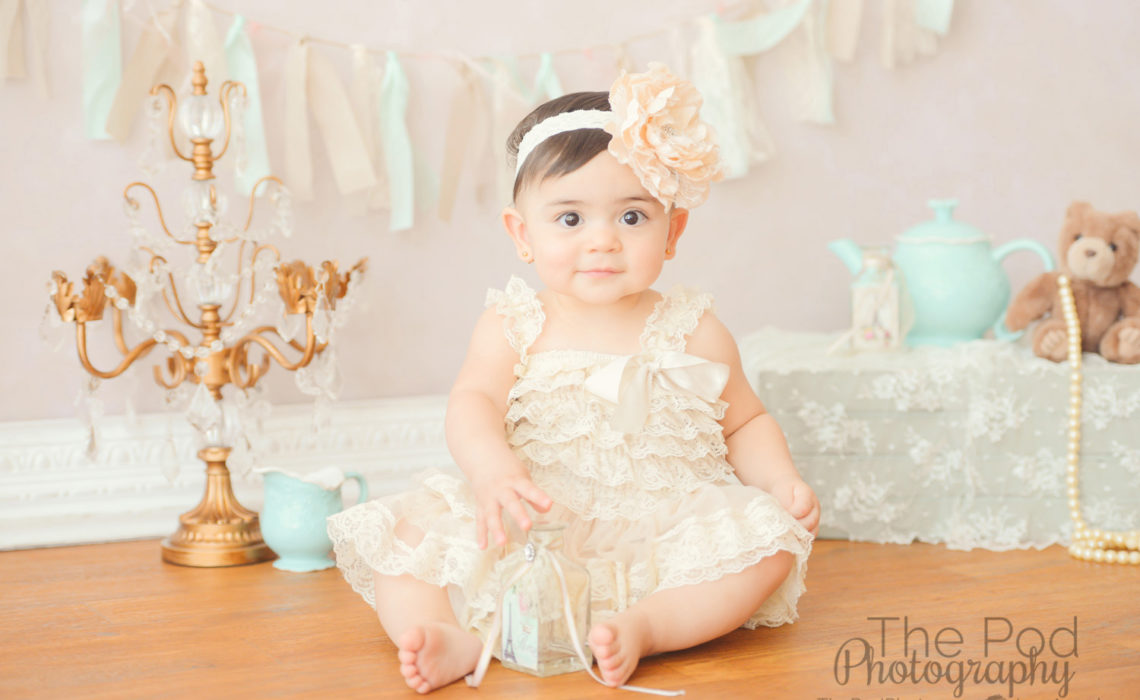 With all of the elaborate custom sets that we design here at our portrait studio near Bel Air, California, sometimes it's nice to just go back to the basics.  I mean really, you can never go wrong with a classic pink, gold and white theme for any baby girl's portraits – especially for her first birthday!
Most of the phone calls that we get are for moms planning this color scheme for their daughter's first birthday party – and we certainly don't have any shortage of props, clothing and accessories with these colors!  It has also been popular to throw in small touches of mint or teal for a little color pop and it goes so nicely with that sweet, girly style.
We loved the simple elegance of this gorgeous first birthday cake smash session.  Miss Sadie was definitely a more serious baby, which made for a softness to her portraits, but it was so nice to see those little teeth come out for a shot!!  Us girls here at our Bel Air photography studio have a ton of tricks up our sleeves to try to get little ones to smile, but some babies are tougher to crack than others!  Some of our go-to moves include:
-Peek-a-boo
-Tickles and "I'm gonna get you!"s
-Bubbles!
-Stickers
-Playing "catch" with a small ball or object
-What we call "The Woosh" which is a combination of hiding behind a large board to play peek-a-boo and then blowing "wind" their direction.  Babies go nuts-o for this!
This among many other fun tricks work great – and even if not for a smile, you can get these very captivating, contemplative looks from babies – just like Sweet Sadie below!
Give us a call at our Bel Air portrait studio at 310-391-4500 to set up a consultation with your photographer and be sure to follow us on our Blog, Facebook, Instagram and Google+ to see what we've been up to, or explore our YouTube page for more!