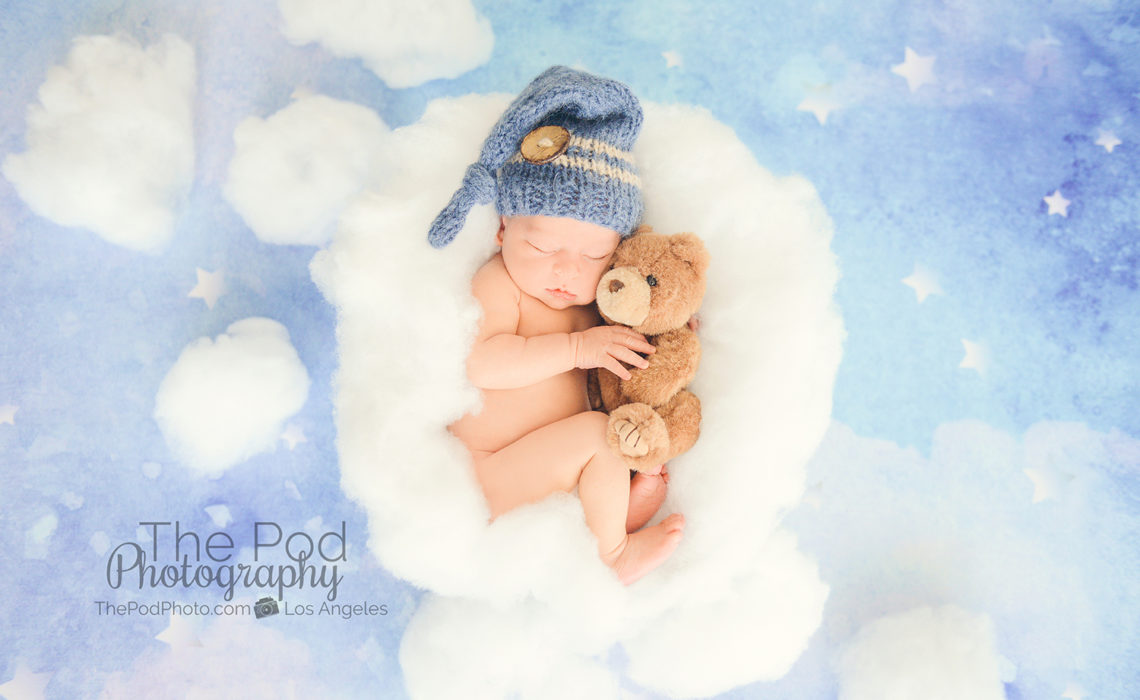 Newborn baby photography is our specialty here at The Pod Photography – and we have been photographing families and kids of all ages since 2008. Due to that, our Brentwood, CA photography studio has a million backdrops, baskets, buckets, hats, headbands and all the other props that a client might want for their baby's precious newborn portraits.  This particular client said "I love all of the pictures on your website – just do whatever you feel like" for their son's six day old pictures. So, we went a little classic and then a little big whimsical and then a little boho modern for their son's photo session at our studio. That's one of the fun things about having all of the props on-hand, we can quickly and easily style a custom set for our clients.
The little infant's pictures were really fun to photograph, and our professional newborn photographer and her team captured lots of great shots of him; however, it's his big sister who truly stole the show.  Big sister was so cute, she kept going through our wardrobe closet and pulling out outfits and saying "can I take a picture in this next?" She was having so much fun and was such an inspiring beauty that we couldn't say no to her!
We really enjoyed meeting this new family and capturing both their newborn baby's pictures and their sibling and older child's photos.  They live in Russia and were only visiting Brentwood, California while the baby was born – but I have a feeling they will be back for more pictures in a few months when their son is a little older since they visit the US regularly. Their little girl kept insisting even during the photo session that they come back for more pictures once her baby brother can sit up on his own – so I have a feeling we have a fun in the family who won't let them forget about us!
We would love to talk to you about your baby's pictures and document some special images for your family as well. Visit our website www.thepodphoto.com and give us a call at 310-391-4500 to talk about your baby pictures!