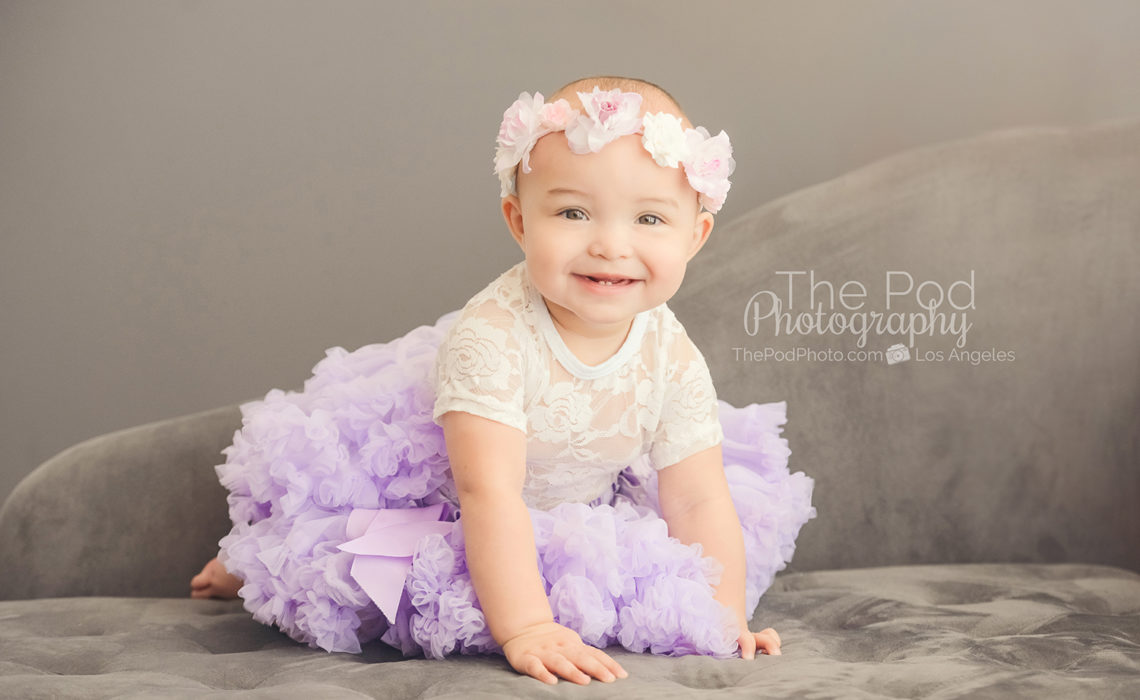 Creating unique baby photography at our Westwood, CA photo studio is our specialty! This family came to us with a few ideas before the photo session, and were really excited when we were able to bring their vision for their daughter's seven month portraits to life. Typically, dads aren't as involved in the styling of their kids' pictures as the moms are; but in this case Dad was the one with the vision! The only shot he really cared about was a photo of his baby girl on a Mission Impossible set.
Creating unique Photos is what we do!
When this client first called our studio to inquire about hiring us, they explained the Mission Impossible set idea to us something like this: "we want her hanging in the air from a harness, with a white background and lasers on the floor." Our studio has been in business for ten years and we have gotten a lot of very unique requests for baby pictures – but I think that this was at the top of the "unusual requests" list! Of course we are always game for any inspiration at our Westwood photography studio – and were up for this challenge! So, we set a date for the photo shoot, went shopping for the right harness, and crossed our fingers that this little girl wouldn't scream her head off when she was hoisted in the air in the harness.
The day of the photo session, we did some cute girly pictures on different sets and in different outfits, where this baby girl did awesome! Mom loves boho styling and so she got to get her favorite pictures captured before dad's Mission Impossible set. She smiled and hammed it up for us, and the Pod team was optimistic that she would do well in the harness.
Next, our professional baby photographers got her dressed and put her in the harness, and then we used dad to hoist her up.  Lo and behold, we got a good 2 minutes before this little girl fussed, but that as all we needed.  We loved that she improvised and put her hand to her ear making it look like she was listening on an ear piece! It was a team effort, and we are so glad that we were able to make both mom and dad happy with the different photo sets and pictures.
Unique Baby Photography Westwood – Contact us!
Do you have a fun idea that you have been kicking around in your head and want help bringing to life? Let our team create some awesome professional baby pictures for your family! We specialize in baby photography Westwood and the surrounding areas. Give us a call at 310-391-4500 and visit us online at www.thepodphoto.com to learn more about our photography services!