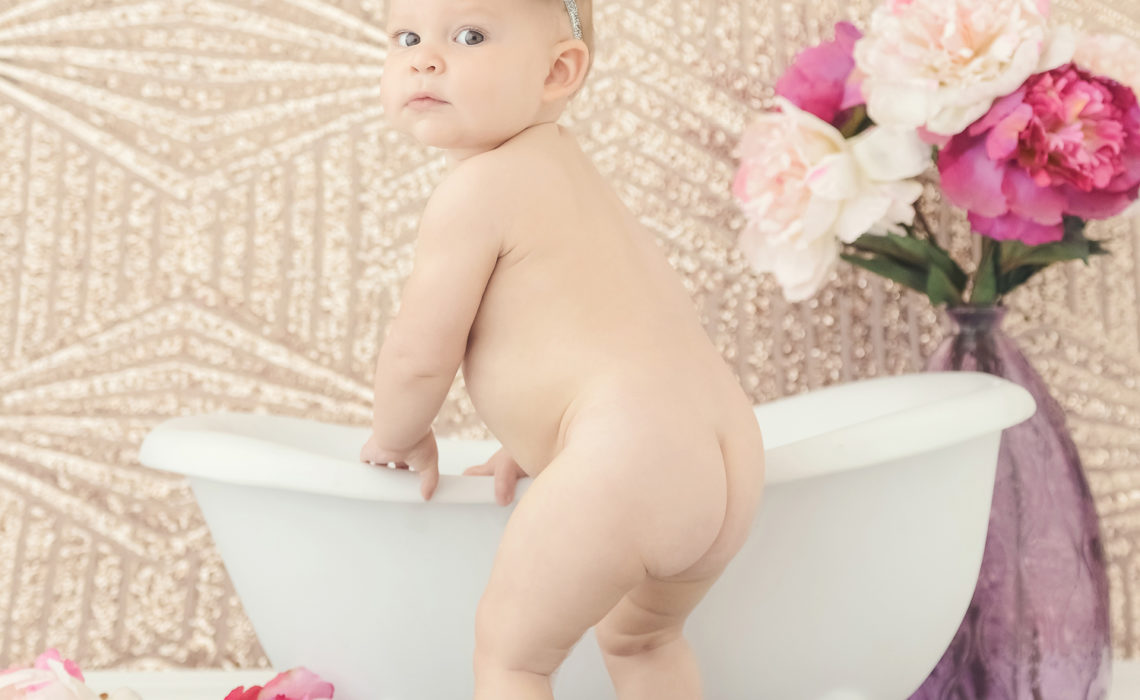 Calabasas Cake Smash sessions are so much fun!
Especially when we get to customize the photo shoot to something personal for our Calabasas Cake Smash clients.  It all started with the portrait consultation.  This sweet baby girl's mama wanted to do something really special for her first birthday Calabasas Cake Smash portraits.  So we talked about what her daughter was into, the first thing that came up was her play kitchen.  This one-year-old baby girl loves her KidKraft kitchen so much that we wanted to incorporate it into the shoot. So mom brought it in!  Along with her Kitchen Aid (which was inspired by a newborn session we did awhile back – take a look HERE).  With a simple baby pink background and teal accessories, the color scheme was perfect and girly!  And the floral romper outfit that mom brought into our Calabasas studio almost looked like a little apron!
Most one-year-old babies don't love smashing their first birthday cake and getting messy.  But this baby girl did such a great job for her Calabasas Cake Smash!  She got really into it – picking up the cake, eating it with a spoon, and getting it into her fingers and toes!  It was the most adorable mess we'd ever seen!
We call these our Smash & Splash Sessions.
After babies get messy with the Calabasas Cake Smash portion of the shoot, we have to clean them up!  And for this part of the shoot, we have a custom baby-sized bathtub at our Calabasas portrait studio.  We wanted to incorporate some girly elements as well, so we set up what we call our "Beyonce Background."  It was the perfect blush tone, and mixed with some peonies, bubbles, and a naked little baby, it was adorable!  She was so cute interacting with the bubble on her arm and going, "oooh" and poking at them.  There was nothing but smiles all day for this sweet girl.  We wish every Calabasas baby would be so happy!
Give us a call at our Calabasas photography studio at 310-391-4500 to set up a consultation with your photographer. Be sure to follow us on our Blog, Facebook, Instagram and Google+ to see what we've been up to, or explore our YouTube page for more!