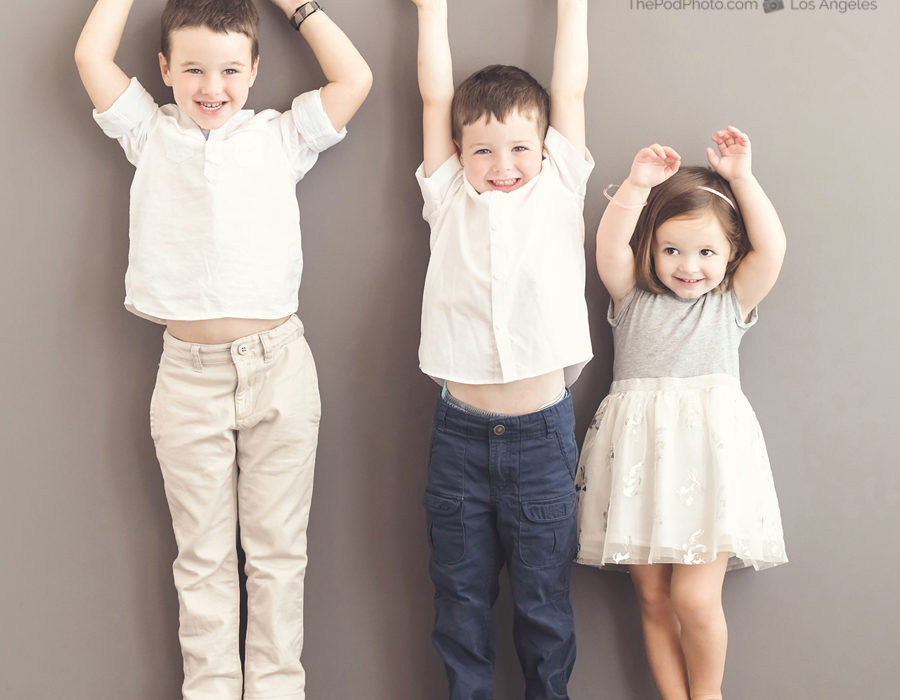 Best family photographer in Beverly Hills
Big families can be a lot of work.  And that's just coming from a photographer's standpoint!  I can only imagine a household with three of more kids – but along with the work comes a lot of fun!  And a LOT of personalities!  And this big family certainly had a lot of that – which is why they needed the best family photographer in Beverly Hills to document all of it!
The last time we saw this family of five, baby sister was only a few months old, and the boys were rambunctious little toddlers.  It was so amazing to see how in just a year and a half, these two boys have grown!  The oldest brother was so proud walking into our Beverly Hills studio.  He loved dressing up just like Daddy – complete with a wristwatch and all!  He was so darn cute and you could tell just how grown up he felt!
Little brother was adorable too – and we could tell how much he watches his big brother and tries to be like him. The two of them were so cute – telling secrets, tickling one another and giving out kisses!
Then there's baby sister.  This sweet little thing!  She was so shy, which was the perfect look for those big, beautiful, brown, puppy-dog eyes of hers!  But every now and again, we unleashed a big smile from her and it just lit up the whole room!
But as we mentioned, big families can be a lot of work.
For this Beverly Hills family though, we could even say that this shoot was a "breeze."  Often times though, parents have this idea that the shoot was a nightmare.  And it wasn't!  They just have this notion that their kids need to be perfect little angels and on their best behavior.  And honestly, that is so unrealistic!  Kids are going to be kids.  They are going to be goofy, they are going to get wild, they are going to be shy… you just never know!
The trick to being the best family photographer in Beverly Hills is to just let whatever shows up, show up.  Dance in the space, get into the world of the children.  Get how it's all occurring for them.  And from there, you will be able to interact with them on their level and capture their amazing, developing, adorable and wild personalities.
Take a look at some of our favorite shots from this fun family photoshoot below:
Give us a call at our Beverly Hills studio at 310-391-4500 to set up a consultation with your photographer.  Be sure to follow us on our Blog, Facebook, Instagram and Google+ to see what we've been up to, or explore our YouTube page for more!