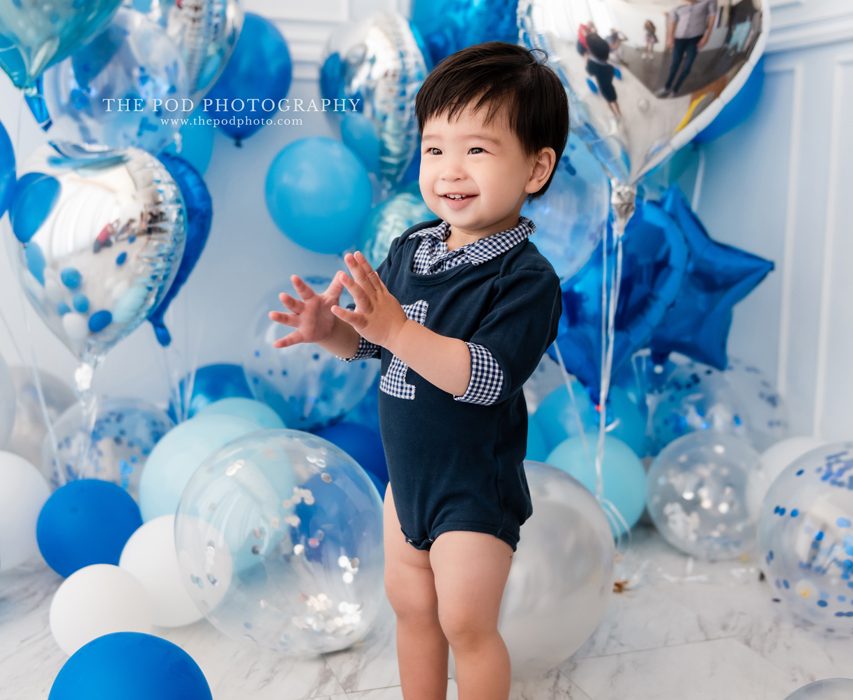 The best part about being a Santa Monica First Birthday Photographer is all of the celebrating I get to do! This Birthday Balloon portrait session was the perfect way to showcase such an important milestone.
Setting The Scene
I love when clients want to go all out with a Birthday Balloon set! Nothing says "PARTY!" like a roomful of balloons and confetti. While it is definitely one of the most fun sets we offer, it also takes a lot of time and precision to execute! It takes a minimum of two hours to blow up all of the balloons and carefully arrange each one in the scene!
The Art of Toddler Wrangling
Photographing toddlers is not an easy task – just ask any parent! I love that little ones have so much energy and curiosity, however it doesn't always lead to the best portraits. The advantage to hiring our Santa Monica Photography team is that we have tons of tricks up our sleeves to wrangle and entertain busy toddlers!
Here are a few of our best tricks for photographing energetic babies:
Peek-a-boo
Tickles and "I'm gonna get you!"s
Bubbles!
Stickers
Playing "catch" with a small ball or object
What we call "The Woosh" which is a combination of hiding behind a large board to play peek-a-boo and then blowing "wind" their direction. Babies go nuts-o for this!
Reiss loved hanging out at our portrait studio near Santa Monica and it shows in his pictures. Check out his First Birthday images below!
Interested in hiring a Santa Monica First Birthday Photographer? Call our portrait studio at 310-391-4500 to set up a consultation with your photographer and be sure to follow us on our Blog, Facebook, Instagram and Pinterest to see what we've been up to, or explore our YouTube page for more!