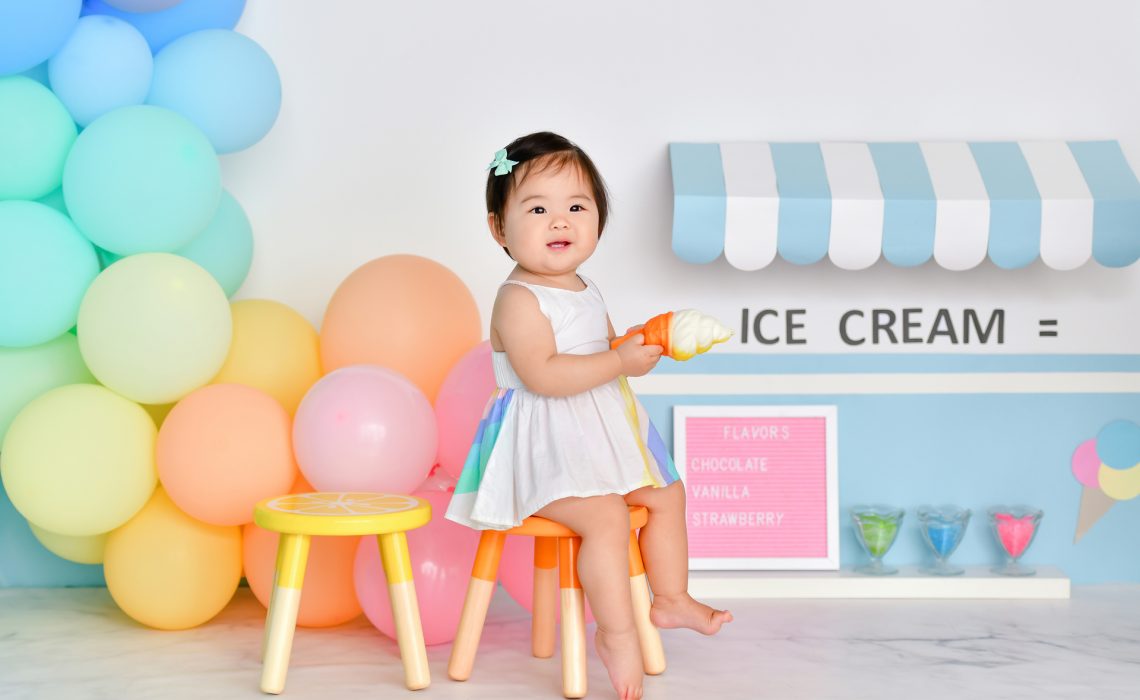 I scream, you scream, we all scream for ICE CREAM here at our portrait studio near Century City! As a Century City First Birthday Photographer, I have been waiting for a client to ask for an Ice Cream themed cake smash! After considering all of the fun directions I could go with this theme, I finally landed on recreating an Ice Cream Parlor.
Custom Ice Cream Set Design
The first step to creating a custom set is to decide on a color scheme. After looking for color inspiration I found that a pastel rainbow palette would look best. The pastel rainbow balloon arch, colorful sprinkle bowls, and sweet rainbow dress helped to incorporate that color scheme.
I love creating custom cake smash sets for my first birthday clients, and this set definitely tested our crafting skills! Paper is often the easiest and most versatile material for custom backgrounds. The blue half wall background and the pin striped awning are made out of strips of blue and white paper. Those elements really pulled together graphic and fun style that we were going for.
My personal Favorite part of this cake smash set, was the Ice Cream Cone Cake! Our favorite bakery near Century City, Top Tier Treats, always does an amazing job creating themed cakes. The upside down ice cream cone on a rainbow cake was perfect for Miss Maya's first birthday session.
Speaking of cakes, Maya absolutely loved smashing hers! She got right down to business once the cake was placed in front of her. Maya had a blast and really showcased her smiley and outgoing personality for the camera. I was able to capture some amazing portraits that really told the story of her first birthday milestone! Check them out below!
If you're looking for a Century City First Birthday Photographer, call portrait studio at 310-391-4500. Set up a consultation with your photographer and be sure to follow us on our Blog, Facebook, Instagram and Pinterest to see what we've been up to, or explore our YouTube page for more!