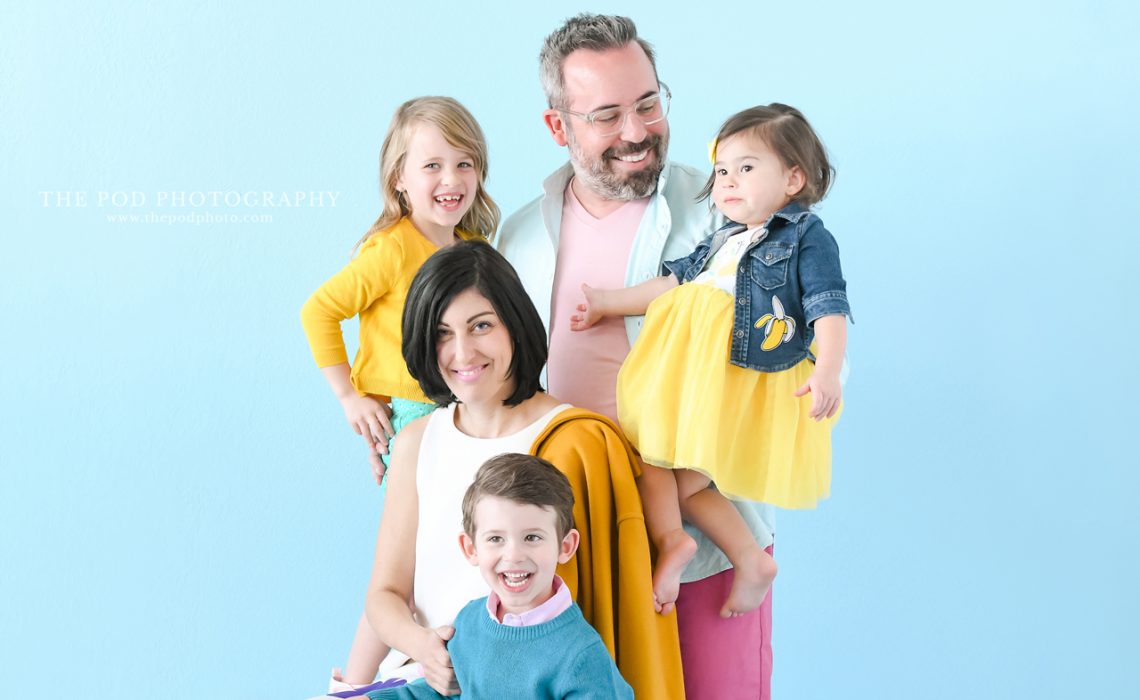 When you search Hollywood Family Portraits, you end up seeing a lot of family photos that look the same. There's nothing wrong with the standard family portrait, but sometimes it can be fun to shake things up a bit! This family is full of personality, so when they came to us for an updated photo we had to show them off with bold colors!
Using Color in Family Portraits
Often times, people will opt to wear neutral tones in order to go for more of a classic look. However, using bright, bold colors is one of the best ways to really tell a unique family story. For these Hollywood Family Portraits, we wanted to show off each family member's individual style while still keeping the overall color scheme cohesive. There was much discussion about who would be wearing certain colors, what patterns would be incorporated, and what style of clothing would be worn.
For the Family portraits, we wanted everyone to wear graphic, color blocked outfits. The only rule regarding color, was that the colors should be bold and fun, like yellow, pink, turquoise, and mint. We also wanted to focus on layering different pieces to give everyone a more styled look. This really transformed the outfits from everyday casual into cool, put together outfits.
While we usually recommend solids, adding in a bit of pattern helps lead your eye around the image. The kids outfits incorporated a little bit of pattern, which helped to break up all the solid pieces. Dad kept his outfit simple with brightly colored pants and layered pastel shirts. Mom wore a super cool graphic, vintage dress that tied in everyone's colorful outfits. I absolutely love how each member of the family is wearing a piece of clothing that shows their personality. For example, Jude's high top sneakers, Maggie's graphic cupcake shirt, and Penny's little jean jacket!
Different Colors For Different Kiddos
The individual photos we took of each child are some of my favorite images I have ever taken. We came up with the idea to do monochromatic portraits, meaning one color. We choose a color for each kid; Yellow for Penny, Blue for Jude, and Pink for Maggie. We had each child dress in their color and stand on that same colored background. This helped to produced very unique and editorial portraits that our clients wanted.
Check out the amazing portraits from this fun Hollywood family session below!
If you're looking for Hollywood Family Portraits, call our studio at 310-391-4500. Set up a consultation with your photographer and be sure to follow us on our Blog, Facebook, Instagram and Pinterest to see what we've been up to, or explore our YouTube page for more!