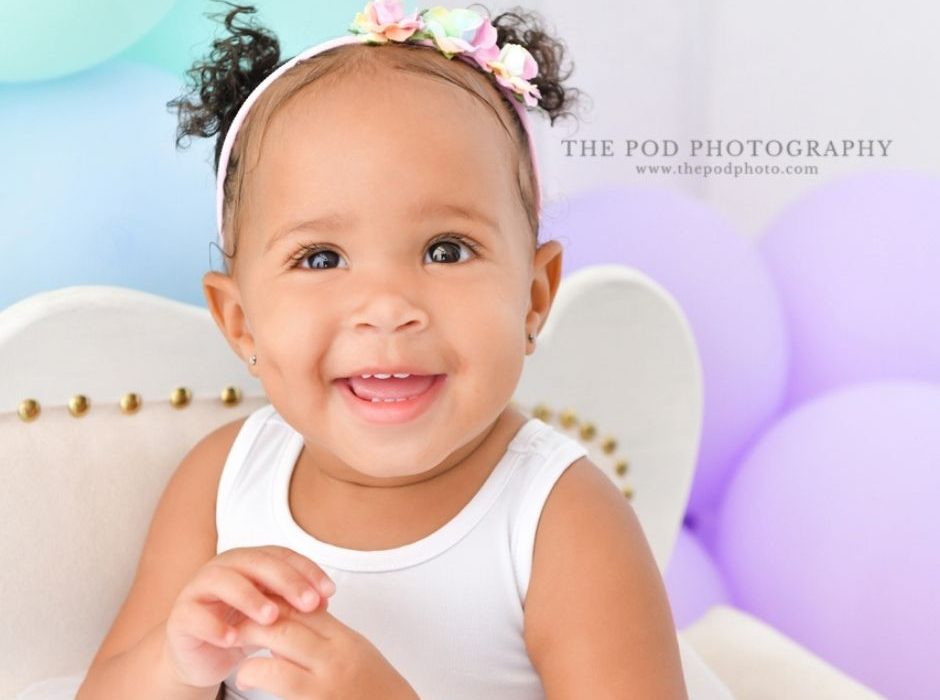 Here in our Hollywood, California portrait studio, we love to bring the glam to a little girl's First Birthday Themed Cake Smash photo session. From colorful, celebratory balloons to a mini classy-looking sofa, we replicated all the excitement and character of Hollywood into this themed photo session. And this little sweetheart rocked it!!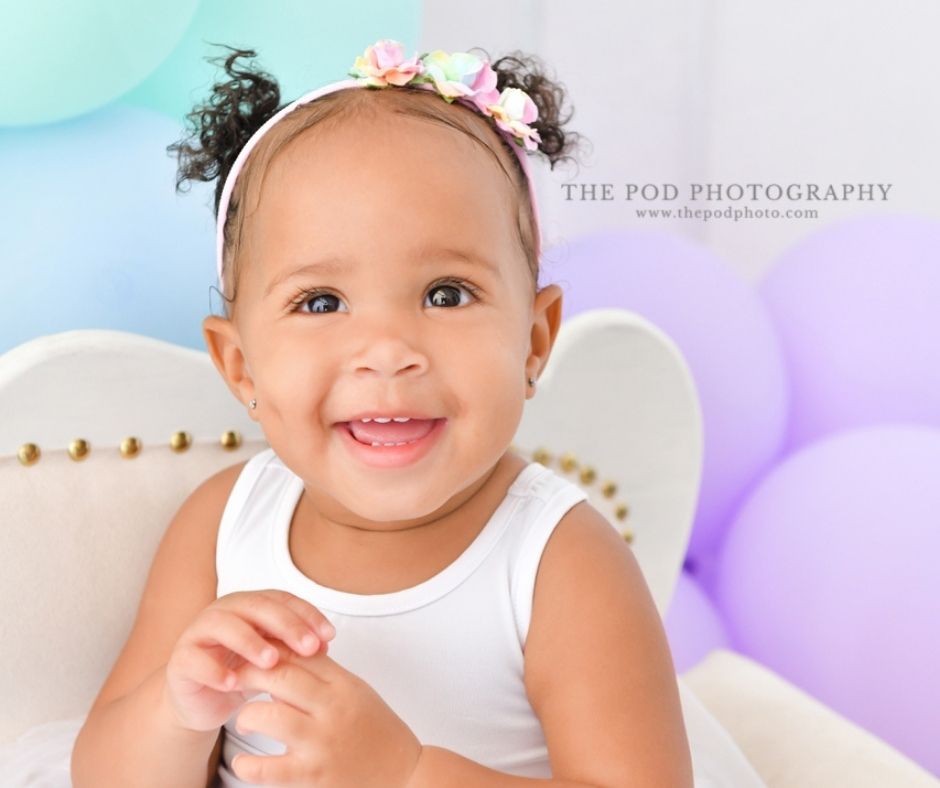 She was playful and very photogenic. Her smile and bubbly personality were like a breath of fresh air. She absolutely loved to be in front of the camera, and she was such a joy to work with.
For her First Birthday Themed Cake Smash photo session, we added lots of colorful balloons on a white wall backdrop.  We added a touch of Hollywood glam by adding the marquee-lighted "ONE" and, of course, a bright marquee-lighted star!  You can't have Hollywood glam without marquee lights, right?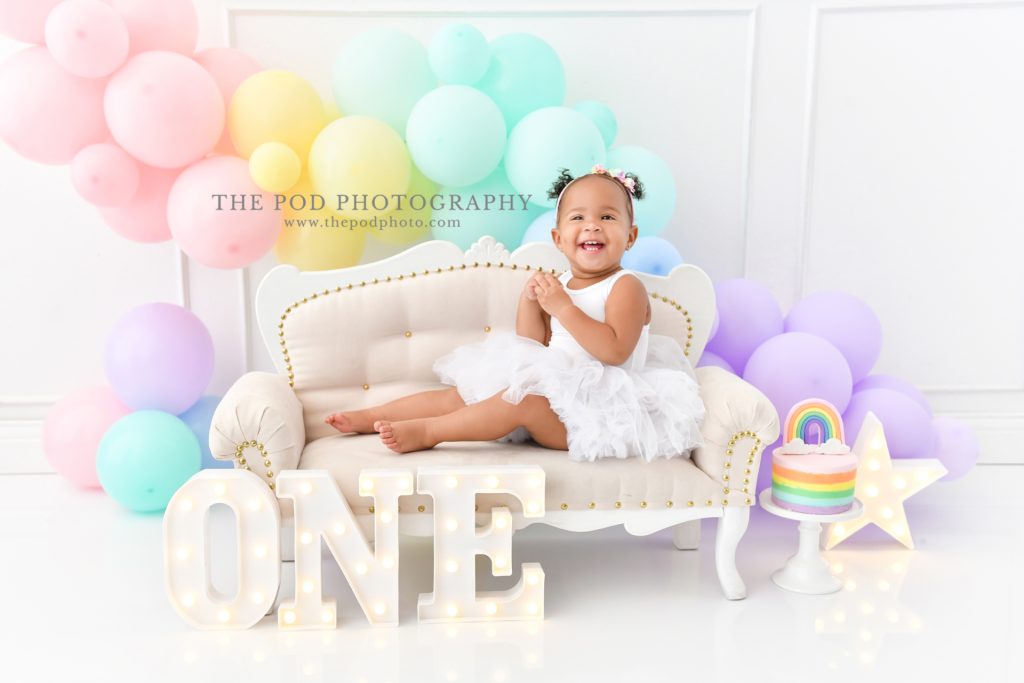 As for the outfit, we chose a basic white tutu for this little one. It was perfect for this Hollywood glam-themed session.  Since there were so many beautiful colors in the balloon backdrop and the smash cake, we decided white would be the best color choice for her to wear.  And, of course, a tutu is by far glam appropriate!
The cake she would smash for her first birthday celebration was made with pastel colors using a rainbow theme that complimented the backdrop balloon colors.  And, of course, the mini glam sofa added a charming touch, and it seemed to totally bring out her personality.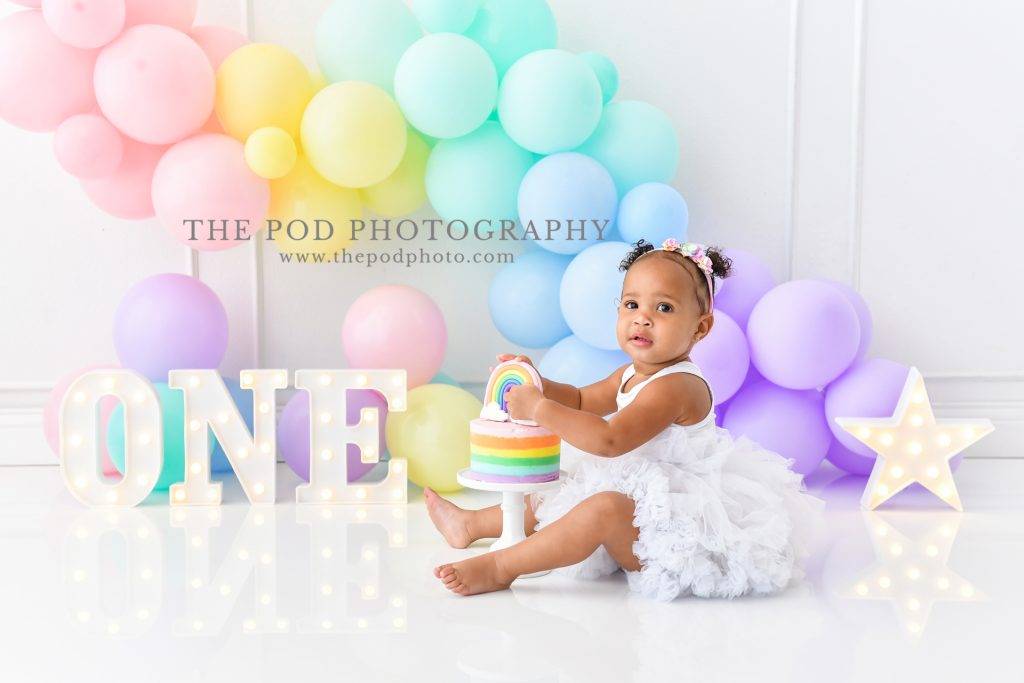 First Birthday Themed Cake Smash sessions are a great way to capture your baby's personality, whether playful, shy, or outgoing. Some babies dive into the cake head first, while others are unsure what to do! This little cutie decided not to dive headfirst into her cake, however, to go in daintily and neatly grabbing just a tiny piece. However, she seemed to love the rainbow cake topper more than the cake itself!
First Birthday Themed Cake Smash photo sessions allow your baby's personality to emerge. It also allows you to create a one-of-a-kind experience that you can cherish for years to come.
Our Hollywood, California professional cake smash photographers will capture this momentous time in your child's life. You are free to choose themes that fit your personal style and taste. Or, if you prefer, we can create a cake smash theme for you. This part of the session will be decided at your Planning Appointment. We offer a variety of different First Birthday Themed Cake Smash sessions.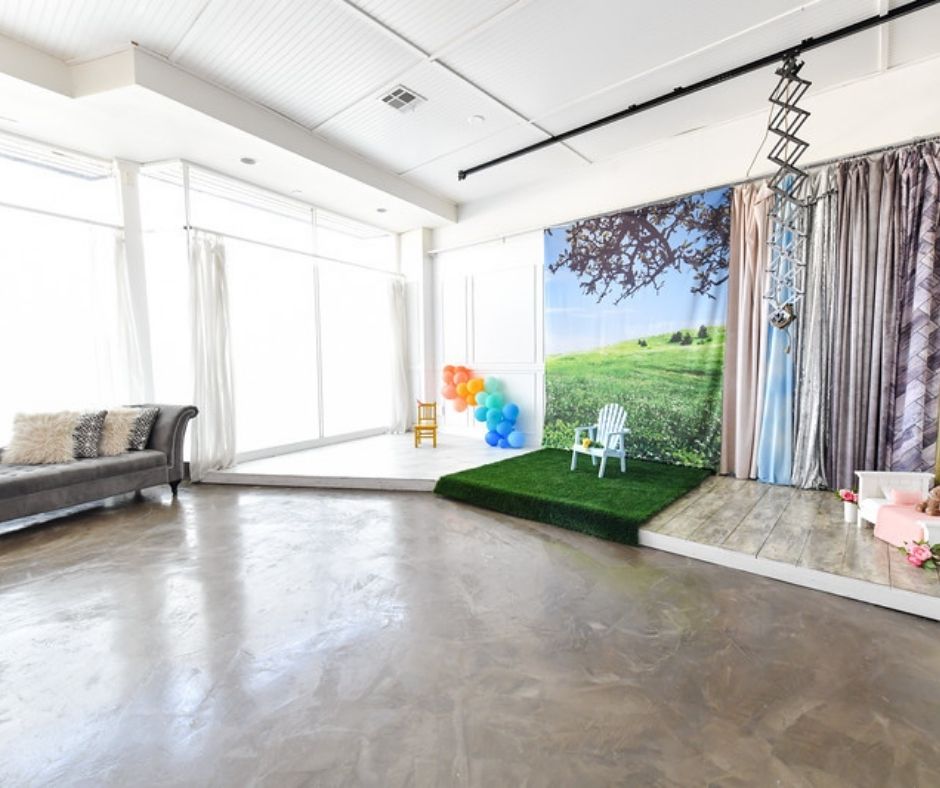 Reach out to us today to speak with the best Hollywood, California Photographer at 310-391-4500. Schedule your baby's First Birthday Cake Smash Themed photo session today.
Be sure to follow our blog, Facebook, and Instagram to see all the latest photo sessions and take a peek inside the studio. You can also visit our YouTube for behind-the-scenes videos and our Pinterest account for beautiful and inspirational photo session ideas. Create your very own mood board to share at your first consultation.