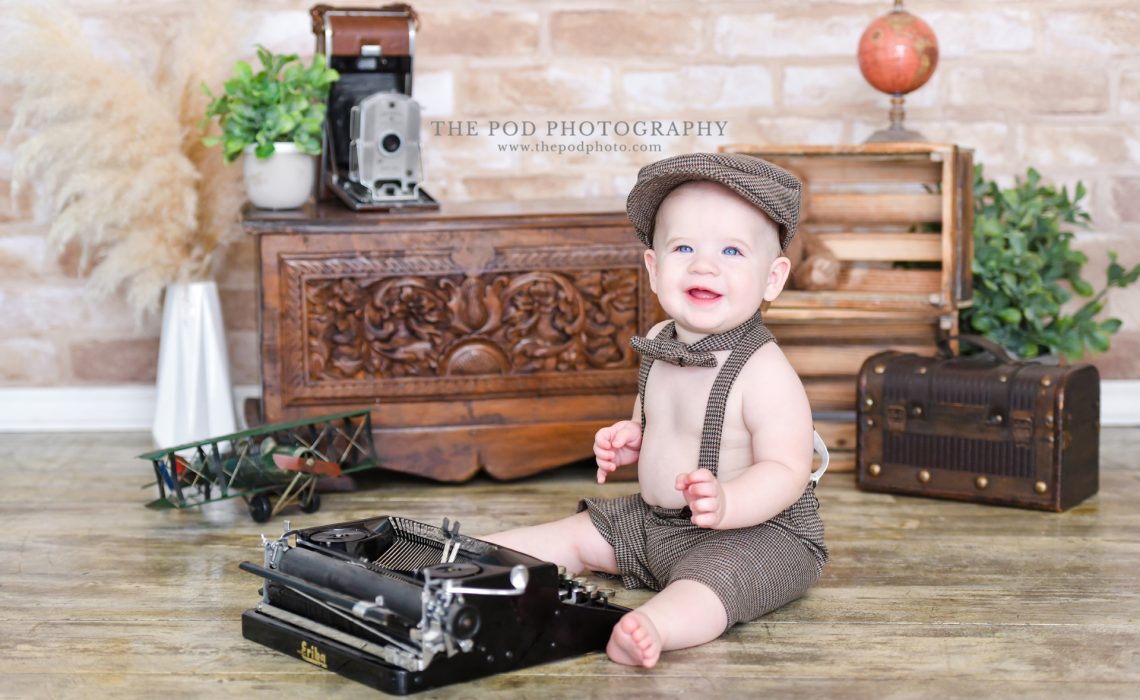 One of our most sought-after photo session requests at The Pod Photography is our themed baby photo sessions. Moms-to-be can choose a unique set design for their baby's photo session. A themed set design is a great way to showcase your baby's personality and, at the same time, allows Mom to add a touch of her creativity to the photo session. This baby portrait themed session is one of our most popular boy's themes!
Mom and baby visited our Bel Air, California luxury portrait studio for this handsome little boy's session. Initially, Mom had decided that she wanted a vintage look and feel for her baby's photo session. After brainstorming at her planning appointment, we decided to go with a Vintage Newspaper Boy set with replicas of typewriters, cameras, and airplanes. We also included a stunning wooden chest to the set. Its gorgeous carvings and beautiful wood tones would stand out dramatically in the photos and really give this set an old-time look. The wooden crates added to the rustic, vintage look.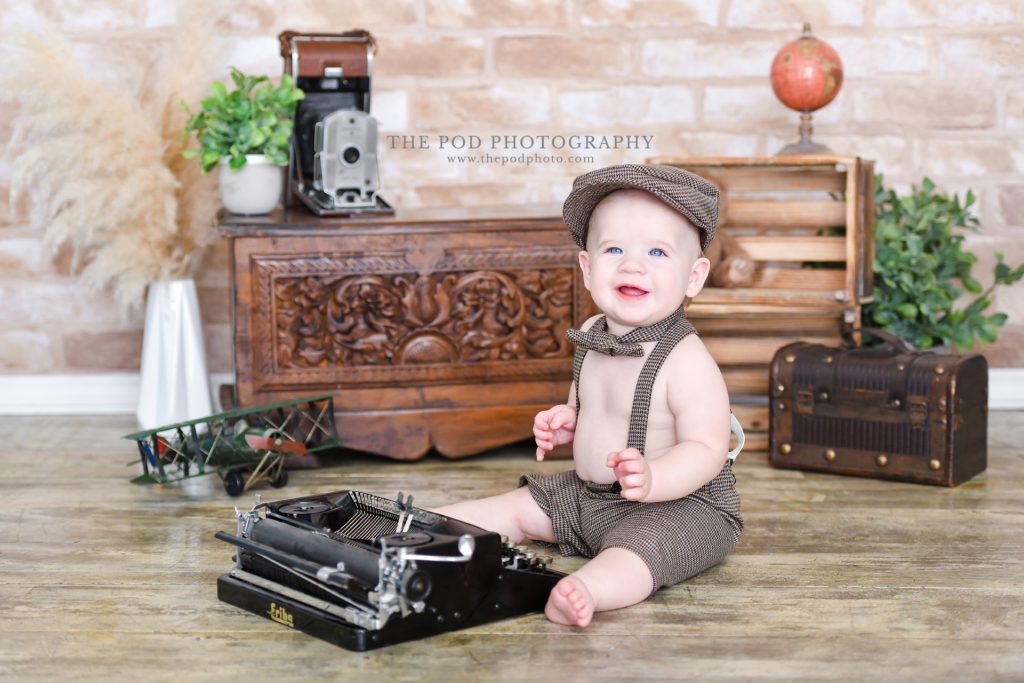 The Vintage Newspaper Boy Theme was perfect for this bubbly baby boy. The replica of an old typewriter and the old camera made you feel like you had traveled back in time to a newspaper reporter's office. He loved playing with the typewriter. I think it was the sound the keys made that grabbed his attention.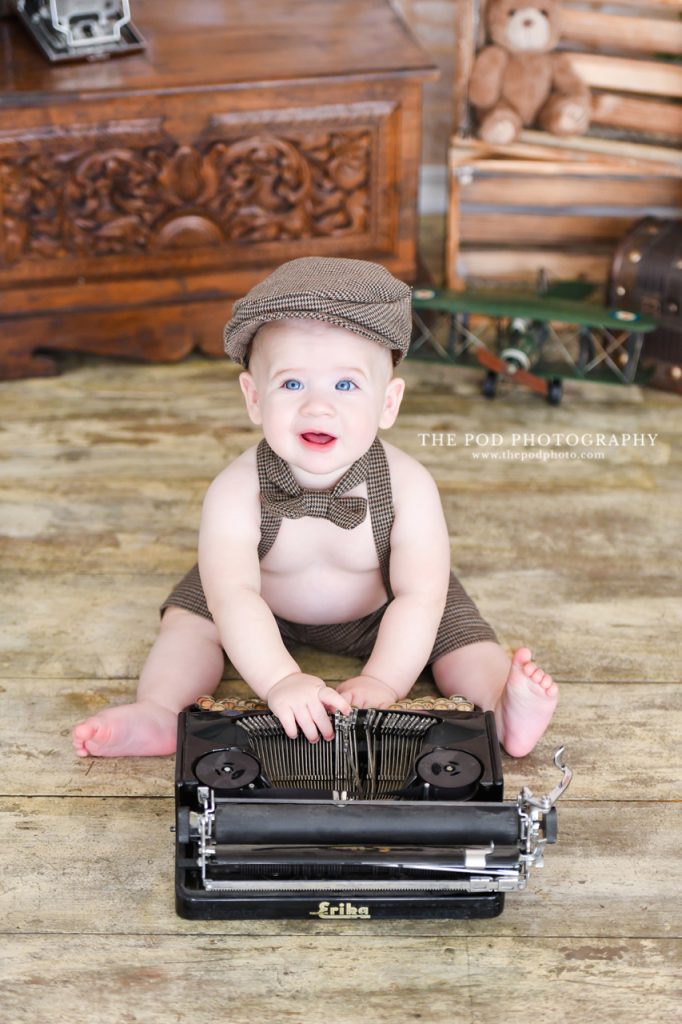 Does this not have a 1920's vibe going on? How cute would this set design be for your baby if you are a newspaper reporter!
Of course, this blue-eyed cutie pie made the perfect newspaper boy. His adorable plaid outfit and cute bowtie fit his personality and coordinated perfectly with the set design. And he totally pulled off the vintage newsboy cap. I mean, what is there not to love! He was a star behind the camera, and he loved every minute, smiling for every picture. His smile was mesmerizing, and of course, his baby blue eyes stole the show. He was such a delight to work with.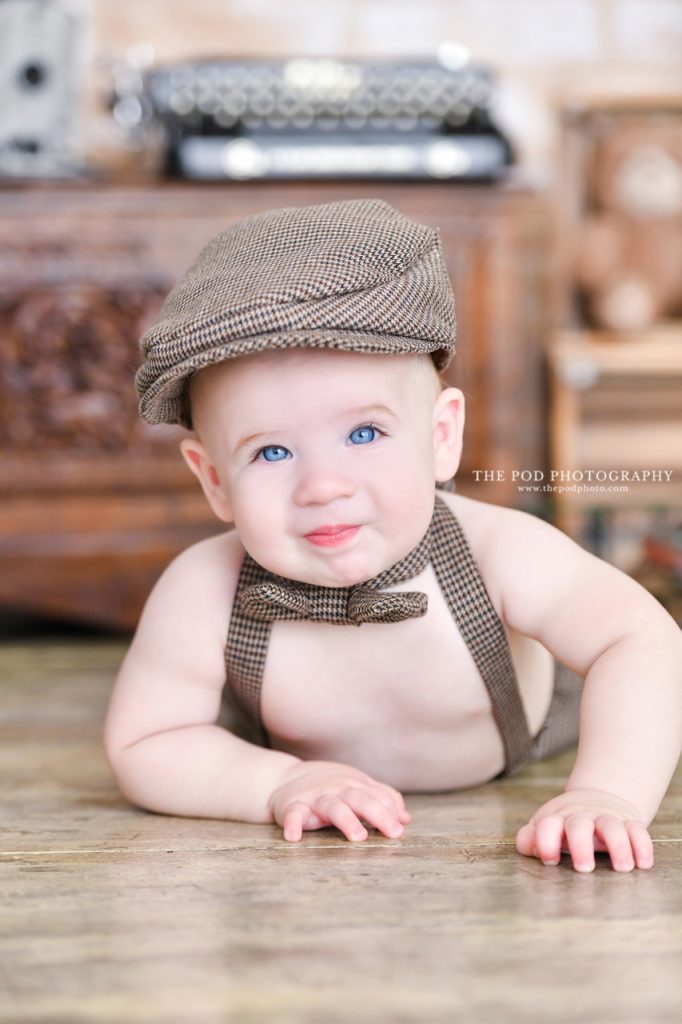 Here at the Bel Air, California luxury photography studio, we can provide ideas for your set design. Or, we can even create a themed set design for you based on your taste. All of this is determined at your Session Planning Appointment after you book with us. This is where we sit down and brainstorm ideas for themes, wardrobe, and set design until we come up with the perfect theme for your little one.
Head on over and visit our website at www.thepodphotography.com to book your themed session today! Or call us at 310-391-4500 to book your appointment. We also have 1st Birthday Cake Smash themes available and so much more.
Be sure to follow our blog, Facebook, and Instagram, to see all the latest photo sessions and take a peek inside the studio. You can also visit our YouTube for behind-the-scenes videos and our Pinterest account for beautiful and inspirational photo session ideas. You can also create your mood board on Pinterest, where you can share your inspiration with us at your planning session.