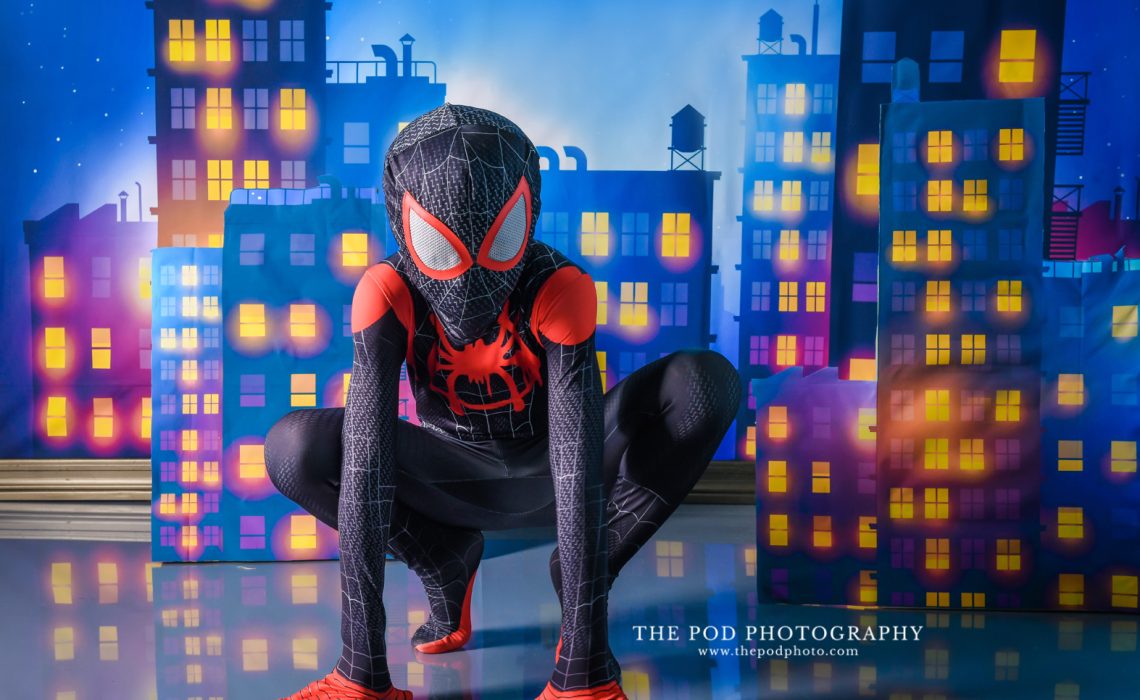 Do you have a son or daughter who is a superhero fan?  Here at The Pod Photography Studio, one of our specialties is creating fabulous superhero-themed portrait sessions for children.  The Spider-Man portrait session is always fun because the kids are so excited!
As a parent, I think we all know how quickly a kid's "favorite thing" can change. From their favorite toy or blanket to their favorite superhero or character, their taste can change overnight due to their overactive imagination. The perfect way to document their "favorite thing" phase is with lifelong portraits. You can even purchase photographs to share with friends and family.
This adorable, energetic little boy loves Spider-Man.  What little boy doesn't?  I could certainly tell he was a Spider-Man fan!  He was willing and ready for his portrait session, making it a breeze.  Once he put his costume on, his Spidey senses emerged.  We could feel his energy immediately after he was in costume.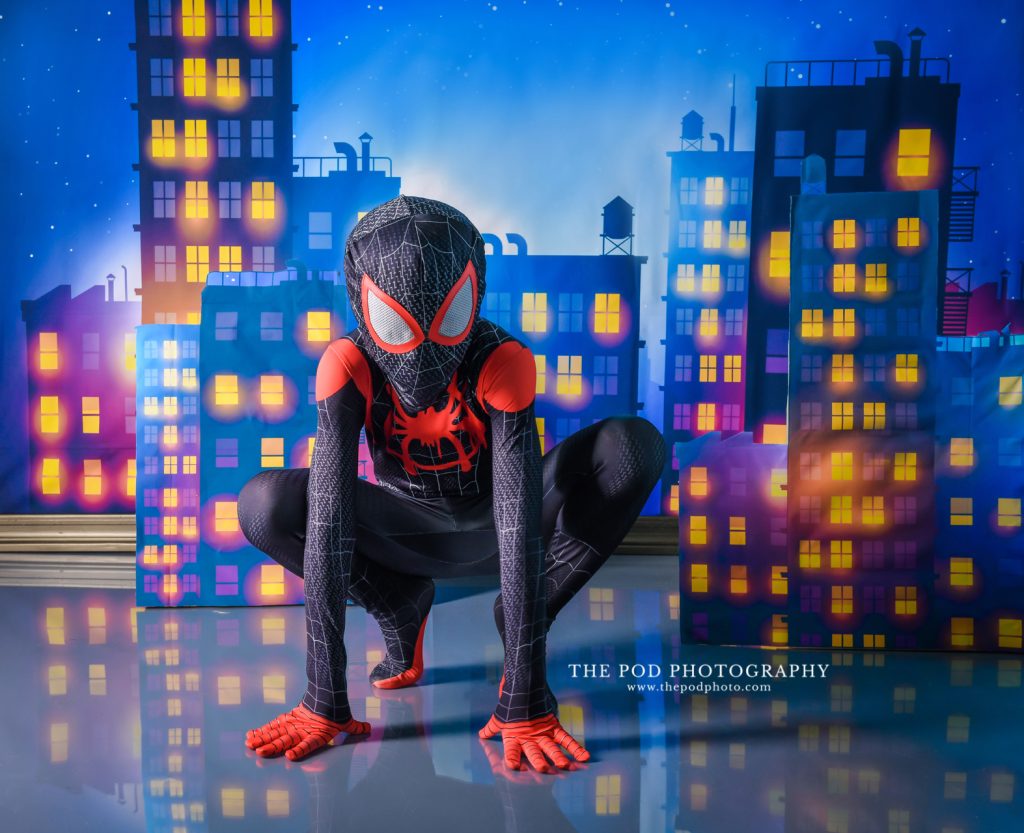 For this portrait session, this crime-fighting superhero wore a spider-man costume, of course, made by Peter Parker himself.  The chosen backdrop was a shot of  New York City at night.  The tall buildings and bright city lights absolutely made this theme portrait session look like the real thing.  And it seemed that the amazing Spider-Man loved jumping around from building to building using his web-shooters and protecting the city.  We even got to reveal Spider-Man's real identity; how cool is that!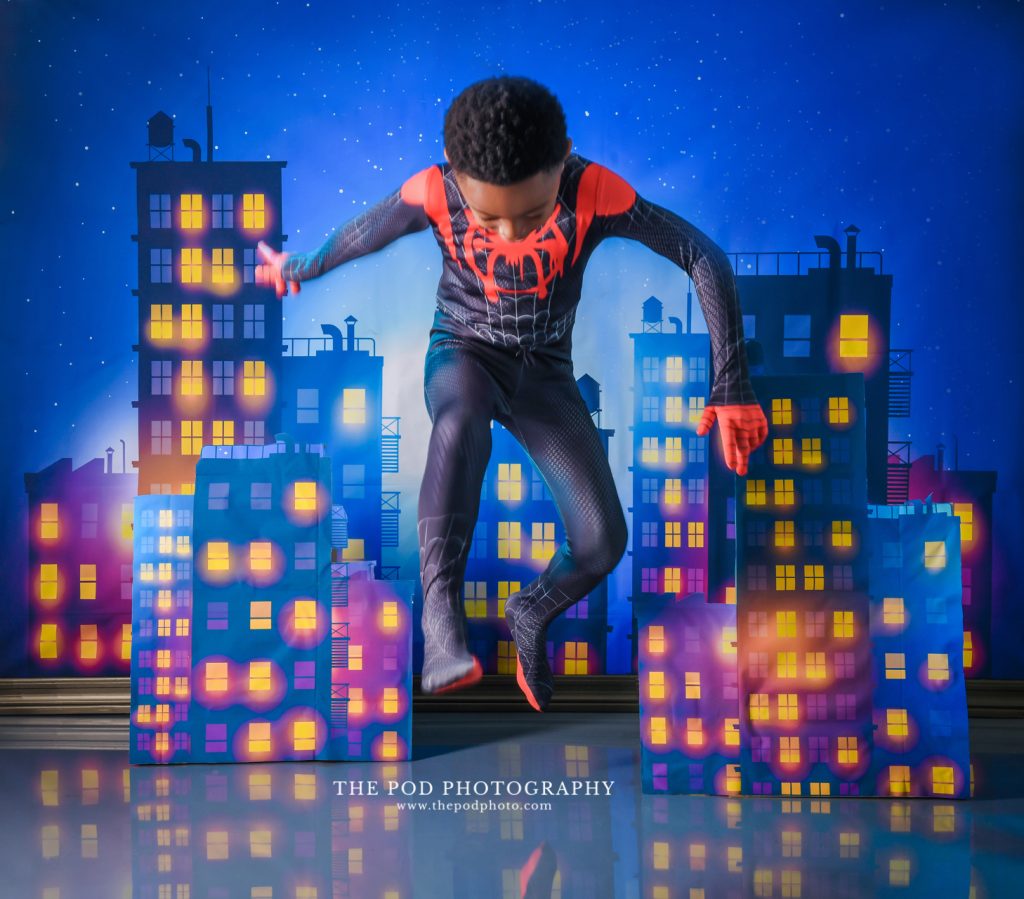 Themed portrait sessions are one of our specialties here at The Pod Photography.  I love creating specific themed sessions for children and watching the excitement in their eyes when they walk in and see it for the first time.  These portrait sessions are filled with kid's laughter and imagination which we strive for here in the studio.  And parents love the fact that they will have photos to cherish for years to come.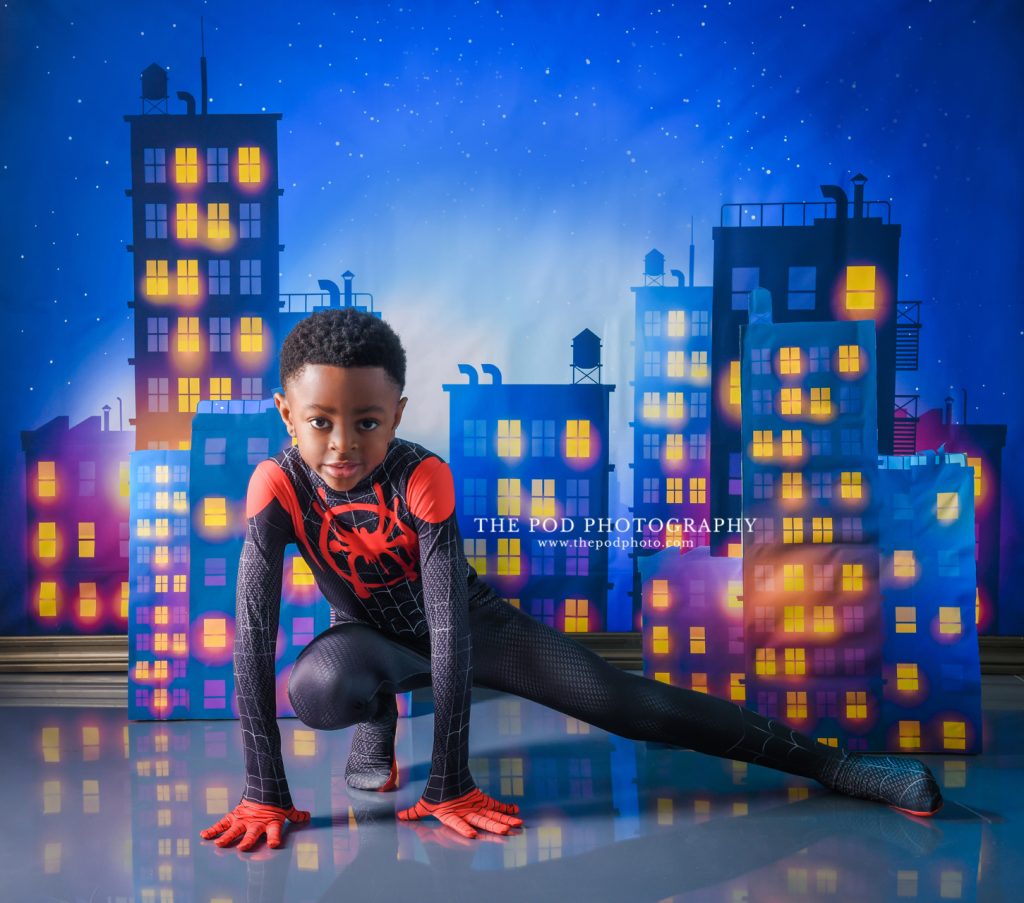 Have a superhero fan in your family? Then our themed portrait sessions would be perfect! Don't hesitate to book with The Pod Photography today and document the memory before your child's next fad comes along. And, of course, we will be here to document it when it does emerge!
Our professional photographer's service locations in southern California include Culver City, Mar Vista, Silverlake, and many others.  Visit our website at The Pod Photography to see other cities we service.  
Once you book your themed photo shoot, your photographer will schedule a brainstorming session. This is where you can create your own unique themed photo session tailored made for your child. Your photographer will design the perfect set based on your unique vision. Visit our "How it Works" section on our website to learn more about the process.
Please visit The Pod Photography today to book your session!  And, be sure to follow us on social media!  We have a Facebook page as well as an Instagram page.  Our Pinterest account has curated boards that show examples of themed portrait sessions, family portrait sessions, and so much more!  Or give us a call at 310-391-4500 today.