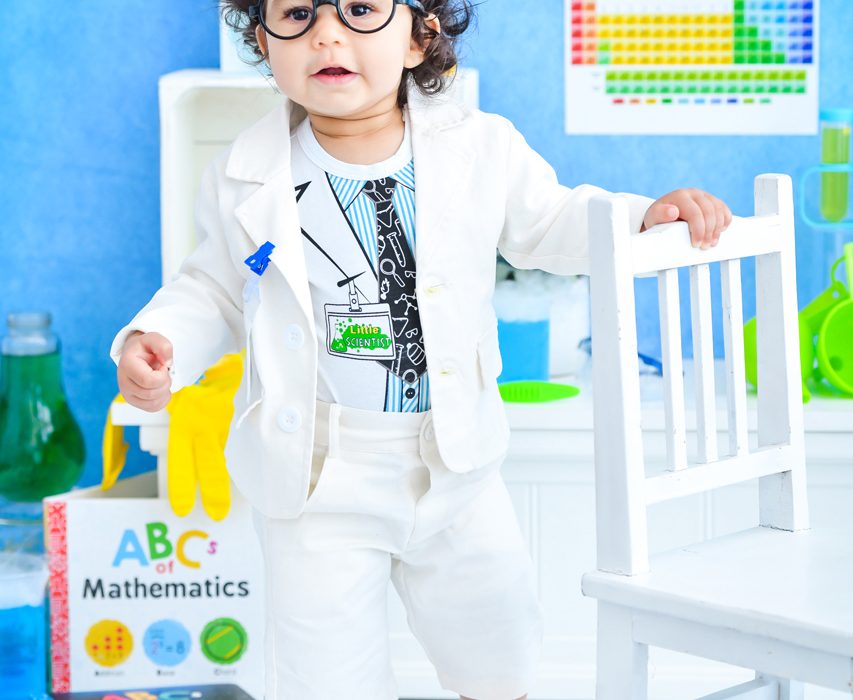 Where are all my science lovers, teachers, and professors at?  This little one made the cutest scientist in the universe, no pun intended!  Themed First Birthday Cake Smash portrait sessions are one of our specialties here at The Pod Photography Playa del Rey, California luxury portrait studio. Choose from one of our backdrops, or let the staff create a unique backdrop for you and your baby.
First Birthday Cake Smash Portraits
Our First Birthday Cake Smash portrait sessions are top-rated and are a great way to cherish and remember your child's first birthday with gorgeous portraits.  We offer a variety of premium heirloom products, including wall art and keepsake gifts that are great to share with family members.  Our heirloom products provide you with many creative choices that will allow you to cherish your portraits and display them for years to come. We will guide you to achieve your vision for how you want to showcase your family portraits, be it albums, wall art, gifts for family, digital files, or all of the above. 
Scientist Themed Custom Portrait Set
This adorable, curly-haired little girl had a bubbly personality, and it presented itself during her First Birthday Cake Smash studio portrait session.  And does she not rock the scientist's glasses!  Her gorgeous brown eyes were absolutely mesmerizing.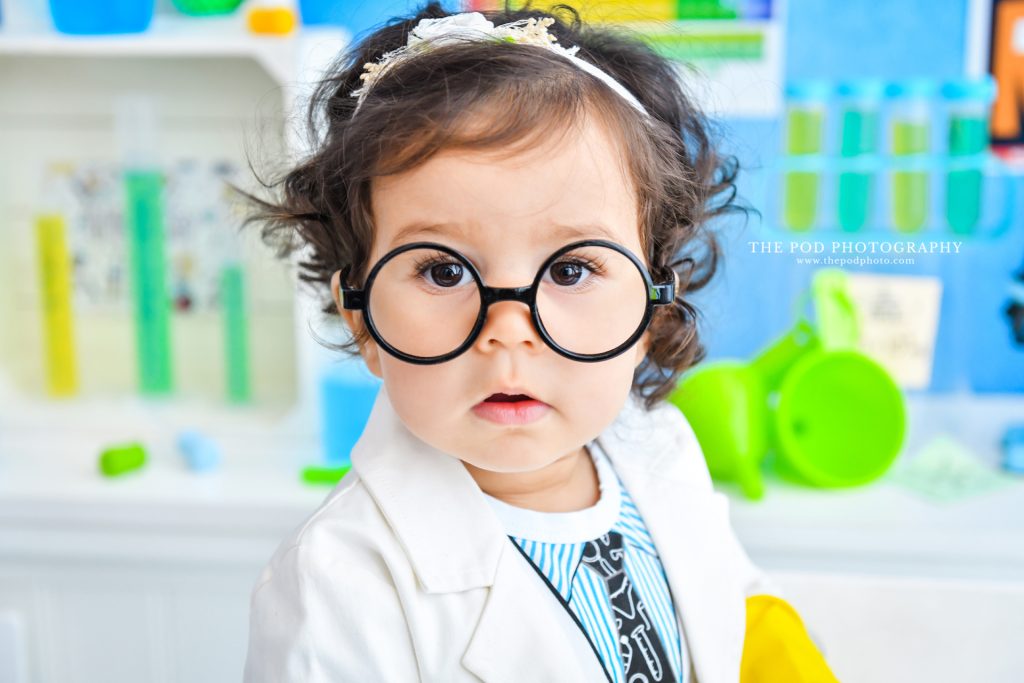 Of course, what's a scientist without a white lab coat!  We paired the lab coat with a pair of matching white toddler capris which coordinated perfectly.  Mom added a white headband and cute nerdy scientist glasses.  Her shirt is adorned with a tie and a lab badge that displays her name.  How cute is she!
First Birthday Cake Smash Birthday Cake
The little scientist's birthday cake was decorated with atom symbols and was topped with a beaker bubbling over with her favorite science experiment.  The cake choice was perfect for the scientist-themed portrait session.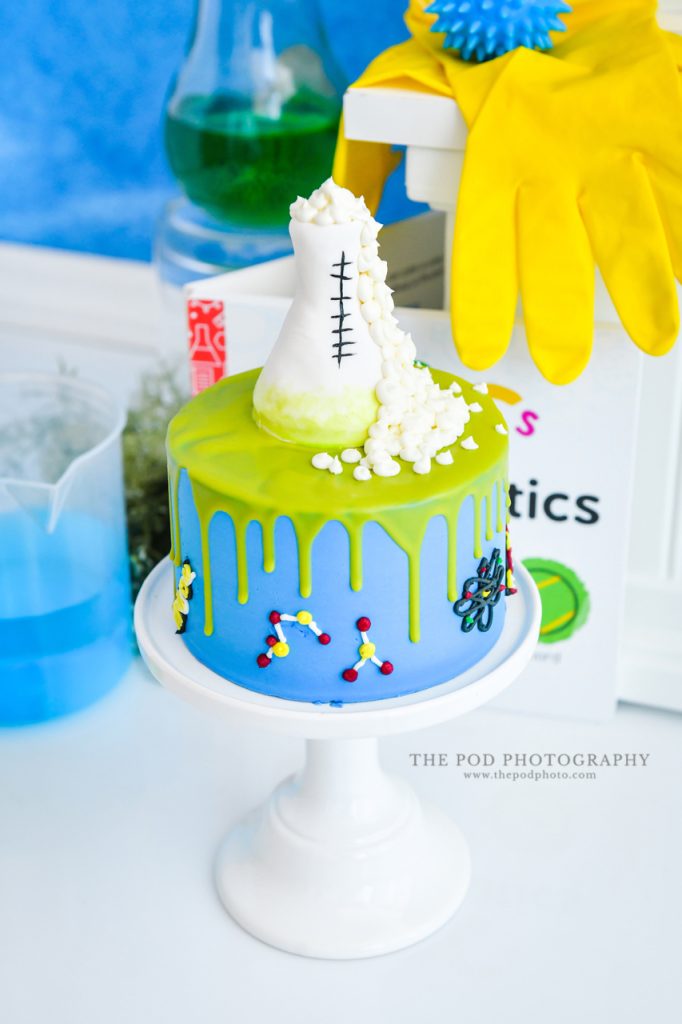 Unique Themed Portrait Sessions
Our photographers love to create unique portrait backdrops at The Pod Photography Luxury Studio in Downtown Los Angeles, California.  This one was no exception. We added props like test tubes, beakers, and a microscope to make the scientist-themed backdrop.  Everything a scientist would need in their lab.  Look how colorful and playful this themed scientist backdrop is.  Book with us today, and let us create a unique backdrop for your little one.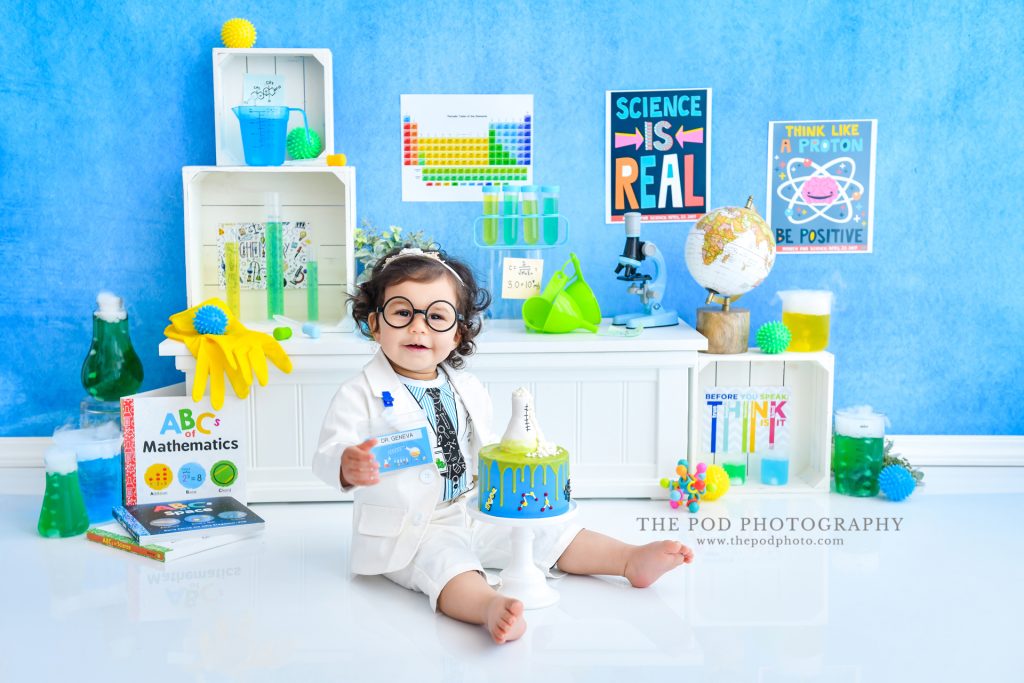 Wardrobe and Props
We have an extensive wardrobe closet filled with various outfits to choose from for your portrait session. We also have an extensive collection of props to style the perfect portrait set. There is something for everyone, from cute girly outfits to outfits for dapper dudes. We even have outfits for Mom and Dad!
Book Today
If you have a little one who will be celebrating their one-year-old birthday soon, why not book your First Birthday Cake Smash portrait session with us today!  Visit us at ThePodPhoto.com for more information, or call us at 310-391-4100 today.  Do not let this precious time slip by without having portraits made! Book your First Birthday Cake Smash scientist-themed portrait session today.
Be sure to follow The Pod Photography on social media!  We have a Facebook page, Instagram, and Pinterest account.  And be sure to subscribe to our YouTube channel for behind-the-scenes footage and so much more.