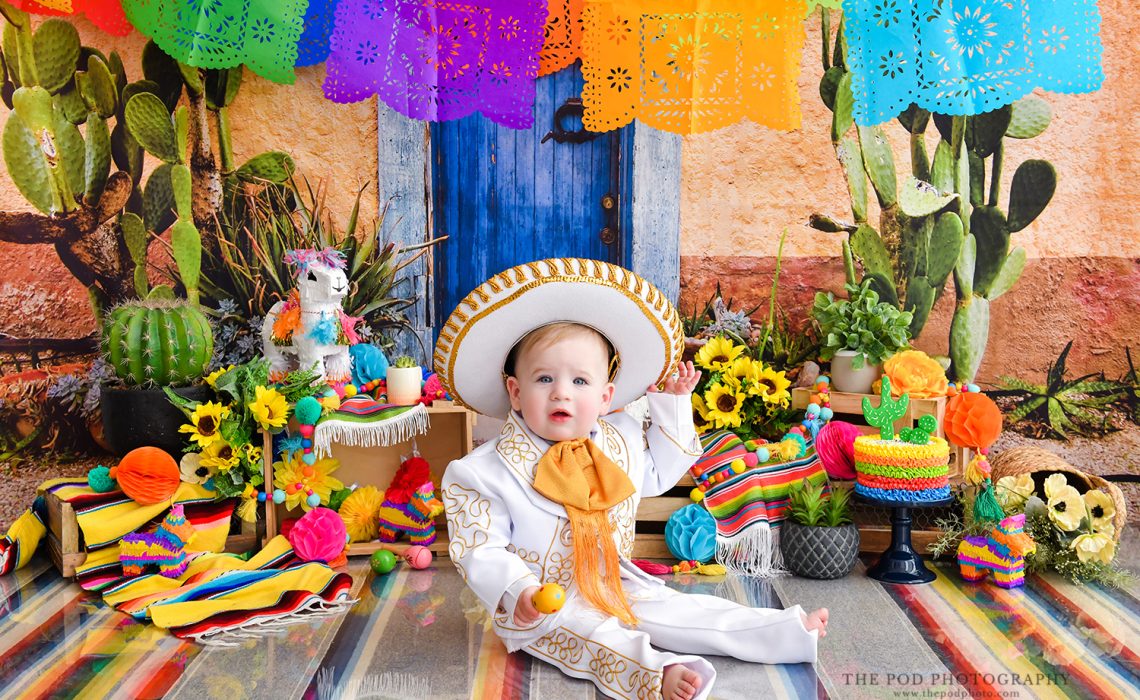 Who doesn't love a party?  In this case, a fiesta!  We threw a colorful and fun fiesta for this adorable little boy's first birthday Cake Smash and Splash Portrait Session in our Los Angeles, California studio!  The Pod Photography studio has never seen so much color!  And, of course, we had to include maracas and a backdrop scene that looked like it was straight out of a beautiful Cinco de Mayo celebration!  With vibrant colors and a colorful banner,  we danced and sang "Feliz Cumpleaños"!
First Birthday Cake Smash and Splash
Documenting your baby's first birthday with a customized portrait session is a great way to keep precious memories fresh. The first year of your baby's life goes by so fast! That's what makes the First Birthday Cake Smash and Splash so unique! Keep those memories alive for years to come.
This portrait session included a cake smash as well as a bathtub splash.  Here at The Pod Photography, the cake smash and the bathtub splash go hand in hand.  Some babies dive into their cakes, and it can get messy!  The bathtub splash is a great way to clean them up and, at the same time, create a different portrait experience.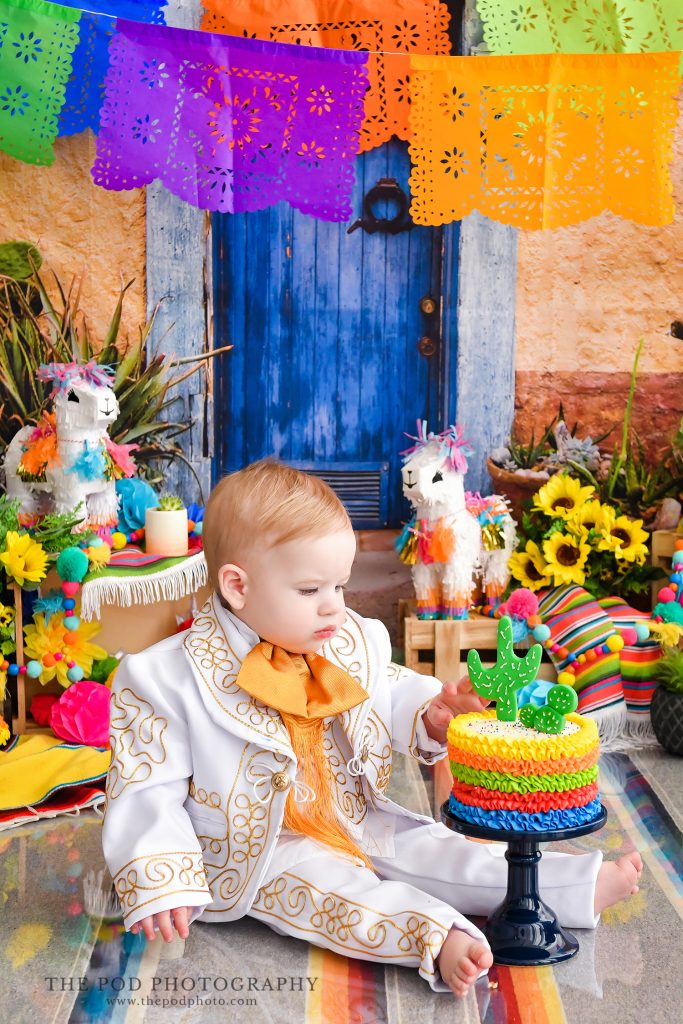 Fiesta Themed Portrait Session Baby Outfit and Cake
We chose a traditional white and gold Mariachi Baby Outfit with a traditional sombrero for this cutie's outfit.  Is he not the most adorable thing you have ever seen?  Look at those rosy cheeks.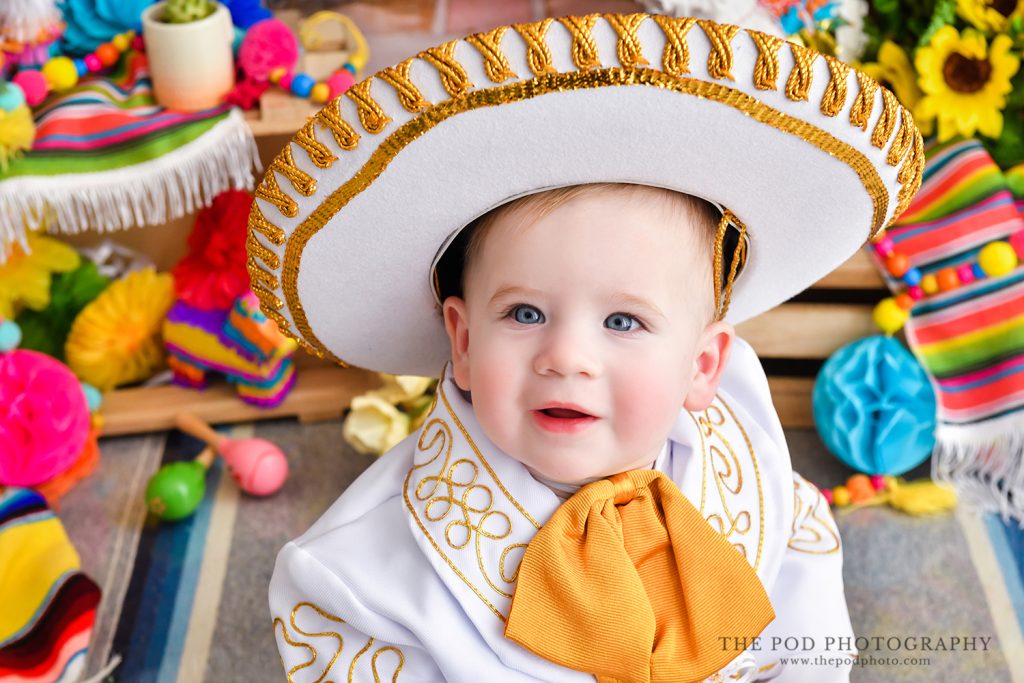 The birthday cake displayed bold colors and was decorated with cactuses on top. It sat on a navy blue cake pedestal.  This little fellow did not immediately smash his cake. He was too fascinated by the cactus cake topper!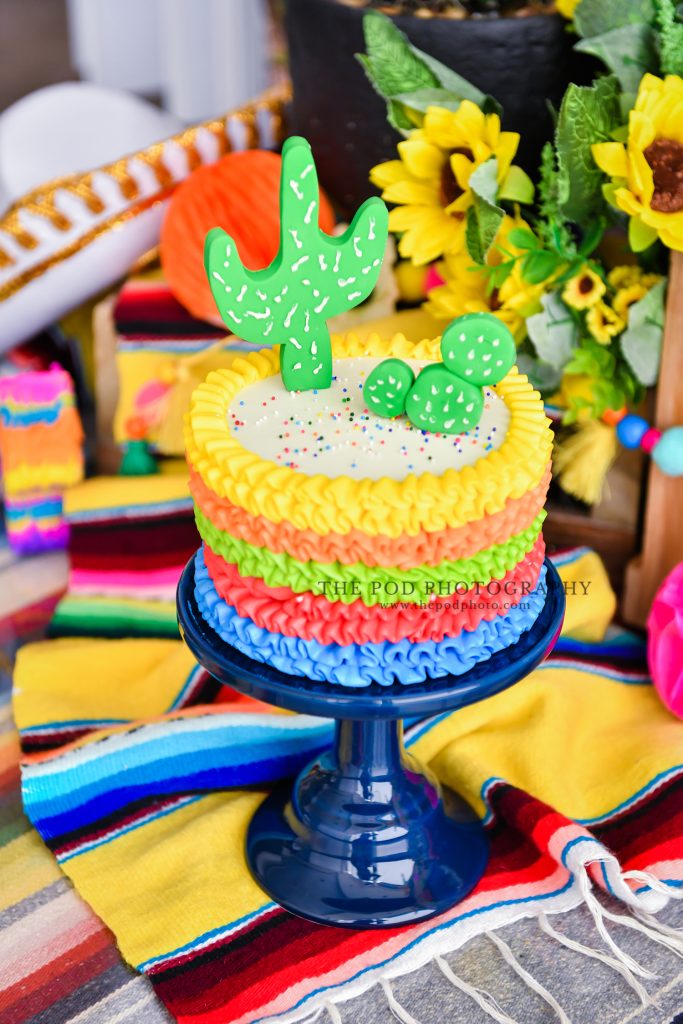 Bathtub Splash Session
The second part of the portrait session was the Bathtub Splash Session.  The backdrop was transformed from a colorful fiesta look to a  peaceful, green forest backdrop with beautiful sun rays peeking through the trees.
We then added a pop of vibrant yellow and real lemons, which coordinated perfectly with the backdrop.  The baby boy's beautiful reddish-toned hair stood out against the green hues in the backdrop. This little cutie loved the lemons!  The photographer even caught this cutie on camera sneaking a taste of a lemon without even making a yucky face!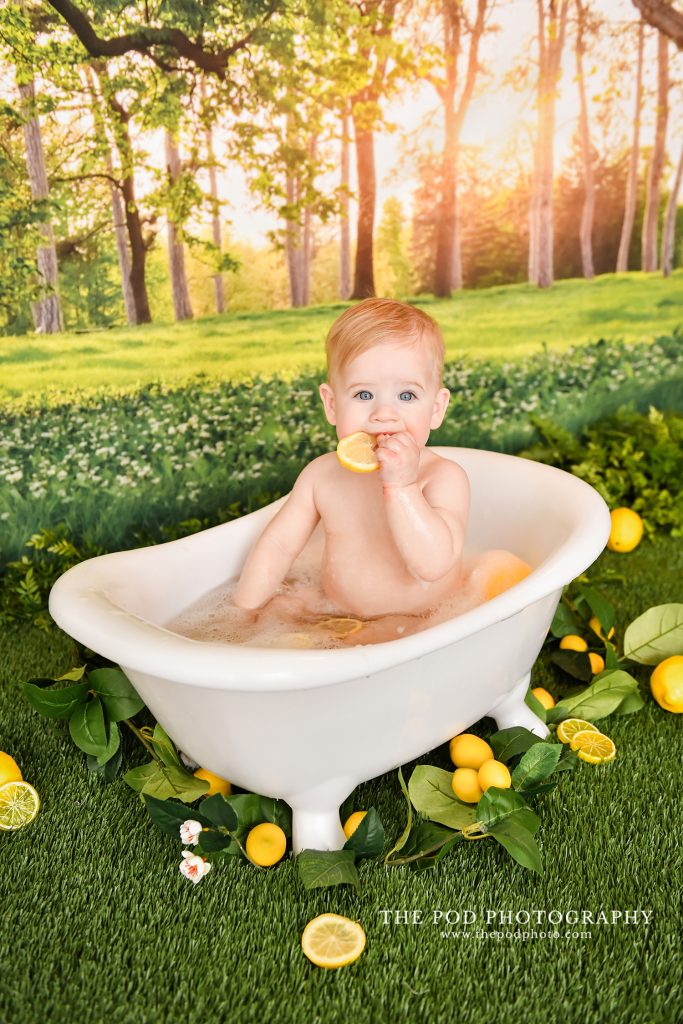 Portraits make spectacular gifts for family and friends.  Here at The Pod Photography Pacific Palisades, California studio, we have a variety of premium heirloom products that include wall art and keepsake gifts.
At The Pod Photography, our professional photographers specialize in First Birthday Cake Smash and Splash portrait sessions.  Give us a call at 310-391-4500 to schedule your baby's session today!   We can't wait to meet you and create a unique portrait session just for you and your baby.
Please visit our website at ThePodPhoto.com to browse our First Birthday Cake Smash and Splash portrait sessions.  Feel free to use one of our many unique themes, or after you book, create a unique, one-of-a-kind backdrop with one of our professional photographers.  Included with your booking session will be a brainstorming session where we get to know you and your baby.
Join us on all of our social media pages.  We have a Facebook, Instagram, Pinterest, and a YouTube page.