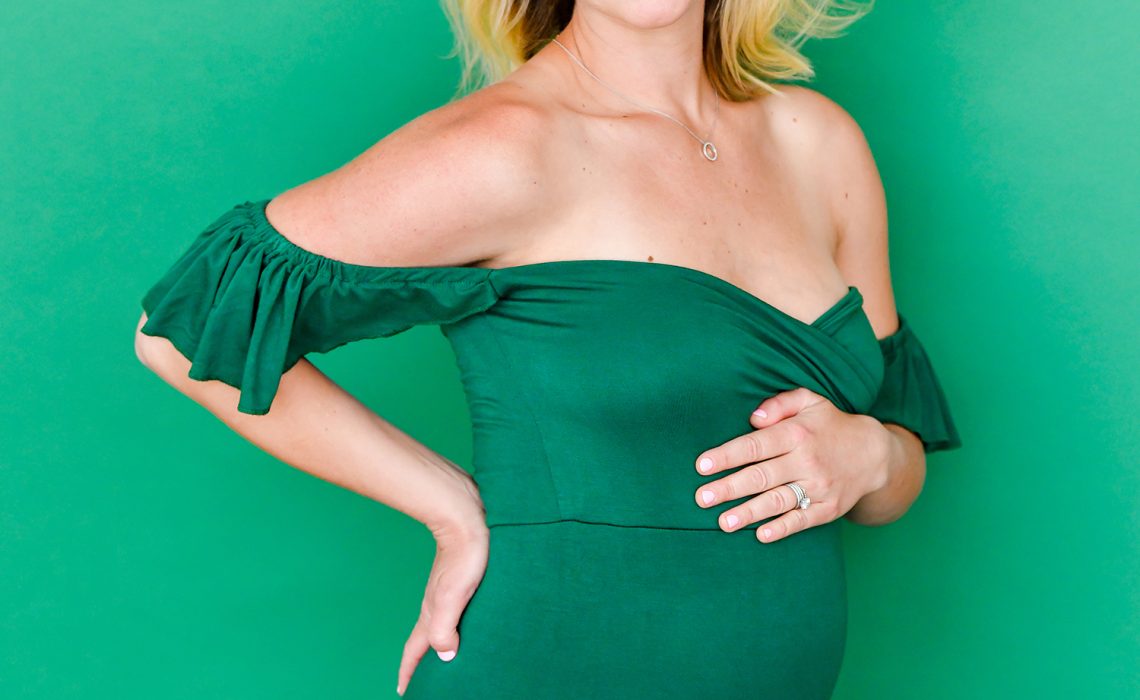 A Color Block, Maternity Portrait Session, is an excellent way to document your pregnancy, especially if your goal is to achieve bright and colorful portraits.  Color block photography works by taking colors on opposite sides of the color wheel and pairing them together.  However, even though they are on opposite sides of the color wheel, the colors still coordinate beautifully together.  It's so much fun to mix and match different colors!
I know you may be thinking that two colors cannot create a beautiful portrait. Color block portraits pack a punch and are sure to attract the attention of the naked eye. It's an image that you simply cannot help to admire.
How Does A Color Block Portrait Session Work?
After you book your Maternity Color Block Portrait Session, one of our professional photographers will help you choose the perfect coordinating colors. The goal of the color block session is to create bold and eye-popping images by incorporating vivid colors by using the backdrop and the subject's outfit of choice. The photo backdrop plays an essential part in creating the perfect Color Block Portrait Session.
What better way to document your baby bump than with vibrant, rich colors and bold outfits. Create your very own color block that has pizazz!
Color Choices For Color Block Portrait Session
With the help of our professional photographers, the mom-to-be chose several color schemes for this Color Block Portrait Session. The mom-to-be chose colors including green, blue, yellow, and lavender. To create this color block, a darker and a lighter shade of green was chosen. These two colors would complement each other, one being a lighter color and the other being a darker color.
Imperial Blue
The mom-to-be looked stunning in her imperial blue gown! Her gown complimented the bold, blue photo backdrop, which was slightly lighter than her outfit. Look at her confidence shining through!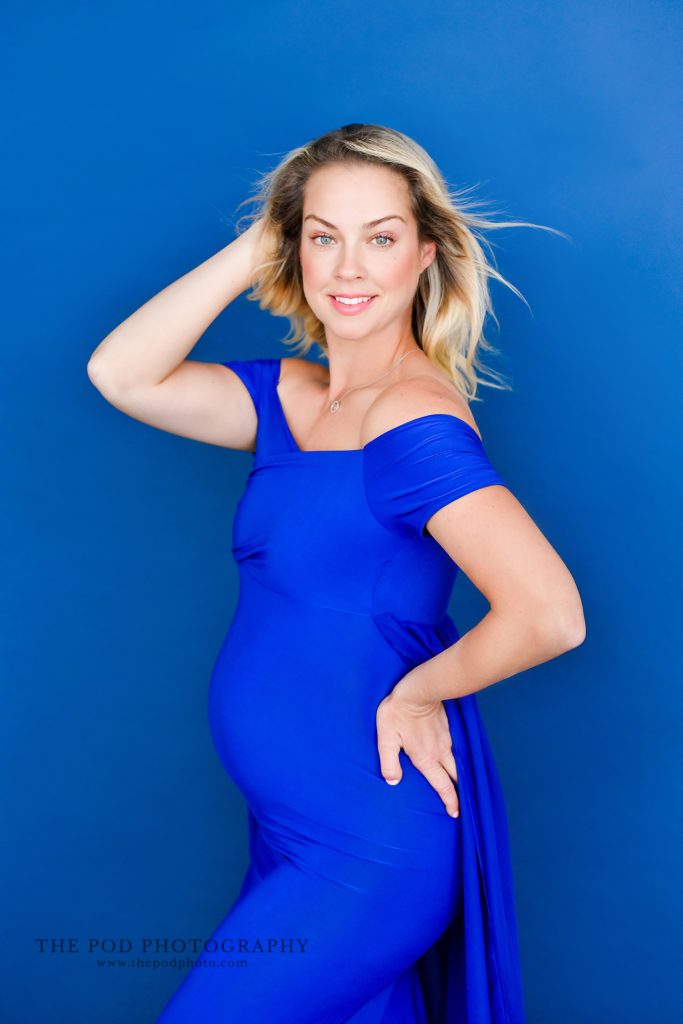 Lavender
The mom-to-be chose a sexy light lavender lacy off-the-shoulder dress for the lavender color scheme. The lavender backdrop was darker than the lacy dress, making the lacy dress pop in the image. While the colors are not as bold as the other color choices, this image still makes a statement.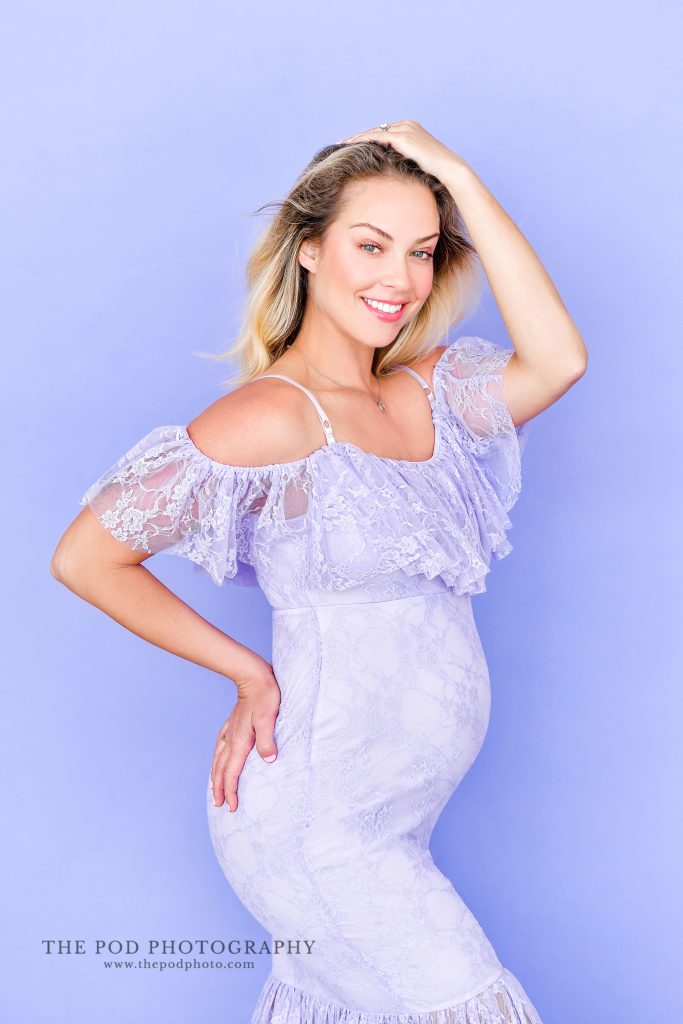 Green
The bold, dark green gown gave this mom-to-be a glamorous, Hollywood look and outlined her baby bump perfectly. The backdrop was green but coordinated perfectly with her gown choice.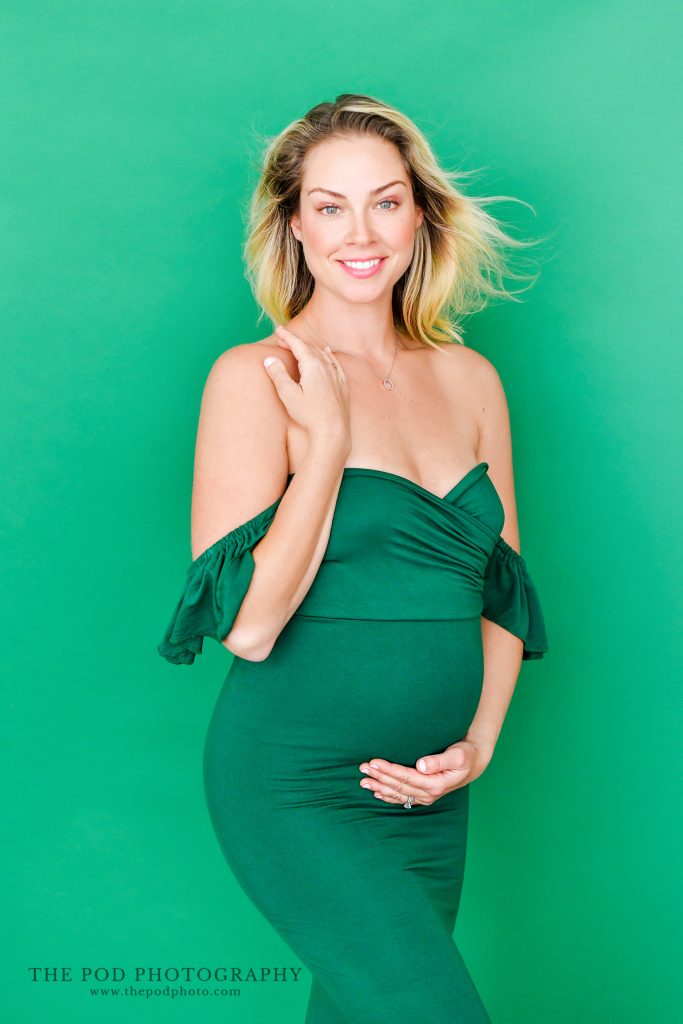 Yellow
The last outfit was a comfy yellow bandeau paired with a lighter yellow skirt wrap. The darker bandeau complimented the light wrap and popped against the darker yellow backdrop. Mom-to-be looked just like she had walked off a beach. Her golden skin tone was perfect for the outfit choice. And how sexy is that baby bump!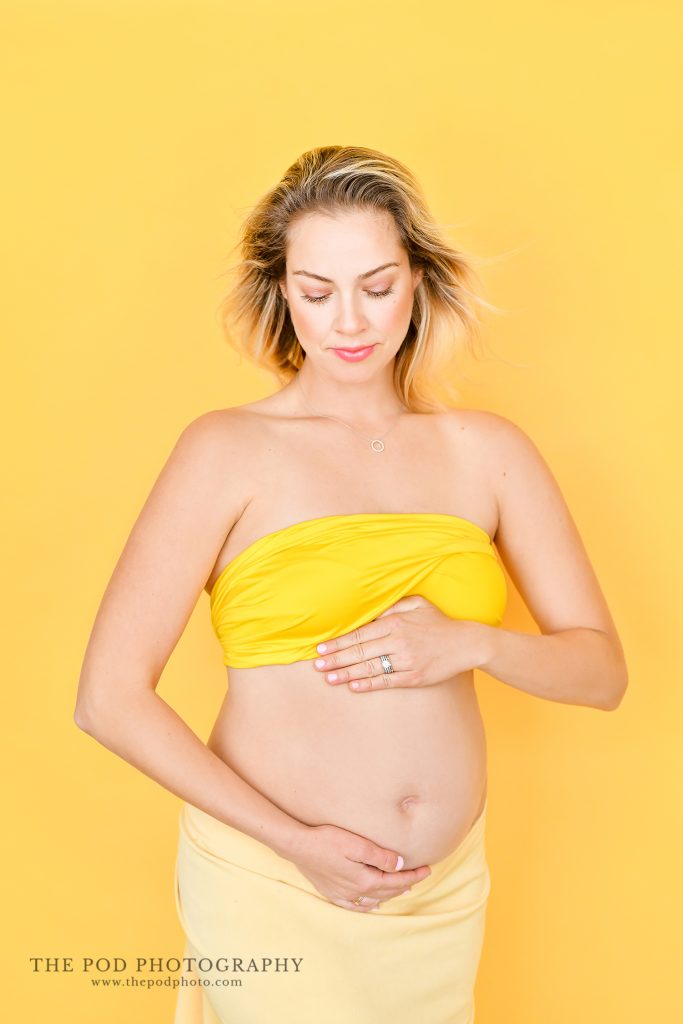 Booking Your Color Block Portrait Session
A Color Block Maternity Portrait Session is perfect if you have an adventurous personality and love a pop of color. Call us at 310-391-4500, or feel free to contact us via our blog to book a session today and let one of our experienced photographers at The Pod Photography help you select the perfect colors!
The Pod Photography is a luxury portrait studio located in Los Angeles, California. We are conveniently located in Culver City, California. Our professional photographers will make you feel right at home.
Be sure to follow us on Facebook, where we share gorgeous photos and behind-the-scenes peeks. We also have an Instagram, as well as a Pinterest page. Our YouTube channel also contains videos of the studio, photographer interviews, and session sneak peeks.