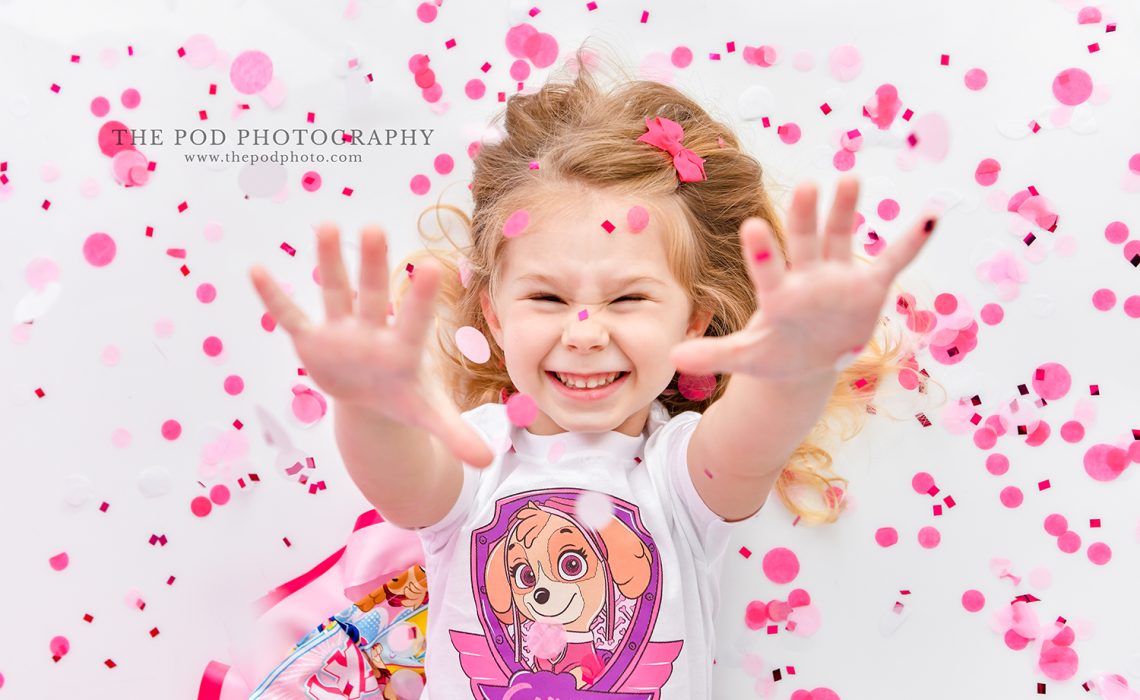 Do you have a little girl who loves Paw Patrol?  Do you struggle to figure out how to girly up a Paw Patrol themed portrait session?  The photographers here at The Pod Photography Silverlake, California studio, are experts in creating unique themes and giving them a different twist.  This Paw Patrol-themed portrait session turned out absolutely amazing. With gorgeous pinks and bright purples, the backdrop was fitting for this little girl's bubbly personality!
Paw Patrol Themed Portrait Session
For this portrait session, we based the theme around the four-year-old favorite character Skye, the female cockapoo. Skye was the first female member of the PAW Patrol. Her role in the series is transporting people from place to place by flying a helicopter. Not to mention her incredible landings! Skye's primary color is pink for the show; therefore, we chose pink with other coordinating colors for the backdrop.
The Colors
The Paw Patrol girl's birthday-themed portrait session was filled with girly colors, including dark pinks, light pinks, and purples.  The backdrop included shades of pink and purple balloons and shiny streamers, which complimented the balloon colors.  The bright streamers also added a touch of sparkle!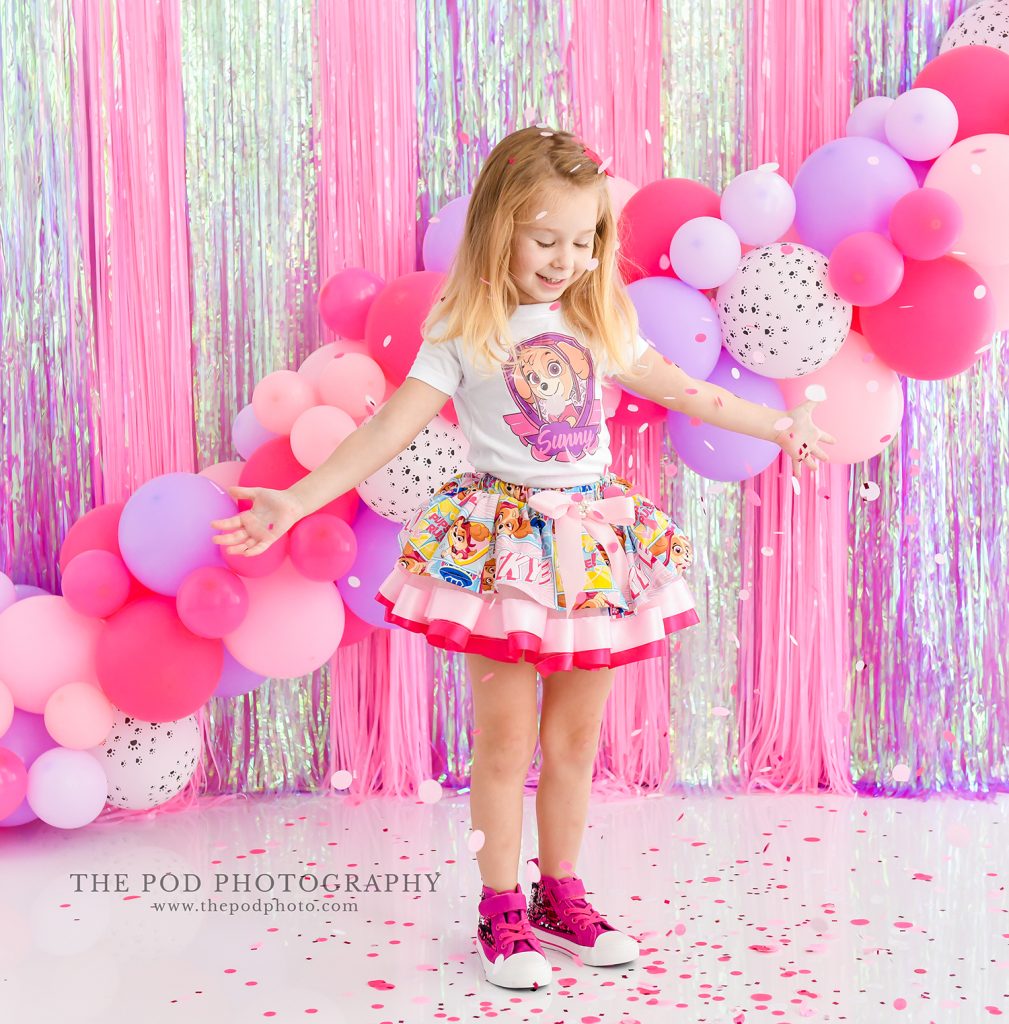 The Outfit
Another way we made this portrait session more feminine is by choosing a girly outfit. And, of course, you can't go wrong with a cute tutu dress. This outfit was purchased from Etsy and was the perfect choice for this Paw Patrol birthday girl-themed portrait session.
The tutu included pinks and purples and an image of Skylar (the girl character) on the front.  We finished the outfit with a pair of pink sneakers.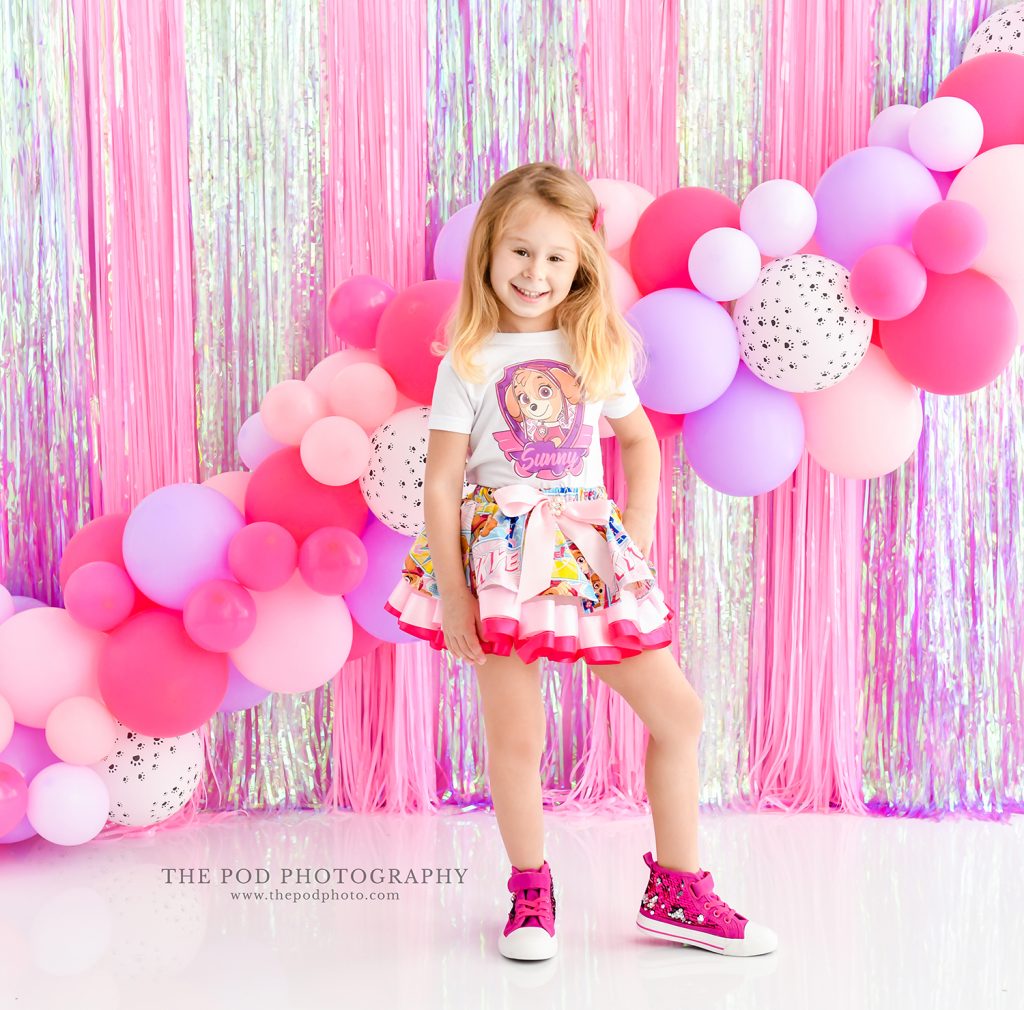 Confetti
Of course, you can't have a birthday party without confetti.  This was a perfect shot!  Check out her adorable smile.  She was having the time of her life in front of the camera.  Her personality really emerged once the confetti started flying!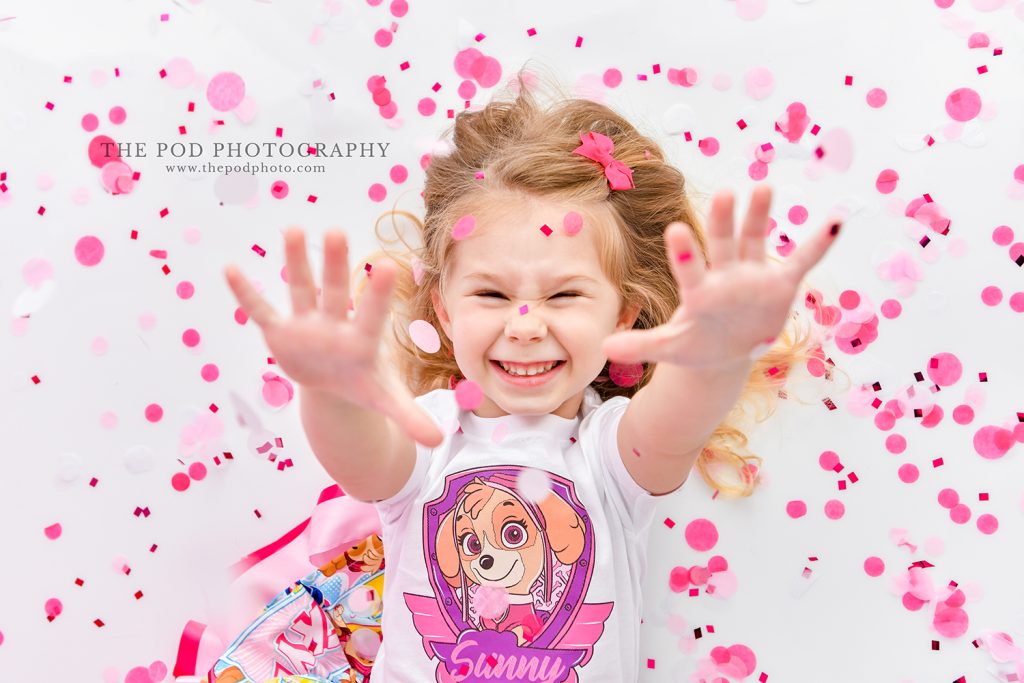 Book With Us
If you have a little girl who loves Paw Patrol, let the photographers here at The Pod Photography, located in beautiful and sunny southern California, can create the perfect portrait theme to document your little girl's love of Paw Patrol. We will create a fun and energetic backdrop for your little girl to be the star. And the best part is that you will have portraits to share for a lifetime!
The Pod Photography also offers heirloom products, including premium products like wall art, albums, and keepsake gifts! It's a great way to display your portraits throughout your home and share them with other family members.
Be sure to follow us on social media to see all of the beautiful portrait sessions that our professional photographers have created. We have Facebook and an Instagram page. We also have a Pinterest account as well as a Youtube channel, so be sure to check those out as well. Call The Pod Photography today at 310-391-4500 to book your little girl's Paw Patrol portrait session. And, if you're looking for a different but unique themed portrait session, The Pod Photography professional photographers can create the perfect theme!