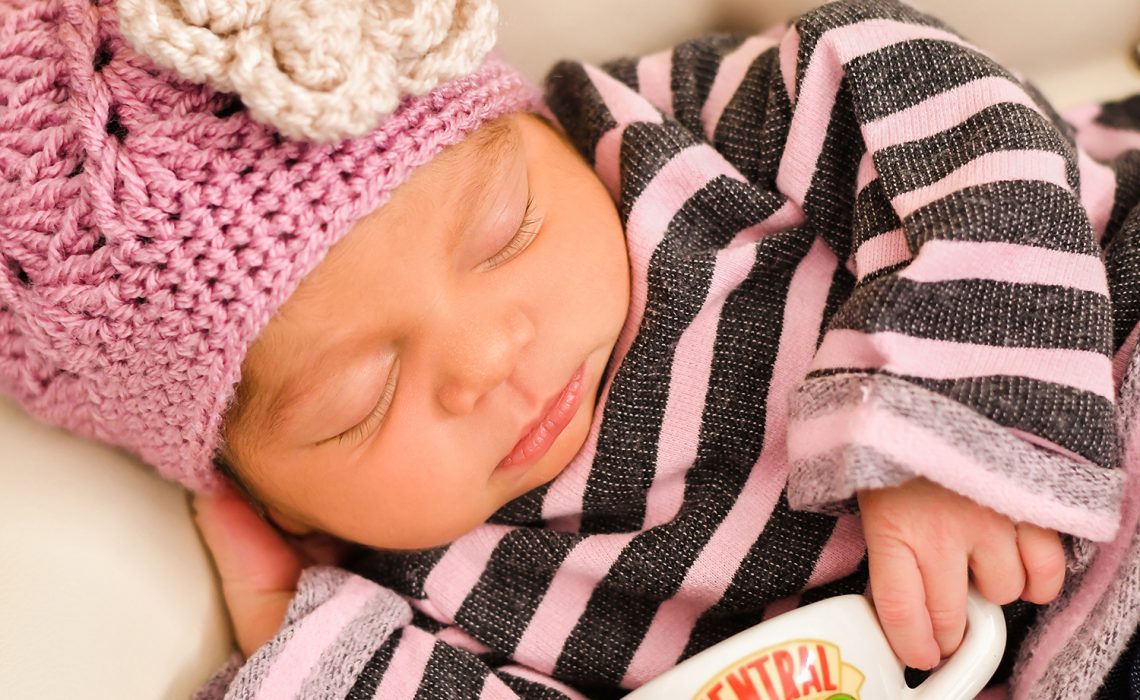 Newborn babies are so much fun to work with here at The Pod Photography. Moms can be creative when it comes to ideas for their newborn's portrait session. Our photographers specialize in creating custom set designs based on these ideas. We are one of the few luxury portrait studios in Los Angeles, California, that hand builds each set and conducts research to find unique prop pieces. This newborn whimsical portrait session and custom design set was fun to put together.
For this whimsical newborn portrait session, our mom-to-be had several specific ideas that she wanted to incorporate into her newborn baby's portrait session.
Friends Coffee Shop – The Central Perk
Is this not the cutest thing you have ever seen? This custom set was one of our favorites to create! These custom-designed Friends set included a similar replica of the iconic Central Perk coffee shop sofa in which the Friends gathered around and hung out. The newborn was placed lying on the sofa, snuggled up with a cup of joe and in her crochet beanie and stylish blue jeans. The wall was adorned with a Central Perk menu board. We added a guitar against the wall next to the sofa. It was not unusual to visit the Central Perk and not hear Phoebe strumming her guitar and singing for the customers.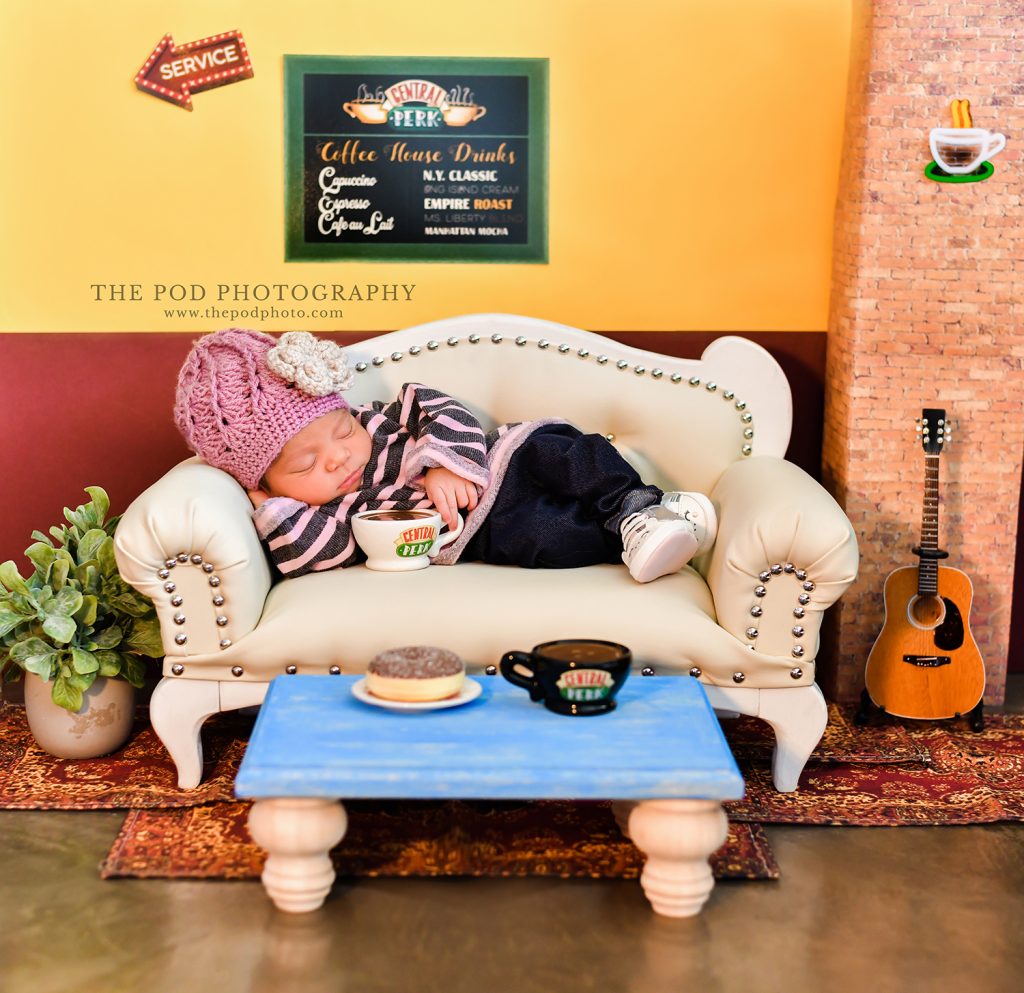 The First-Class Airplane Flight
Our professional photographers at The Pod Photography built this custom set design that replicated a first-class airplane flight. The newborn's outfit included a pink onesie and eye mask for a good night's sleep. We also designed a passport and airplane ticket. This little one is certainly getting her rest and will be ready for a fun-filled adventure!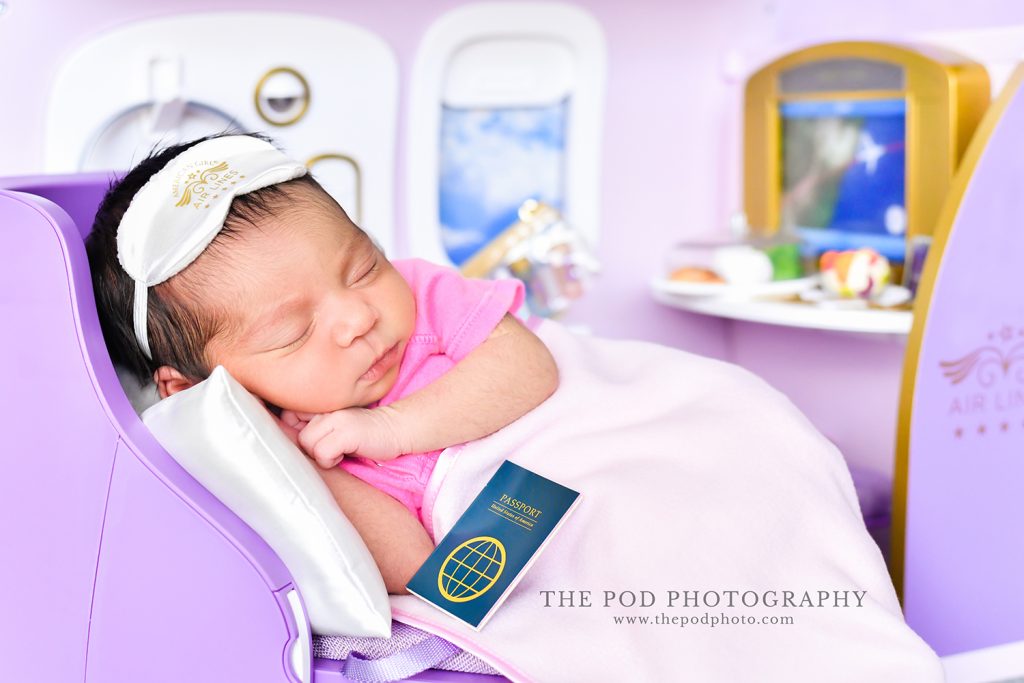 The She Shed
This custom design set was hand-built to put a different spin on the "man" cave sets that we create. For this set, we created a "she" shed! We included fun video games, a cozy chair to chill out on, and sports memorabilia on the wall. The outfit of choice for this set was a pair of purple, comfy jammies, while popcorn and a beverage finished out this custom set. This was definitely a place to enjoy with friends!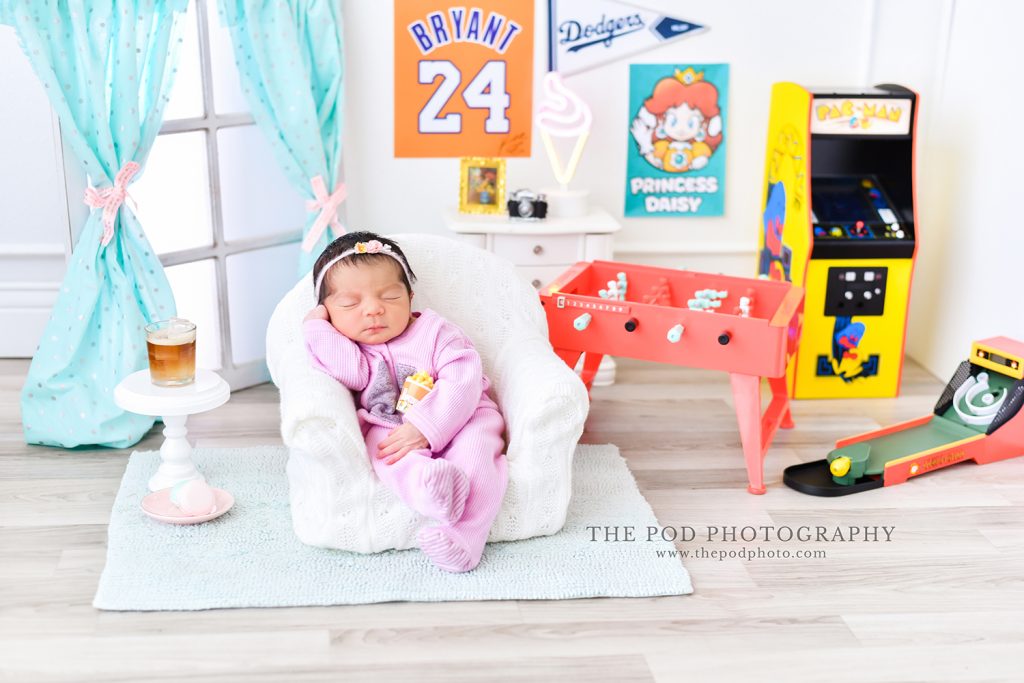 The Girly Bedroom
What little girl doesn't love a girly pink bedroom? This custom set was by far fit for a baby girl! We chose white furniture, and on top of the dresser were girly necessities like makeup and jewelry. What little girl doesn't love to get dressed up? Hanging from the head of the bed was a colorful boho dream catcher. The newborn's outfit included a white, fluffy robe and towel around her head to represent just getting out of the shower to get ready for a night with friends.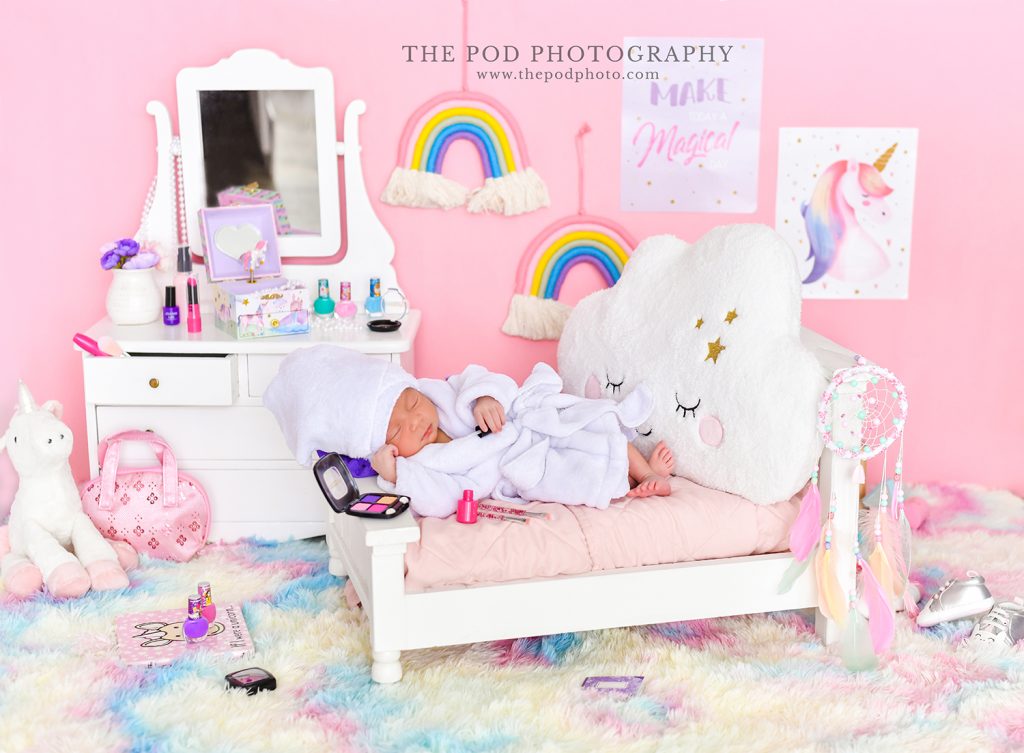 The Pool Scene
After days of entertaining and flying around the world, it's time to relax by the pool! This custom design set was built to show baby relaxing by the pool, floating peacefully on a unicorn float. Baby's outfit choice was an adorable two-piece bathing suit with white stripes. We also chose heart-shaped sunglasses to give baby girl a bit of sass! How cute! And lastly, you can't hang by the pool without snacks and a cool beverage to sip.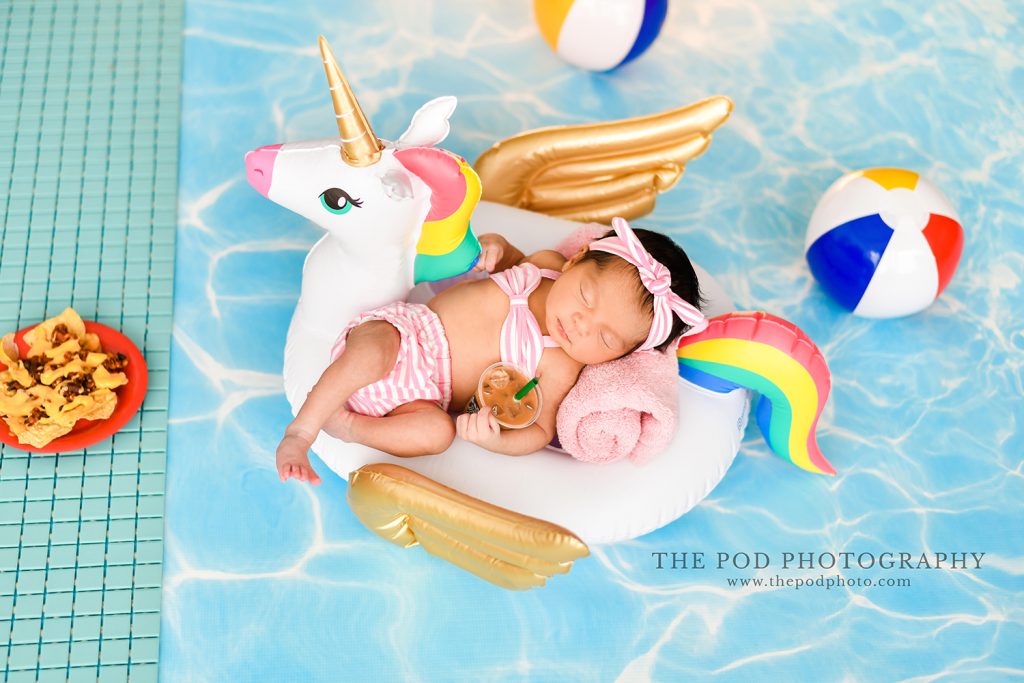 Here at The Pod Photography, we are one of the few southern California portrait studios specializing in creating unique newborn sets explicitly designed for you and your taste. Call us at 310-391-4500 and book your appointment today. Let us bring your fun and unique ideas to life.
Lastly, please visit our Facebook and Instagram pages to keep informed of upcoming events and see examples of our portrait sessions. We also have a Pinterest page and a YouTube channel.