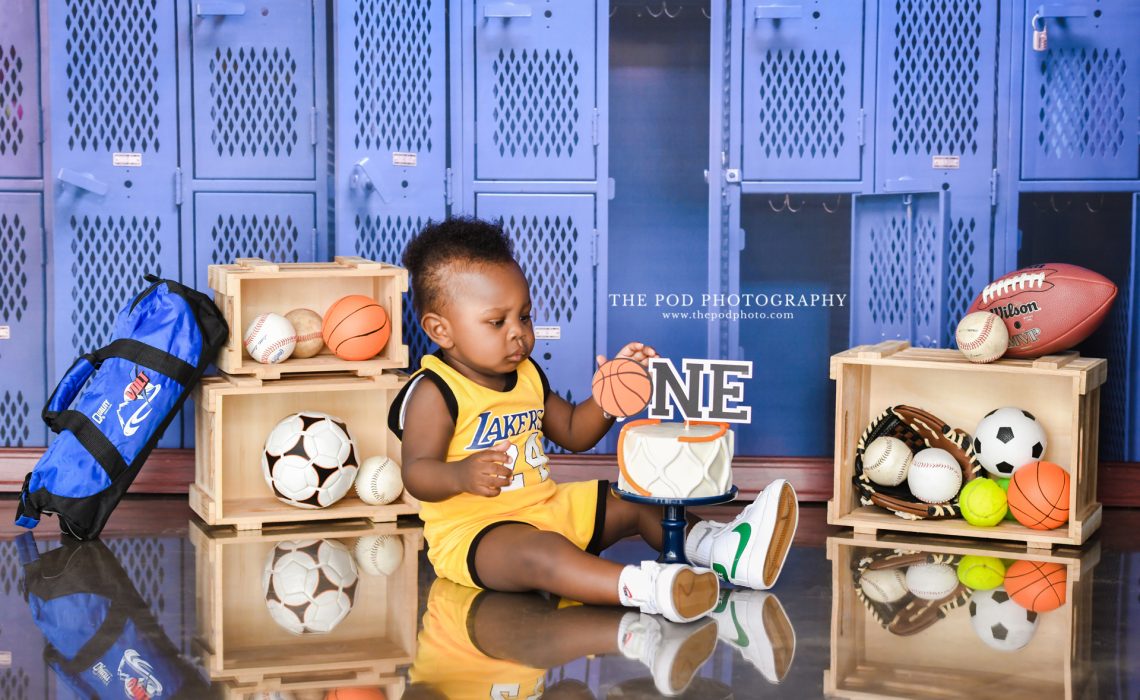 Here at The Pod Photography in Los Angeles, California, one of our specialties is creating custom set designs to document your baby's first birthday and make it memorable! Our professional photographers specialize in creating unique custom set designs that bring the love for your team to life through your baby portraits! This custom set design LA Lakers Cake Smash is perfect for LA Laker fans.
Custom Set Design
Our experienced photographers created this LA Lakers Cake Smash custom set design by hand, inspired by the LA Lakers basketball team locker room. The blue lockers used for the backdrop gave the set a locker room feel. We added crates with footballs, soccer balls, and basketballs to represent every sport.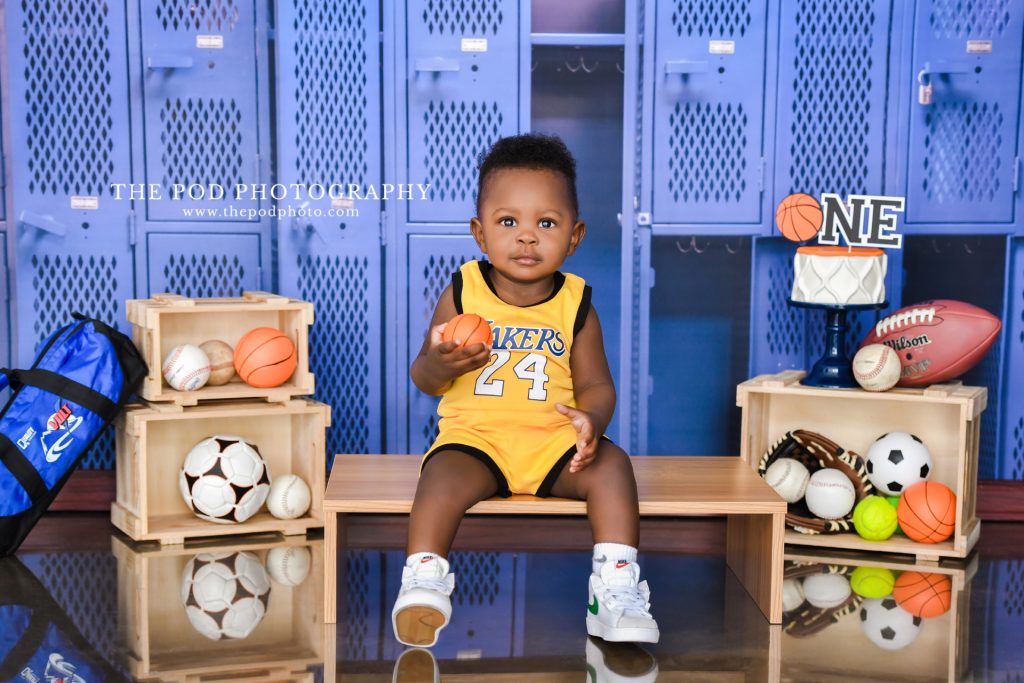 Cake Smash Birthday Cake
The delightful birthday cake was designed with a basketball in mind, with a hint of orange icing around the top. This little LA Laker wasn't sure if he should dive into his cake or not! Sometimes babies go head first, and sometimes here at The Pod Photography,  we have cautious babies. No matter which, we still have a blast.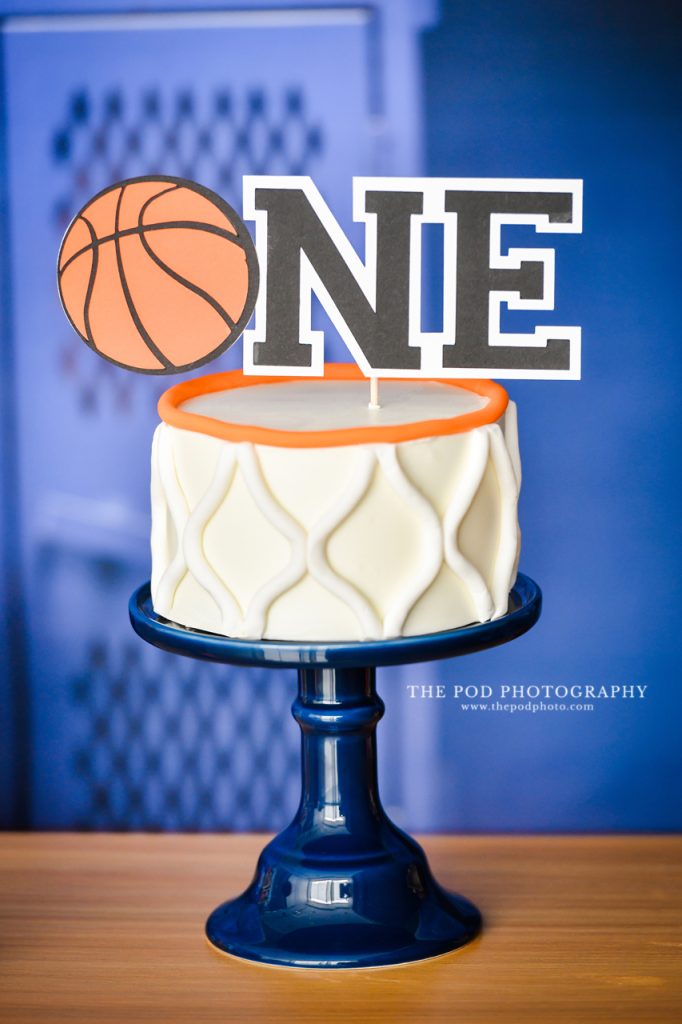 LA Lakers Baby Boy Outfit
This baby boy was adorable in his LA Laker's outfit.  His cute Nike sneakers perfectly coordinated with the Laker's basketball outfit.  And his Nike socks added the finishing touch. This little one was ready to run up the court and shoot a three-pointer.  Look at that grip on the basketball.  Go Lakers!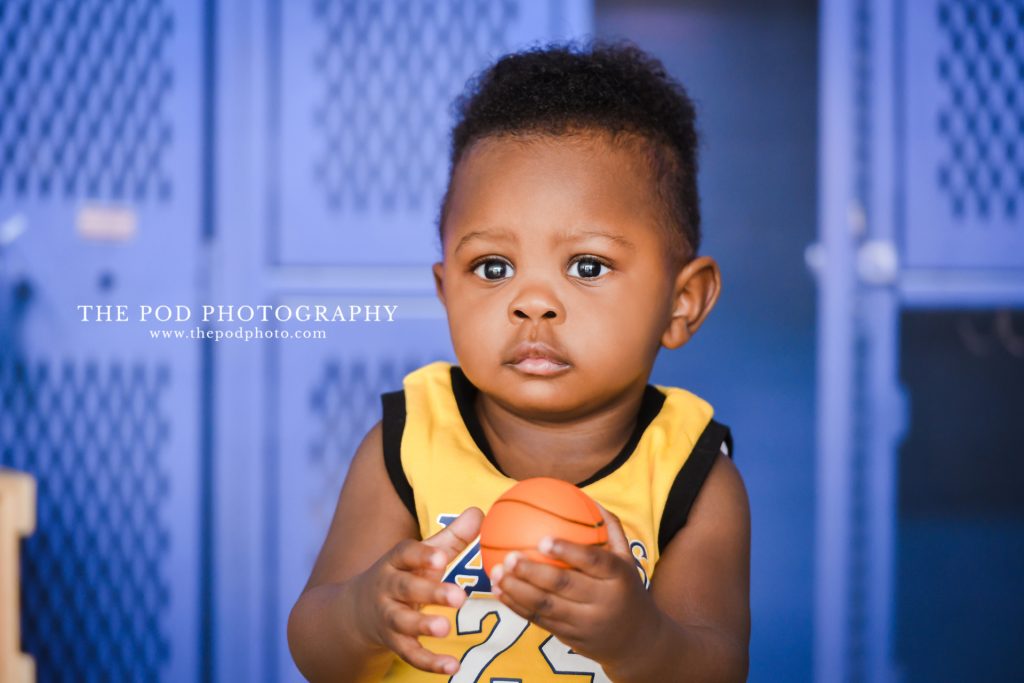 Baby Milestones
As parents, we know how our babies can grow up so fast!  The first year is gone before you realize it, so why not document every milestone with beautiful portraits.  Schedule a first birthday cake smash portrait session for your baby's first birthday.  It is a great way to document and preserve those memories for years to come.  
And, if you are planning a birthday party for your little one, our heirloom wall art products are great for displaying and sharing the beautiful images from your portrait session with party-goers!  It is a unique way to decorate for your baby's first birthday party.  These heirloom products also make great gifts for grandparents and other family members.  We also offer products to display your portraits beautifully in your home.
You can check out our first birthday cake smash portrait sessions by following us on Facebook and Instagram.  Be sure to visit our Pinterest page for portrait session inspiration.  Also, subscribe to our YouTube page and get access to portrait sessions and interviews with the photographers.  Sign up to receive our blog posts for portrait inspiration and handy tips to help your portrait session run smoothly.  Be sure to visit our website and meet our talented team of photographers here at The Pod Photography.  
In conclusion, if your baby's first birthday is approaching, do not hesitate to contact Los Angeles, California's best First Birthday Photographer, at 310-391-4500 to start planning and book your baby's first birthday cake smash portrait session.  Let us create a unique custom set design portrait session for your baby.  Beautiful portraits you will treasure for years to come.