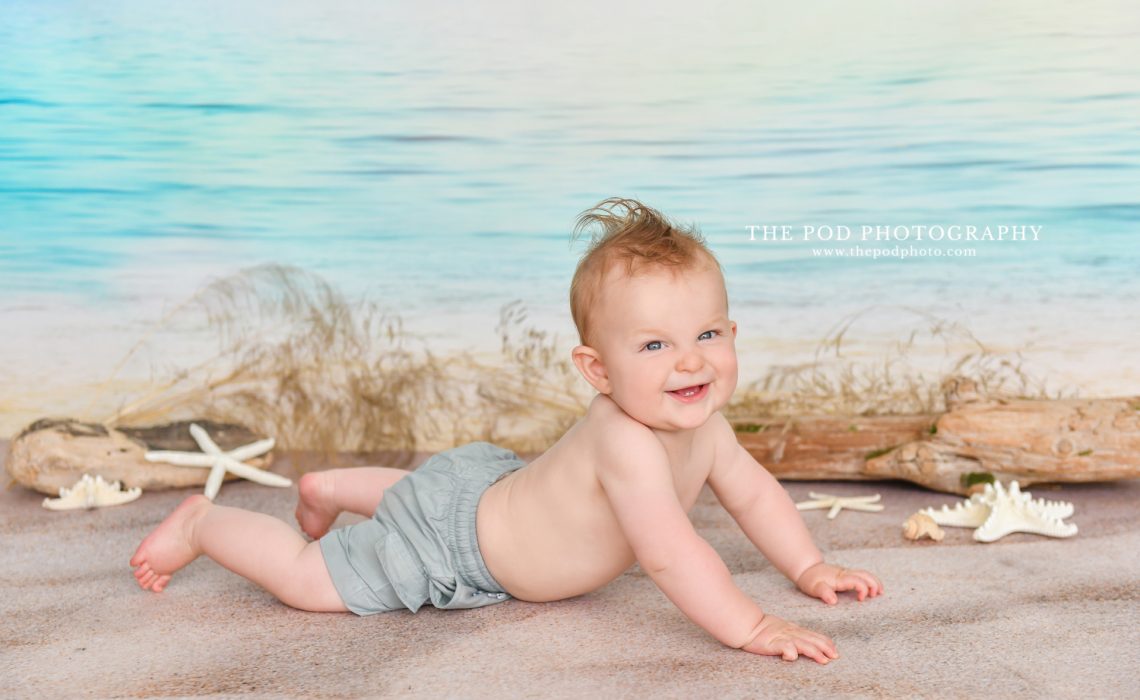 There is nothing like the summertime in Redondo Beach, California.  Summer is always a great time to explore and have fun, from beautiful beaches to boardwalks and sunshine!  And, if you are an avid beach lover, then a summer beach-themed portrait session at The Pod Photography is perfect for your baby.  A baby boy beach portrait session is a great way to document your love for the beach!
Beach Custom Set Design
Here at The Pod Photography, clients come to us and acquire about beach portraits but do not want the hassle of actually going to the beach. There are so many things that can affect a portrait session held on the beach. Sand, salt, and sun can make an uncomfortable portrait session for your baby, especially when your baby may not be in such a great mood on your scheduled session day.
But no worries! The Pod Photography specializes in creating custom set designs for anything our clients can envision. We love a challenge and pride ourselves on bringing the client's specific vision to life. There is no custom set design we can't create! For this portrait session, we transformed the portrait session area into a beautiful beach set!
Backdrop For Beach Portrait Session
The backdrop for this summer beach portrait session was simple but exactly what the client intended for her baby's portrait session. This custom set beach design included beautiful blue water, seashells, driftwood, and starfish.  And of course, you can't have the beach without sand.  And our's is the no messy sand!  You could almost hear the waves crashing and the seagulls flying on the set.  But the star of this portrait session was not the beach but the adorable baby boy!
This portrait session was full of smiles, sunshine, and surf! This little guy loved being in front of the camera.  And you can certainly tell he was a natural and loved every minute.  He was an absolute joy to have in The Pod Photography studio.
Outfit Choice
The outfit of choice was a simple gray bathing suit. We incorporated fun props like snazzy blue sunglasses and a backward cap to give this adorable baby boy the look of a cute surfer dude!   And, boy, did he pull it off.
And of course, a blue surfboard. You can't visit a beach in southern California without your surfboard. This baby boy was ready to hit the waves!
Book Today
If you are looking for a summer beach custom set for your baby's portrait session, contact us today and let us create your unique perfect custom set design.  Our professional photographers will work with you to create a set that will show your baby's personality and document your love of the beach.
Call The Pod Photography today at 310-391-4500 and schedule your consultation with one of our professional photographers.  Our photographers will begin planning and designing your custom design set immediately after your consultation.
Don't forget to follow us on Facebook, Instagram, and Pinterest for beautiful custom set design inspiration. And visit our YouTube channel to see interviews with our photographers and behind-the-scenes footage. And of course, if you have any questions, feel free to reach out to us. We are here to help you in any way we can and look forward to serving you.