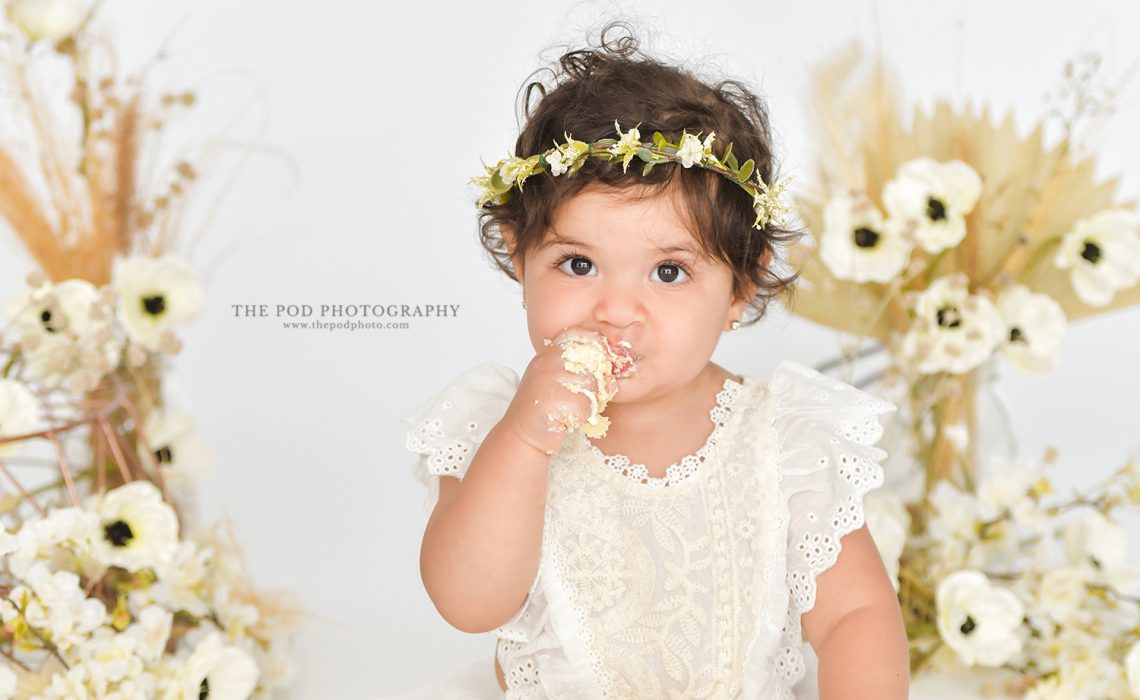 As Santa Monica's Best Baby Photographer, we love creating unique Cake Smash and Splash portrait sessions to document your baby's first birthday. Cake smashes are so much fun for babies, as well as the splash part of the portrait session. The gorgeous portraits are perfect for displaying at your baby's first birthday party and sharing their huge milestone! This Boho First Birthday Cake Smash and Splash was a blast!
Here in our Santa Monica, California, luxury studio, we pair our cake smashes with our splash portrait sessions. After smashing into the cake, the baby can get messy! Our professional photographers can create a warm and cozy bubble bath for your baby to relax and get cleaned up. Babies love splashing in the water, and the photographers love catching them!
Custom Set Design For Boho First Birthday Cake Smash and Splash
The photographers here in The Pod Photography studio love creating gorgeous, one-of-a-kind, custom set designs. They have extensive experience with putting together the perfect set design for your baby based on your personality and likes.
For this First Birthday Cake Smash and Splash portrait session, mom wanted a rustic, boho vibe!
When creating the custom set design, we started with a color palette of beiges, pinks, and golds. To add a touch of "rustic" vibes, we added light brown fans and ivory-colored florals with just a hint of dark brown.  To finish this boho custom set design, we added an elegant pink, trimmed in gold, tufted footstool.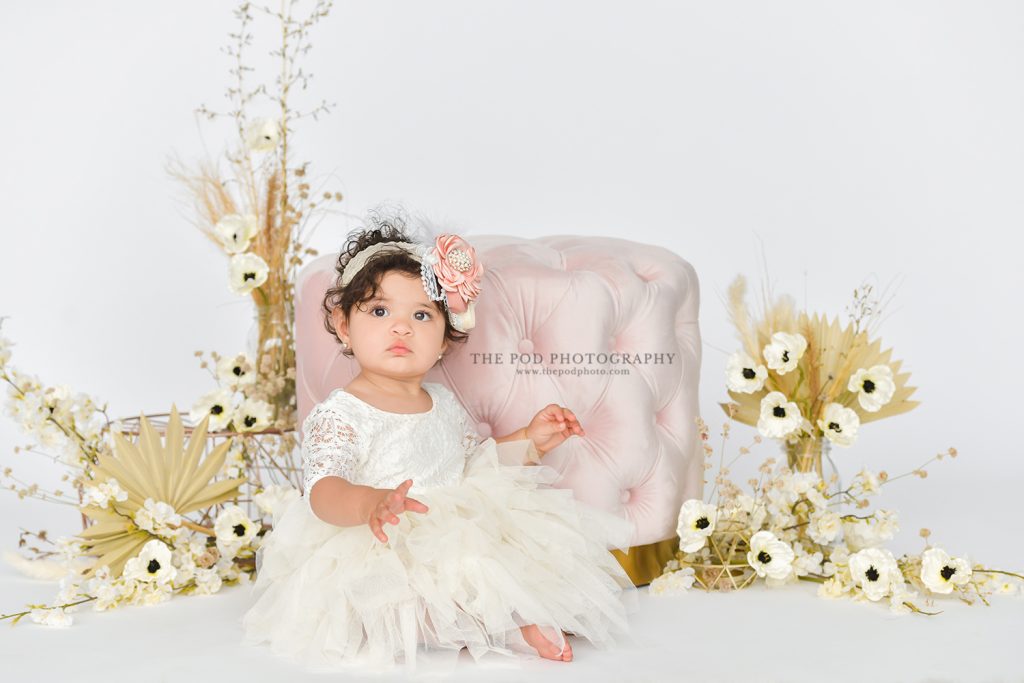 Baby's Boho Outfit
Isn't this baby girl simply stunning?  Her beautiful big brown eyes stole the show!  For the baby girl's outfit, we chose a gorgeous lacy tutu.  We paired her outfit with a boho floral headband.  The lace gave the outfit a classy, sophisticated look!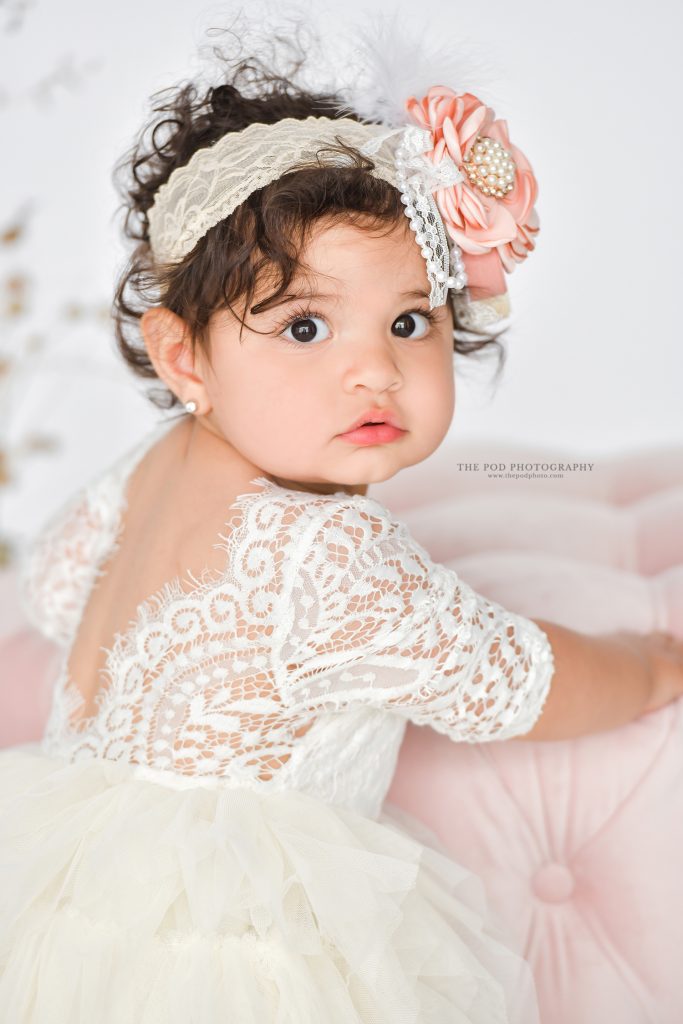 Birthday Cake
Of course, you can't have a cake smash portrait session without a birthday cake!  We have a local bakery make a mini birthday cake that is the perfect size for your baby.  The birthday cake was layered with creamy icing and a hint of gold for this cake smash. The cake topper was a faux tree cookie, giving the cake a rustic, boho look.  It sat upon a white cake pedestal but wouldn't look pretty for long!  This baby girl was ready for her cake!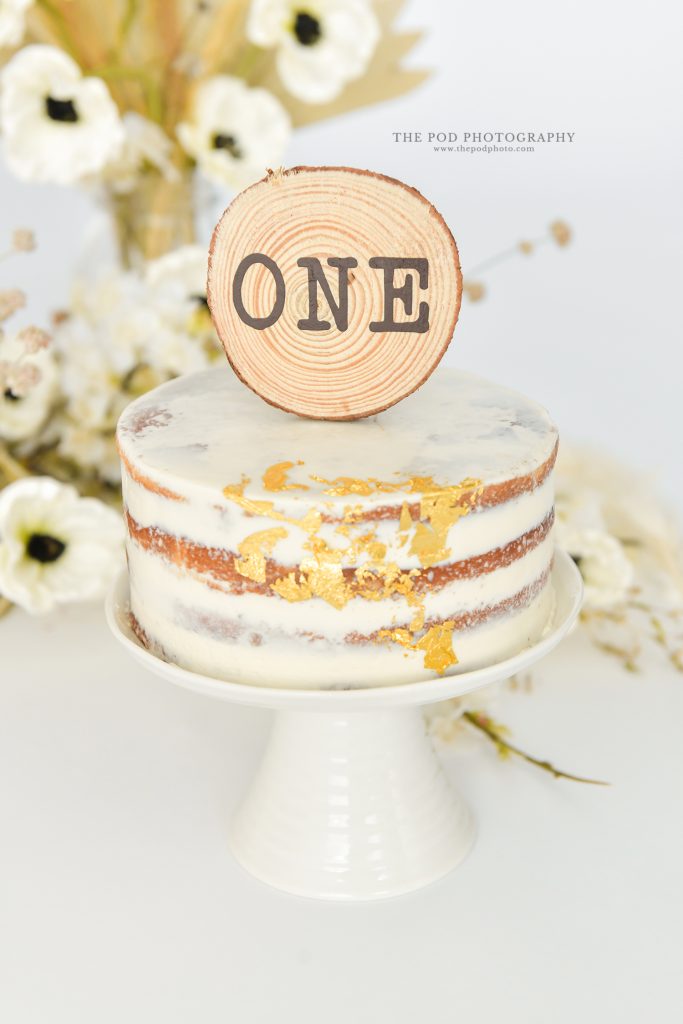 Splash Session
Time to clean up the cake smash mess!  For this part of the portrait session, we placed the baby inside a mini tub for a relaxing bubble bath.  The splash session was designed with mauve florals and a satin drape.  A pretty pink tulle was draped from the bathtub and placed on the floor.  We added a fancy mini chandelier to finish the set and give this baby bathtime an elegant look.  This little queen loved every minute of her splash custom set design!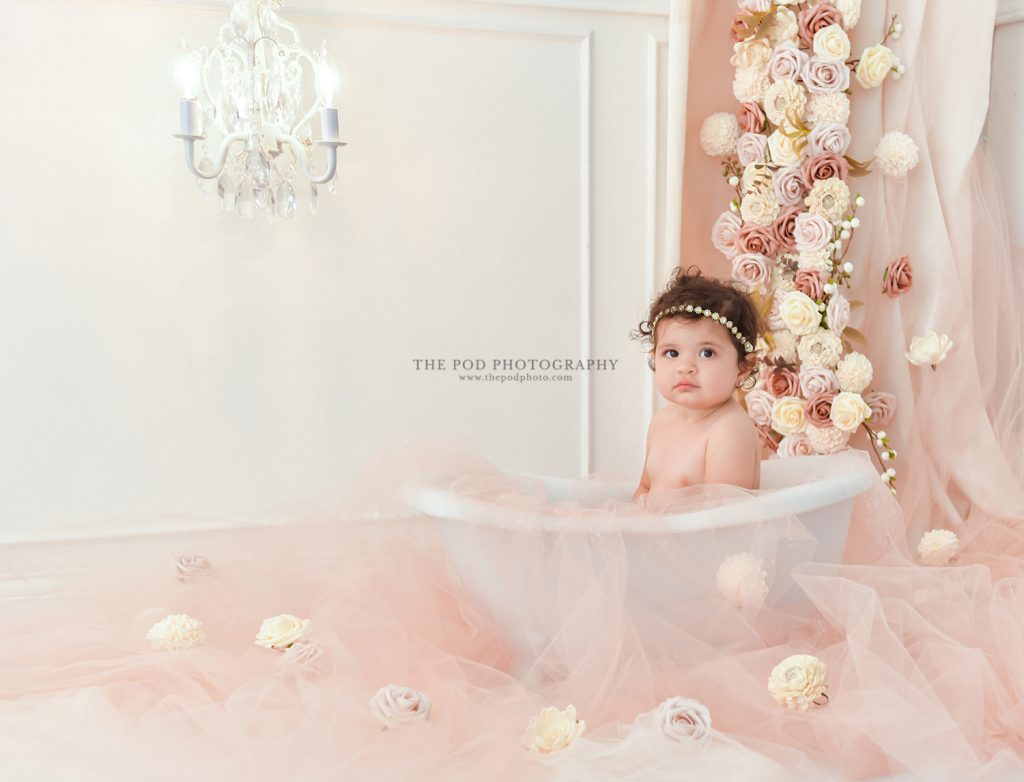 How It Works
We will book a Session Planning Appointment a month before your baby's portrait session to begin planning your custom set design. Our professional photographers will get to know you and your baby during this appointment. If your baby's first birthday is soon, call 310-391-4500 to book your planning appointment. We look forward to working with you and your baby!
Portrait Inspiration
Let's get social! Please follow our Facebook and Instagram pages for portrait inspiration and look at our custom set designs we have created for other clients.
And, to see behind-the-scenes footage, you can subscribe to our YouTube channel. Lastly, follow us on Pinterest and create your own Pinterest board. Fill the board with your ideas and inspiration that we can use at your planning session.