An expectant mother immediately forms a special bond with her unborn child. It's a love beyond measures! Capture this extraordinary moment in time with a maternity portrait session with Los Angeles, California's best maternity photographer. Years from now, you can reflect on how your belly looked and share these beautiful images with your baby as they grow older. It's a wonderful reminder of a magical time in your life. Let's take a look at how this Los Angeles Maternity Photography Session turned out!
Maternity Photography Outfit Selection
Our moms-to-be can select from a wide range of beautiful maternity gowns and outfits here in our Los Angeles, California studio. We also offer a vast selection of props, backgrounds, and fabrics to choose from to make your maternity session one-of-a-kind. It's a fantastic time to get creative and show your personality.
Mom-to-Be Comfort Level
The professional photographers at The Pod Photography will work with you during your Los Angeles maternity photography session. Whether you choose to show a little or a lot, we will be there for you every step of the way. Remember, yes, you have a big belly, but you are gorgeous! Do not stress over showing too much.
For this mom's portrait session, she chose various outfits. From elegant to playful, this portrait session was so much fun, and this mom was stunning! She was a natural in front of the camera, as her finished portraits reveal.
Baby Blue and Florals
For the first part of the portrait session, mom chose an elegant baby blue and white see-through lacy tulle robe adorned with lace which accented her baby bump beautifully! We had mom lay on a shaggy white rug and surrounded her with beautiful blue and purple florals. Her beautiful brown hair lay flowing.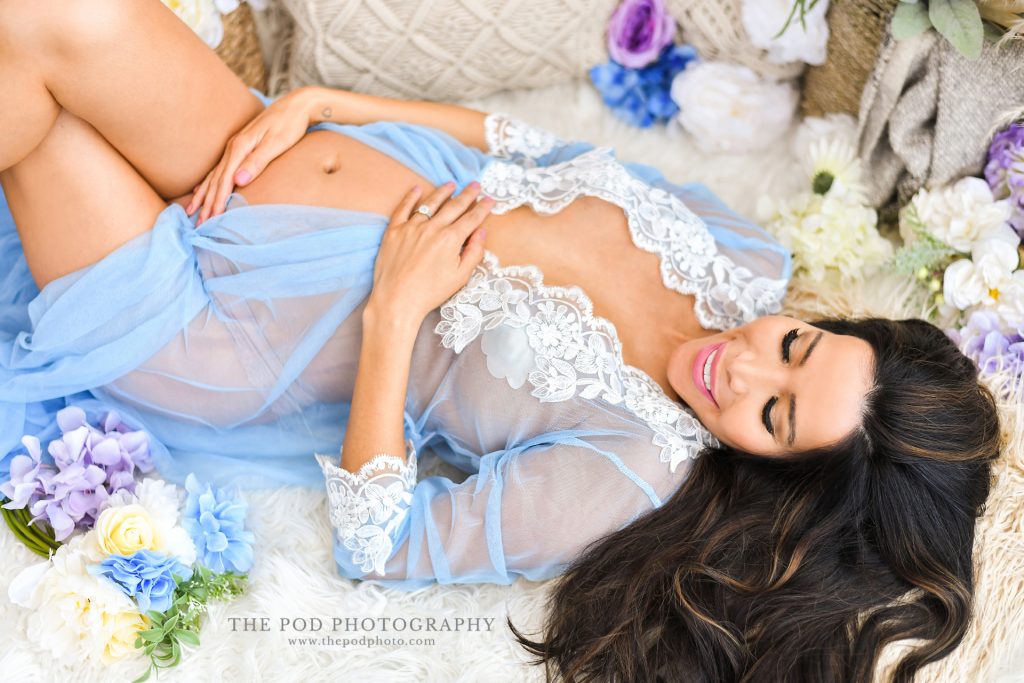 Show Your Fun Side
Mom chose to be a little sassy and playful in this part of the photo shoot. It is one of our favorite sets! We dressed mom in a black leather jacket with black combat boots. Mom's hair was placed in a cute ponytail, and we added a fun letter board that read, "A body like this doesn't happen overnight; it takes pregnancy and donuts"! How awesome is that! So, of course, we had to have yummy donuts! Is this not adorable?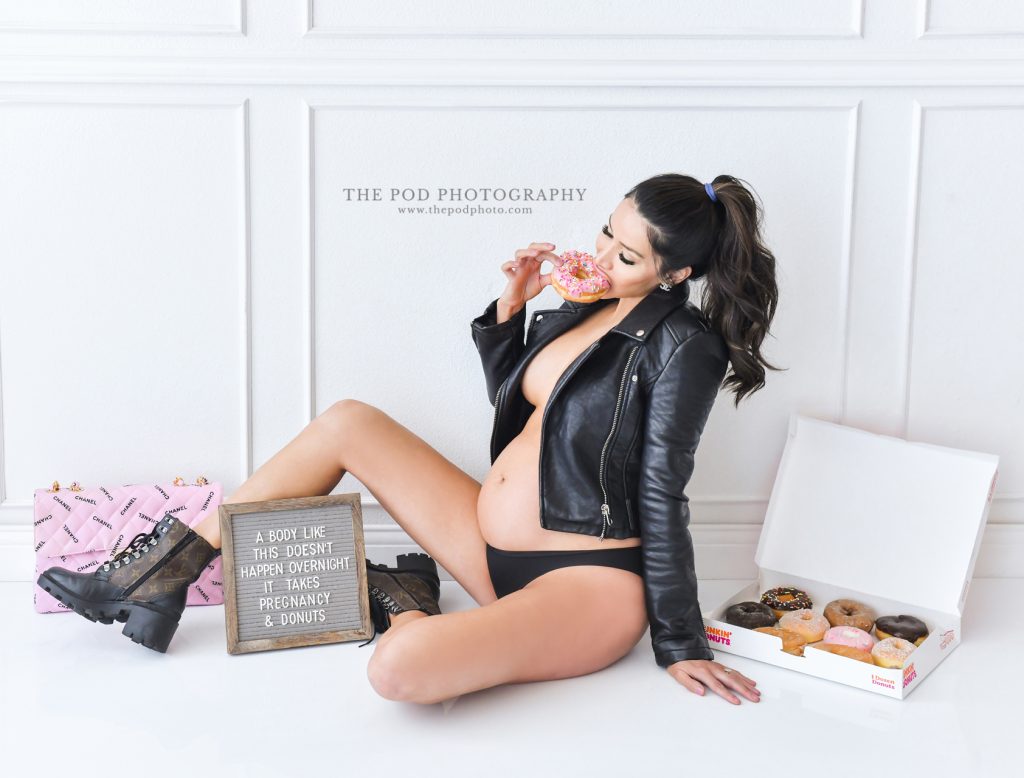 Modern and Chic
For a more modern, chic look, mom chose a minimal beige maternity gown and a pair of high heels to add a bit of a classy feel to her outfit choice. She rocked the heels! We had mom lean against a white wall and cuddle her baby belly with the natural light flowing through a window. Simply stunning!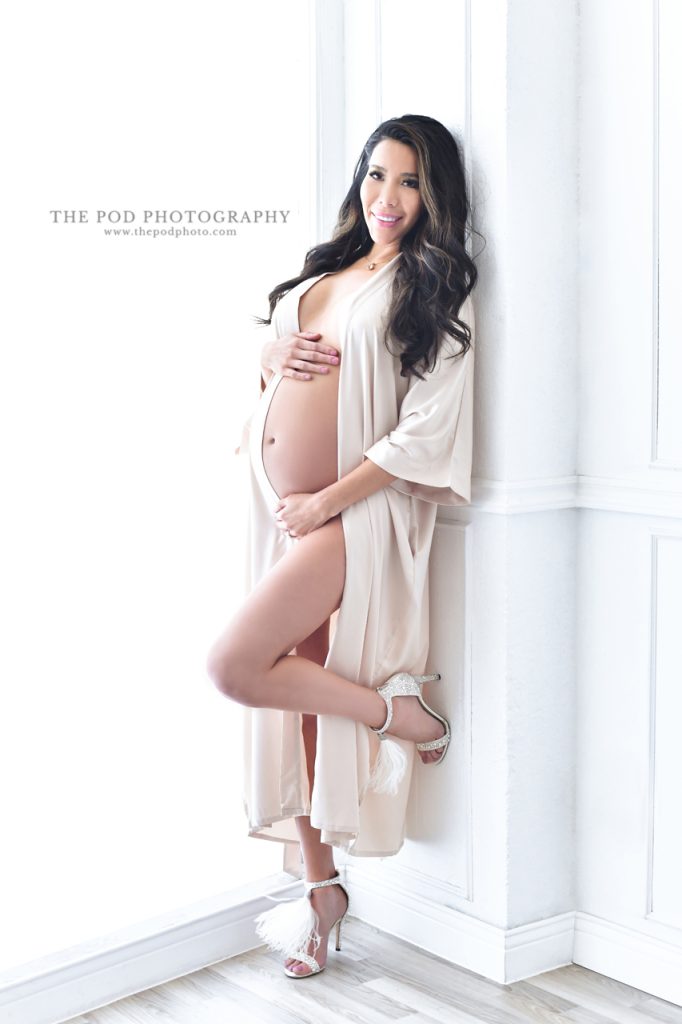 Heirloom Products
The Pod Photography also offers heirloom products to help you share and display your portraits with the world! From albums to wall art and keepsake gifts for family members, there is something for everyone! We can also help you create a gallery wall to display your portraits in your home.
Let's Get Social
Follow The Pod Photography on Facebook and Instagram. We have a YouTube channel where you can see behind-the-scenes footage and see our photographers at work. Follow our Pinterest page for beautiful portrait inspiration and custom set ideas! Create your own Pinterest board with inspiration and ideas to share with the photographers at your portrait consultation.