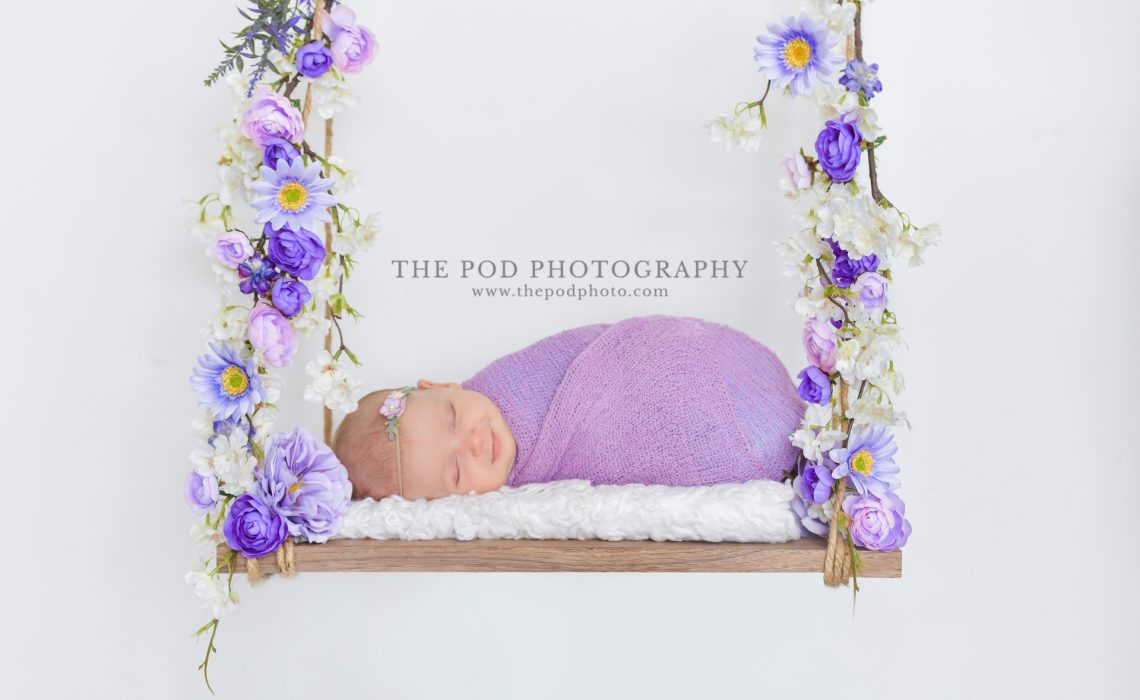 At our Los Angeles, California, newborn photography studio, we love creating custom set designs for our clients and their newborn babies.  The Pod Photography specializes in newborn photography, and we work closely with our clients during a brainstorming session, where we will discuss your likes and dislikes.  The photographers had so much fun with this newborn portrait session.
Los Angeles, California Luxury Photography Studio
Our Los Angeles luxury studio offers a stress-free newborn portrait experience. The studio is equipped with a modern, cozy and convenient client lounge. The lounge contains all types of gourmet snacks. You and your newborn baby will fill right at home.
Newborn Portraits
Newborn portraits will give you a lifetime of joy and delight, reminiscing memories of when you brought life into the world. Memories like your developing baby's beautiful smell, soft skin, and tiny hands and feet can be captured in portraits. Treasure these memories for a lifetime to come!
This client's favorite color is purple, so we incorporated purple into every set we designed for her newborn baby portrait session. We used various custom set designs and poses. This precious baby girl slept quietly through the entire session.
Newborn Portrait Session
For the first set, we propped the newborn baby on her elbows with her hands tucked under her chin.  The newborn baby girl wore an adorable crocheted purple hat with fuzzy balls on top. Doesn't she look like she is in a dreamland?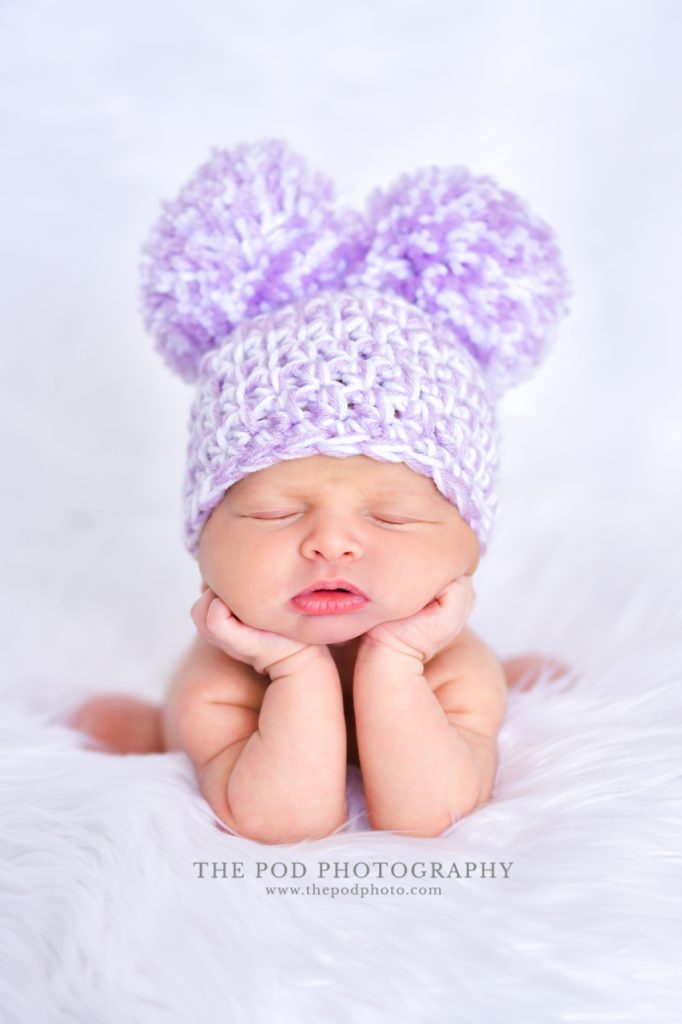 Purple Floral Wreath Custom Set Design
Moms also love to use floral wreaths for their newborn baby girl's portrait sessions.  We placed the baby in the center of a floral wreath filled with beautiful purple flowers.  Baby laid in a soft, swaddled white blanket and wore cute matching purple crocheted shorts that matched the crocheted hat. Absolutely adorable!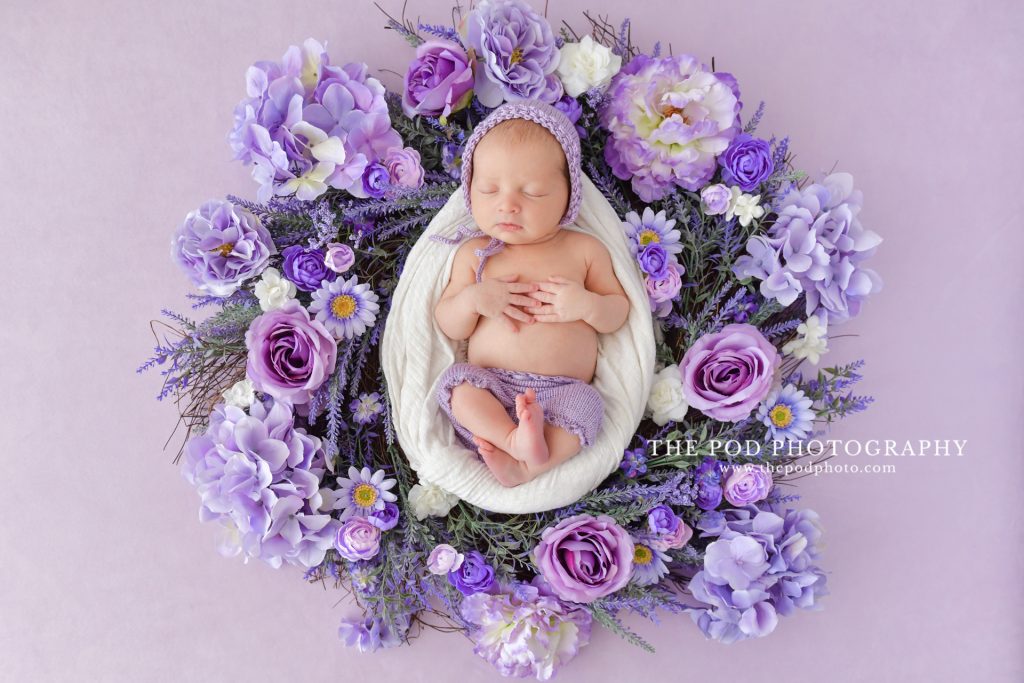 Swing Custom Set Design
For this custom set design, we handmade a rustic wood swing by staining a piece of wood and adding twine. The twine was decorated with beautiful flowers. We swaddled the newborn baby girl in a purple wrap. Look at the smile! I think someone loves a swing.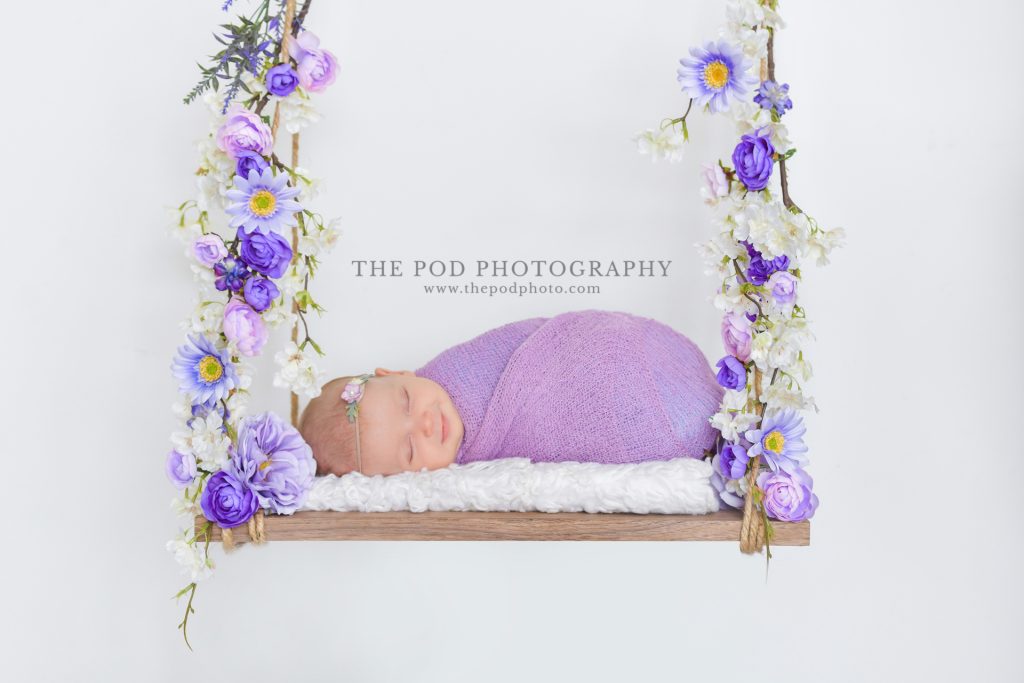 Closeup Newborn Photo
This stunning close-up shot was captured by one of our professional photographers. Look at the precious little nose and hand.  And those sweet baby lips!  She looks like a beautiful baby doll.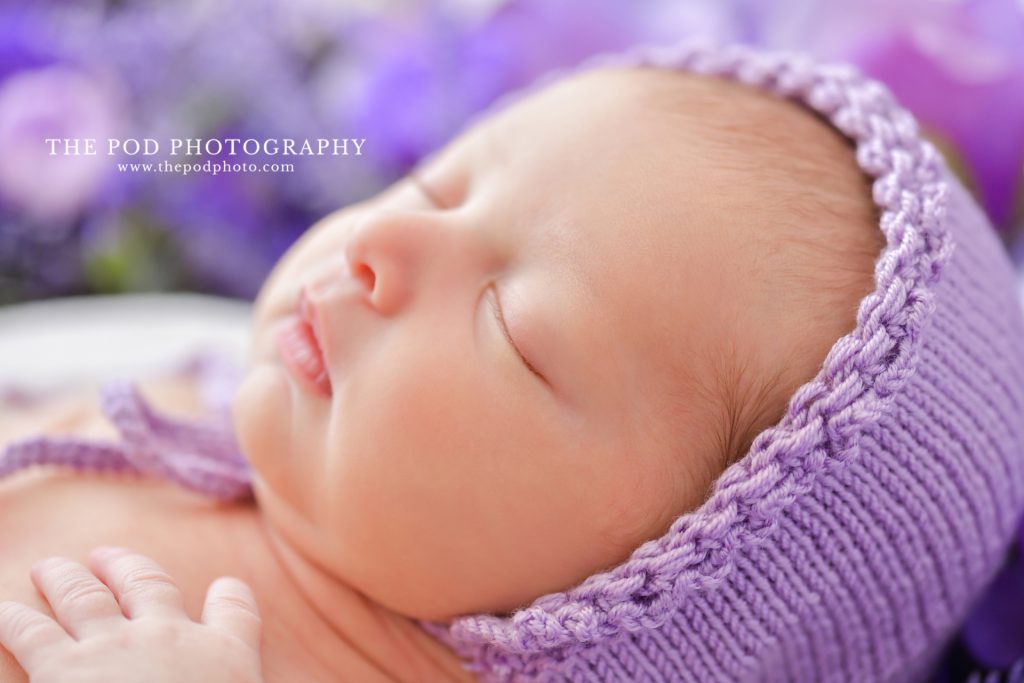 Moon and Clouds Newborn Custom Set Design
I see the moon, and the moon sees me.  We created a dreamy night with a bright moon and fluffy clouds for this custom set design.  The set looked like it came right out of a nursery rhyme.  For this shot, the newborn slept peacefully on the mini-moon on a cozy purple blanket.  How cute is her stocking cap?  This newborn was definitely in dreamland!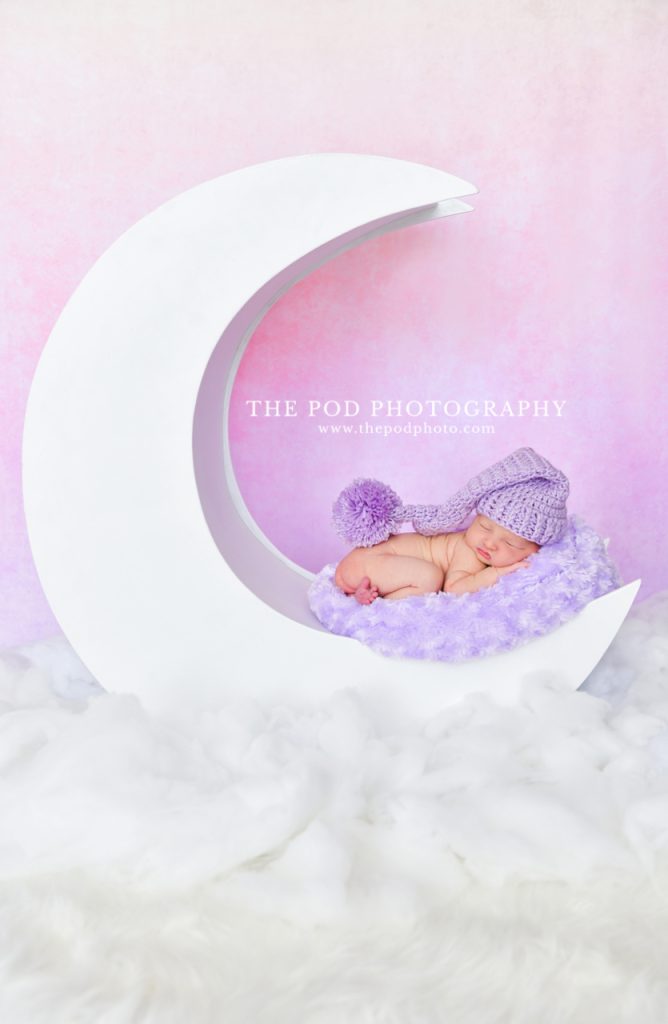 Visit ThePodPhoto.com and book your newborn consultation today! Our professional photographers are standing by to assist you and can't wait to start creating your newborn custom set design to bring your vision to life.
You can follow The Pod Photography on social media for more portrait inspiration.  We have a Facebook and Instagram page where we share sneak peeks of our portrait sessions.  Also, check out our YouTube channel and Pinterest page for even more portrait inspiration.  We look forward to seeing you in our Los Angeles, California, photography studio soon!