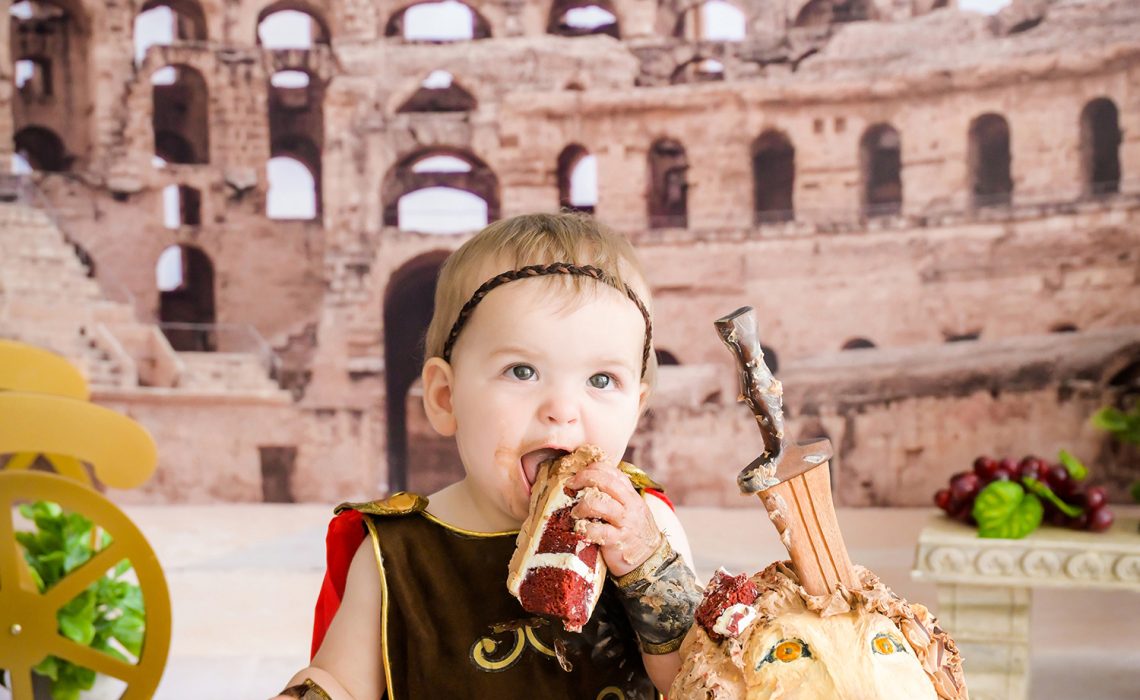 Is your baby turning one year old soon? Then why not book a First Birthday Cake Smash Portrait Session with The Pod Photography! Our modern, luxury portrait studio caters to your every need, and our professional photographers make it as comfortable as possible for you and your baby. The studio is located in beautiful Culver City, California, but we serve most of the southern California area. This First Birthday Cake Smash Gladiator Portrait Session was so much fun to create!
A First Birthday Cake Smash Portrait Session allows parents to show their creative side! Our professional photographers can take your vision and bring it to life. We have designed all kinds of custom sets for our clients. A few of them are creating the sets based on their favorite sports team or maybe that special place where mom and dad first met. We can even create a custom set to match your baby's birthday party theme.
The Gladiator Custom Set Design
The client chose to have a gladiator-themed portrait session, which was absolutely perfect for this adorable little boy! He was a natural!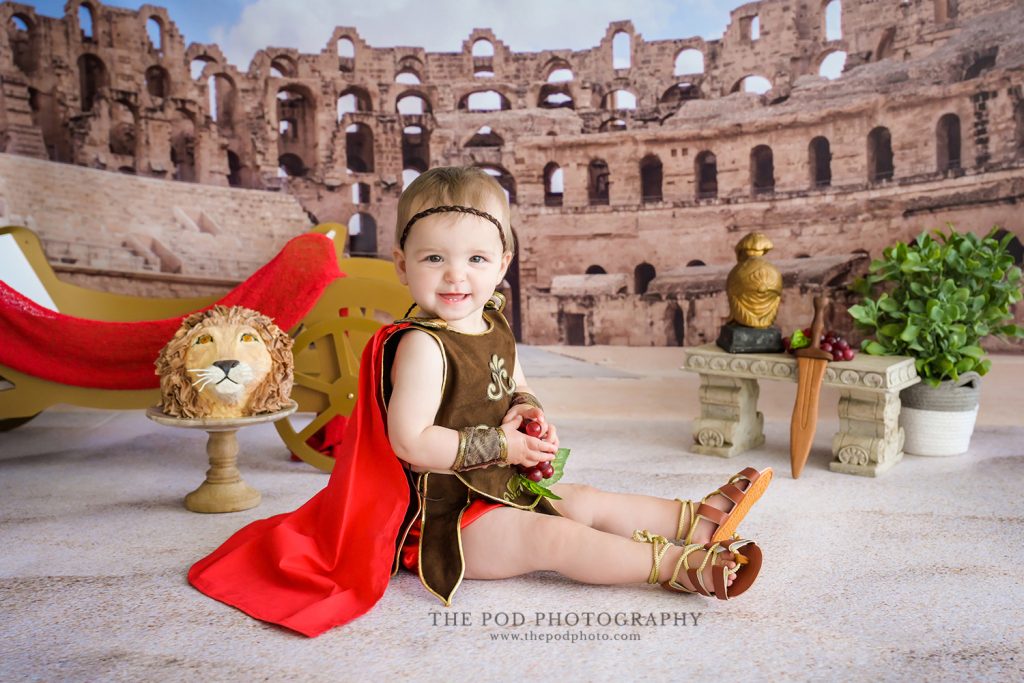 The photographers had so much fun creating this gladiator set. First, the backdrop was made to look like the great Roman-built Colosseum, where gladiator games were held. Next, we also included a greek-looking garden bench, added grapes, and a gladiator helmet statue on top of the garden bench.
Lastly, you can't be a gladiator without a chariot! The professional photographers hand-built this mini chariot, and it turned out amazing.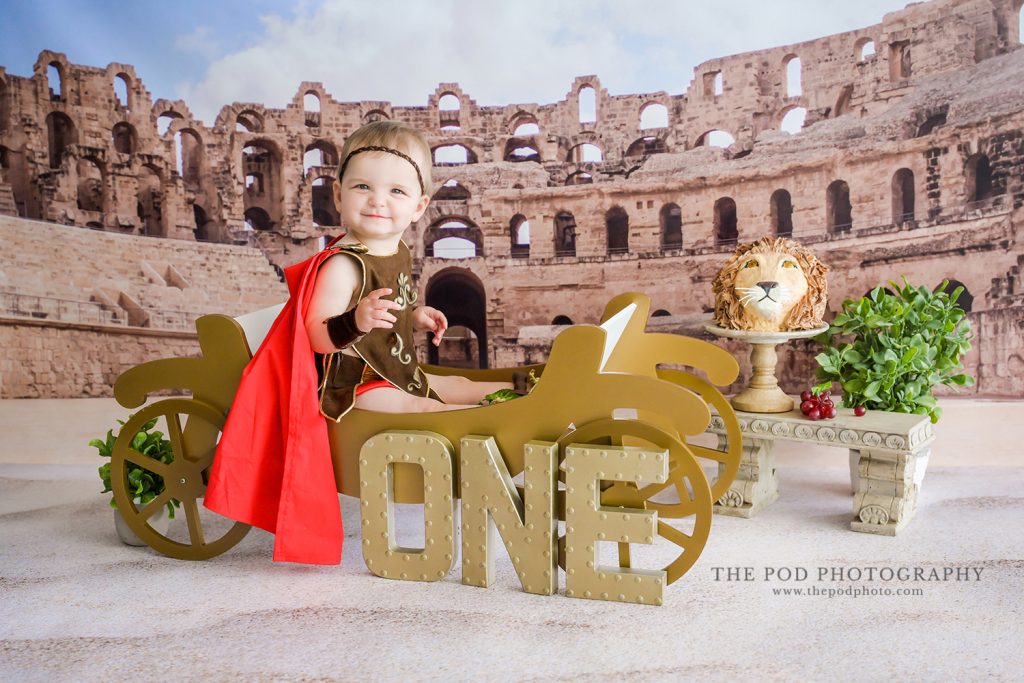 Baby Boy's Outfit
Mom chose to dress this cutie in an adorable gladiator suit! We added gladiator sandals to finish the look. He was not ready to take down the fierce lion in the Colosseum in front of all the spectators.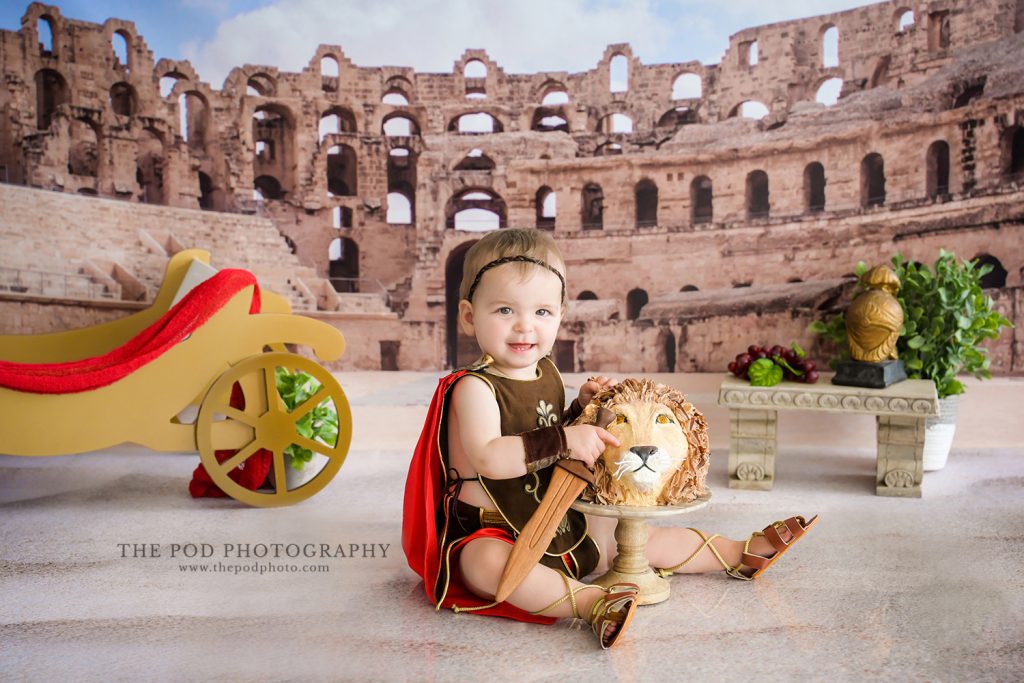 Mini First Birthday Cake
The mini birthday cake was shaped like a lion's head and sat on a wooden pedestal. And, of course, this fearless gladiator had no problem taking on the lion! He totally demolished his mini birthday cake and loved every minute!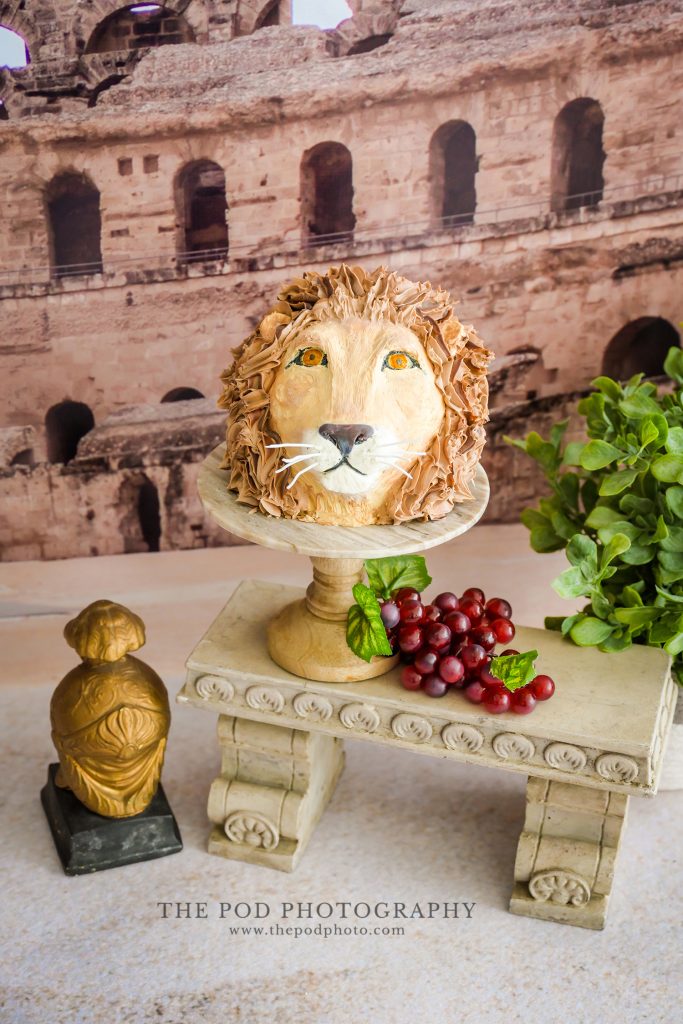 The Splash
After this little gladiator tamed the lion (cake), it was time to clean him up! We include, with our cake smash sessions, a Splash Session. During this part of the session, we fill a mini bathtub with warm milky water and clean up baby. And you can see, this gladiator needed a lot of cleaning after he went headfirst into his lion cake. Client's can choose fruit or flowers for their baby's Splash Session. For this little gladiator, the client decided on lemons to add a pop of color to his mini bathtub portraits.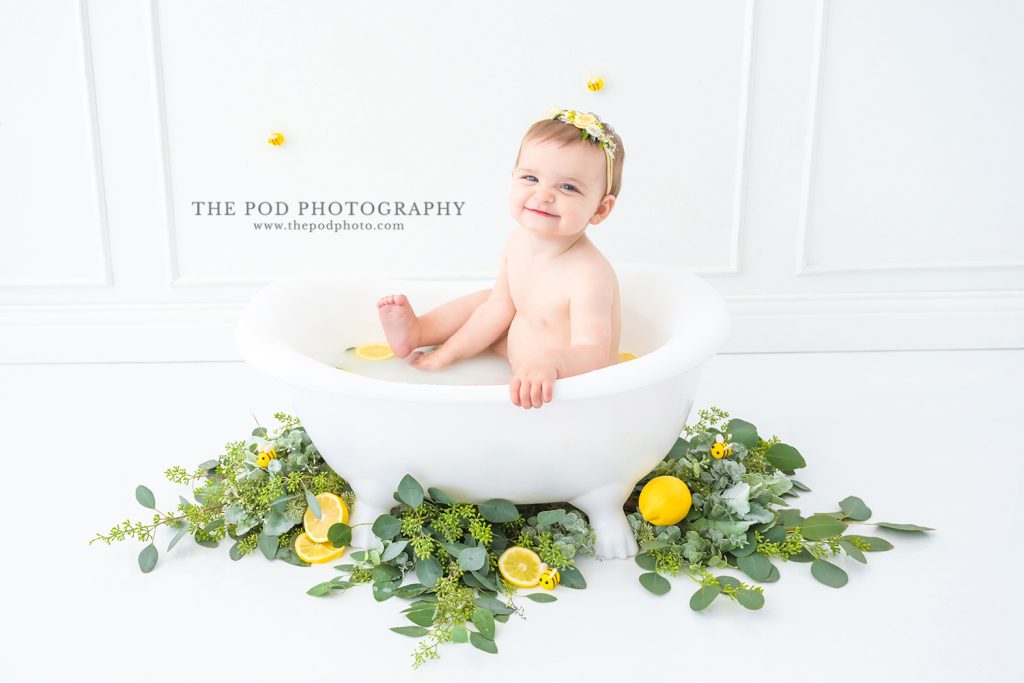 Book Baby's First Birthday Cake Smash Portrait Session Today
If you are interested in a First Birthday Cake Smash Gladiator Portrait Session, be sure to visit ThePodPhoto.com and book your Session Planning Appointment. Our professional photographers are standing by to help you create and bring to life your vision for your baby's first birthday portraits. And, if you need help creating a custom set design, we are happy to get to know you and discuss ideas and likes that you may have to help you create a portrait session that is perfect for you and your little one. Visit our blog for ideas and inspiration! Contact us today at ThePodPhoto.com or call 310-391-4500. We can't wait to meet you!
Let's Get Social
The Pod Photography has social media platforms where you can see portrait sessions that will inspire you! We have a Facebook page, as well as an Instagram page where we share portrait inspiration! Our YouTube channel shows behind-the-scenes footage and interviews with Erika, the founder and owner of The Pod Photography. Follow our Pinterest page, create your own boards, and fill them with your vision and ideas for your maternity session. We look forward to meeting you and your baby!