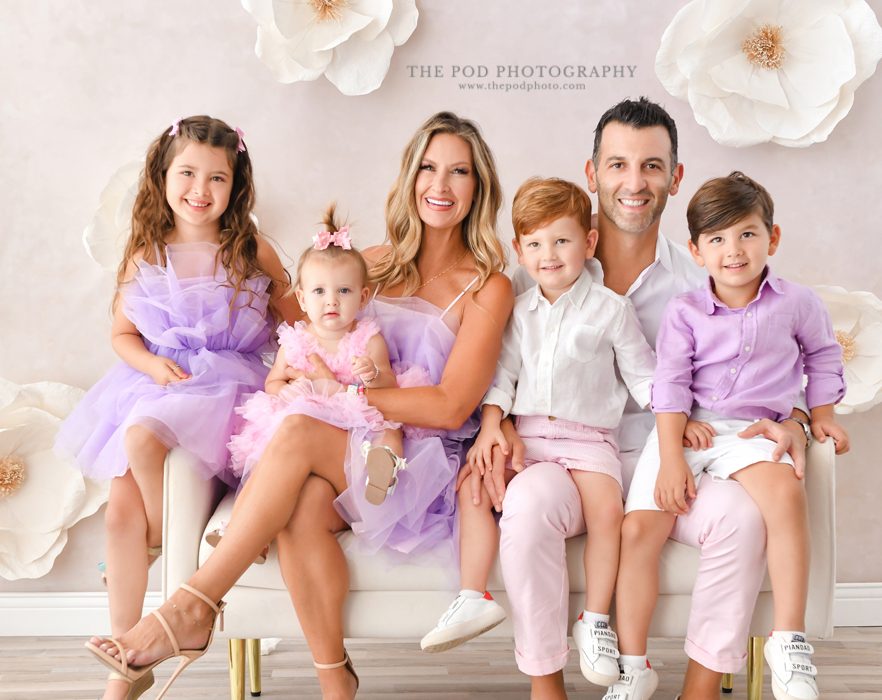 As 2022 draws to an end, we start thinking about all the precious memories we have experienced and how our families have grown through the year. What better time to have family portraits made? Portraits are part of our family's legacy, creating an excellent visual to revisit your family's memories. Here at The Pod Photography Los Angeles, California studio, we specialize in Studio Family Portraits. 
Imagine lining your staircase or hallway with beautiful family portraits. They can also brighten someone else's day and let them know how much they mean to you.
This Studio Family Portrait Session was full of cheer and love!  You could see how close this family of six was just by their smiles.  They loved being together, and it showed in this portrait session. And the children had a blast!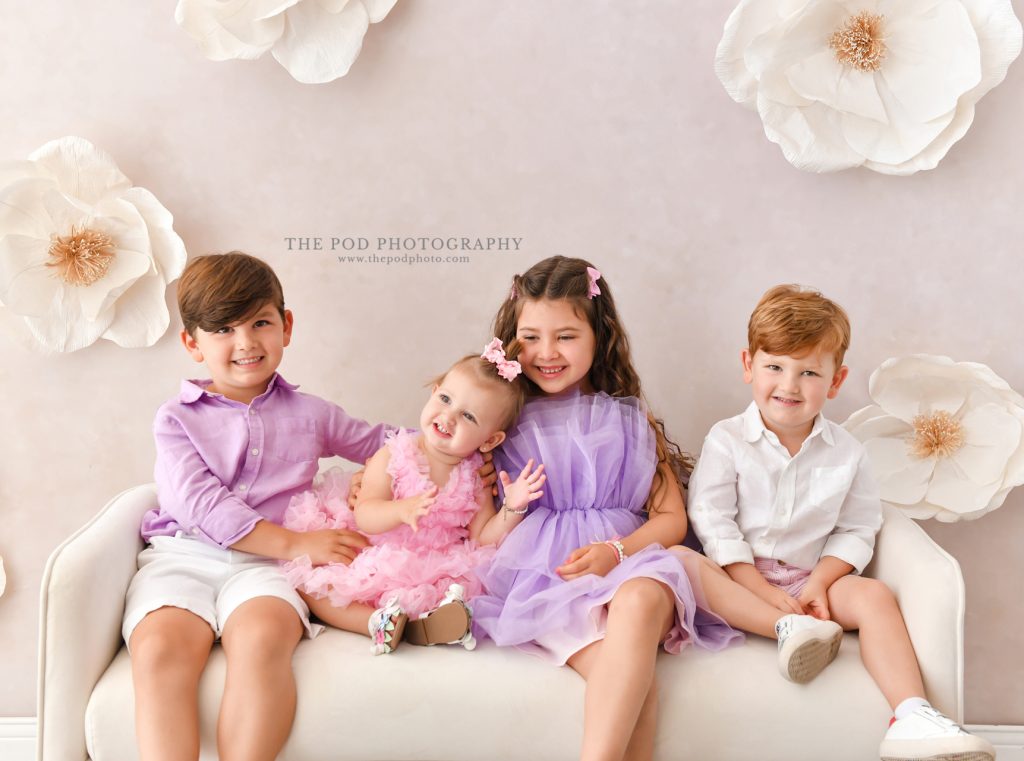 Studio Family Portrait Session Color Scheme
Sometimes our clients love to add a pop of color to their portrait sessions. The client decided to use chic, delicate pinks and purples, which coordinated perfectly together. They created a fun, full-of-energy vibe. Colors for your portrait session do not always have to be bright and bold! When looking at these portraits, you can feel the family closeness and the fun they have together. All of their contagious smiles stole the show!
Family Outfits
The outfits of choice flowed perfectly.  Mom and sister wore cute purple tutu dresses, while baby sister wore a pink tutu dress.  Dad was dressed in khakis and a white shirt, and little brother wore the same colors as Dad.  However, big brother wore a purple shirt to coordinate with Mom and his sisters' dresses which worked perfectly.  What a precious family!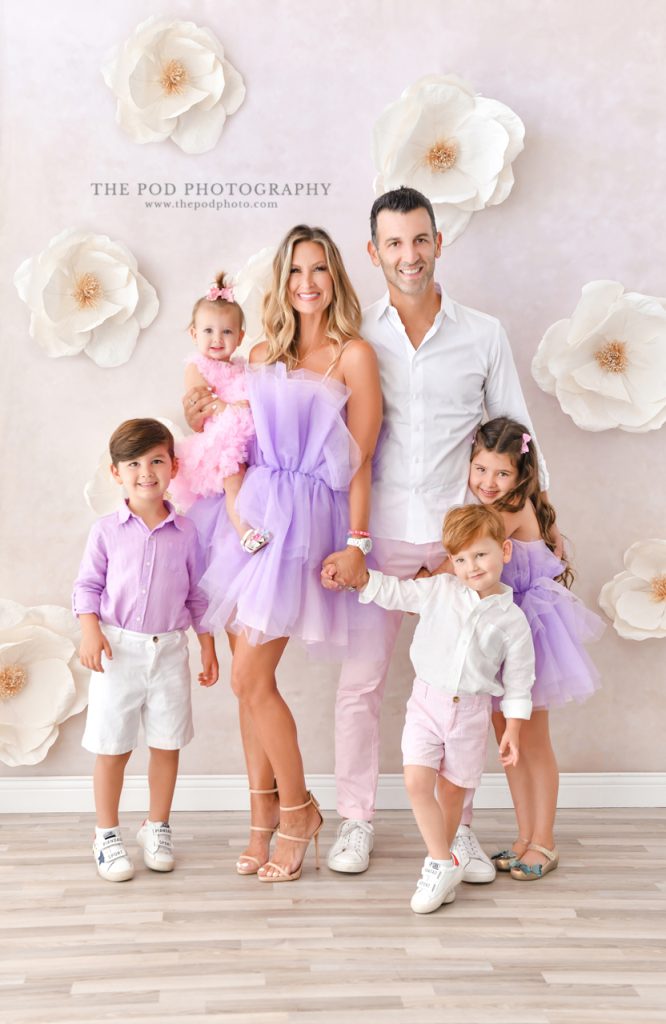 Minimalist Set Design
A photography set can be simple and yet, make a statement!  For this Family Portrait Session, we used a minimalist, subtle colored background and added florals.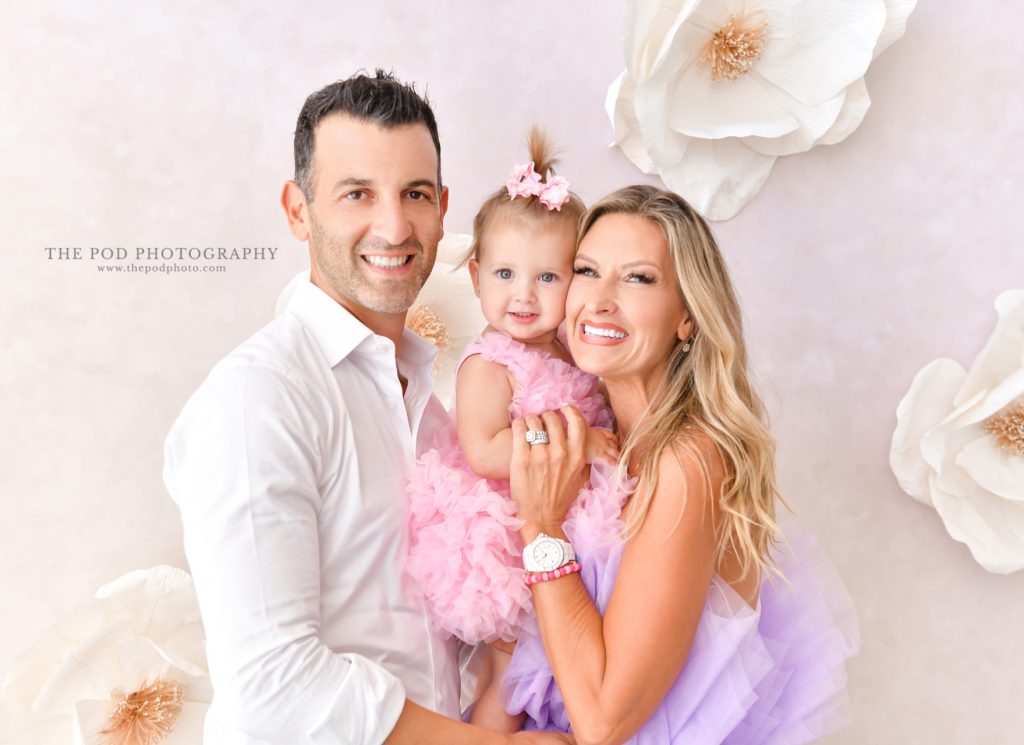 Heirloom Products To Display Your Studio Family Portraits
Here at The Pod Photography, we offer premium products that allow you to display your beautiful portraits throughout your home.  Use your portraits to create a wall gallery or framed photographs to display on wall shelving.  We also offer unique photo albums and other keepsake gifts that family members will love!   What better way to show someone you care than with a unique portrait!
It's time to get the family together and schedule a portrait session! Our professional photographers are experts in family photography and can create a beautiful and fun portrait session for you and your family. Contact us today to schedule your portrait session at 310-291-4500 or visit our website at ThePodPhoto.com.
Join us over on our Facebook and Instagram pages, where we share images from our portrait sessions.  You can also find us on Pinterest and  YouTube for more portrait inspiration.  Visit our website at ThePodPhoto.com for scheduling information and portrait inspiration. You can also see the team here at our luxury studio in Los Angeles, California.  We can't wait to meet your family and create beautiful portraits!