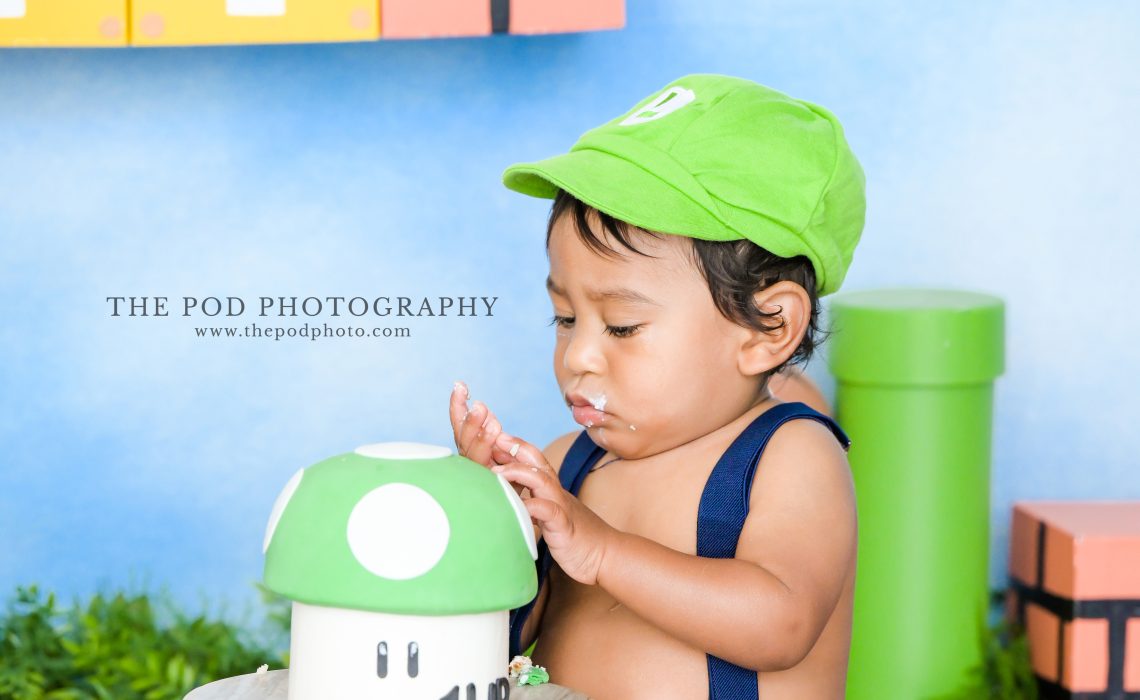 First birthdays are a special time in a family's life. And here at our portrait studio in Los Angles, California, we love celebrating first birthdays with our babies! Not only is it a special day for the baby, but about the two people who created life and nurtured and loved the baby so that they grow up happy and healthy! It is a significant milestone that families should document in order to preserve the memories because babies grow up so fast! It was so much fun creating this Super Mario Brothers Portrait Session.
Most families plan a party for this momentous occasion in their baby's life. The first birthday party is one that families look forward to celebrating with other family members and friends. And an added bonus would be to experience a First Birthday Cake Smash Portrait Session here at The Pod Photography.
Portraits can be used in many different ways. Not only are they great for gifts, but did you know we can create a set based on your baby's birthday party theme? And they can also be used as part of the birthday decor! One great idea is to enlarge one of your favorite portraits and have your guests sign, so you will never forget who supported you and your baby on their first birthday.
This First Birthday Cake Smash Portrait Session was designed based on the popular Nintendo game Super Mario Brothers. In the game, two plumbers brothers, Mario and Luigi, investigate the sewers after strange things appear. They were jumping over obstacles, and grabbing coins made this game super fun. For this particular set, the client decided to choose Luigi!
Baby Luigi's Outfit For The Super Mario Brothers Portrait Session
In the game, Luigi wore blue overalls and a green cap!  So we dressed the baby boy in a pair of navy blue shorts with blue suspenders.  And, of course, you can't be Luigi without a green cap with your "L" initial! What an adorable Luigi!  He had so much fun at his portrait session and was all smiles!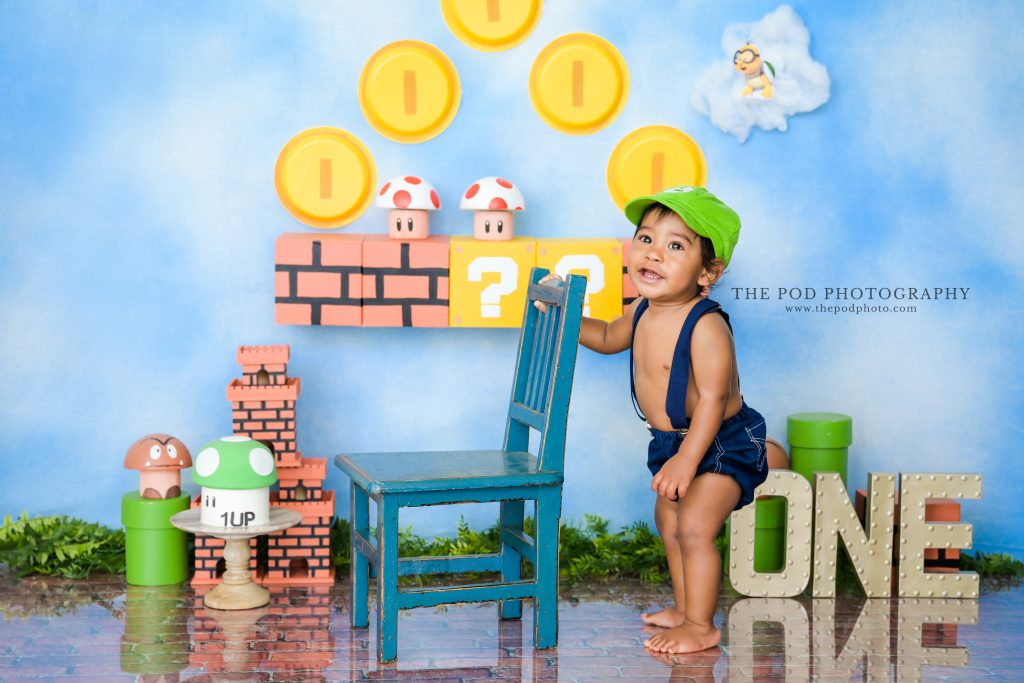 First Birthday Mini Birthday Cake
The mini birthday cake included in our First Birthday Cake Smash portrait sessions was created based on the famous mushroom, which gave the player a "One-Up" in the Nintendo game that gave them an extra life and another chance to try and beat the game.  Baby Luiji was a bit cautious when it came to his cake, taking only a tiny bite.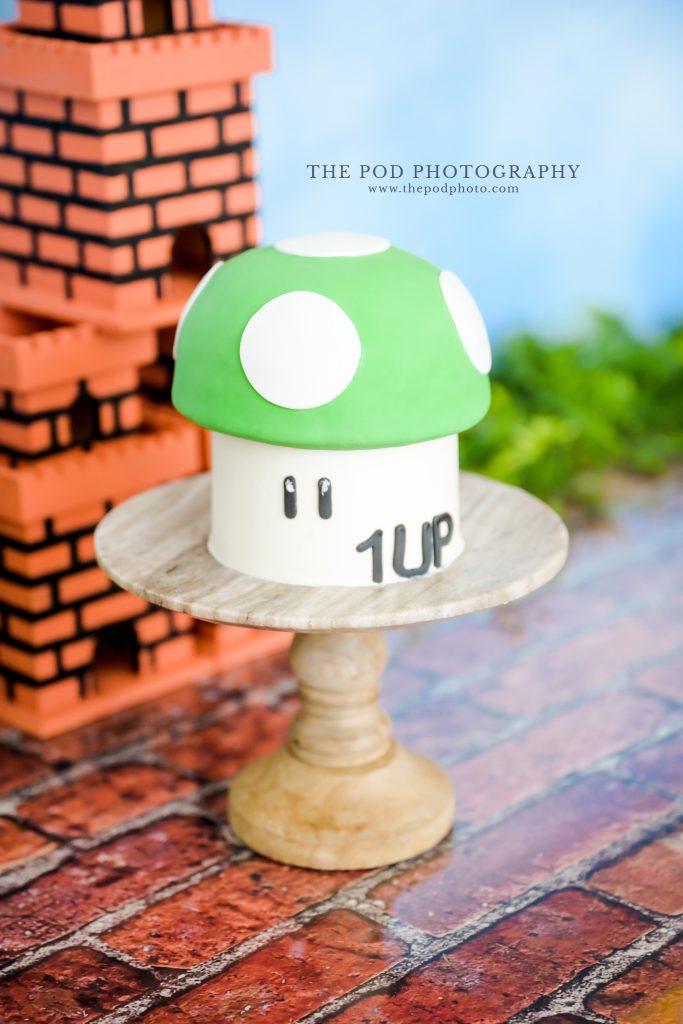 Super Mario Brothers Custom Set Design
Our professional photographers put together this custom set design.  We specialize in creating any vision you may have and bringing it to life!  This set was made to look like a scene from the game!  We included the one-up mushrooms, gold coins, sewer pipes, and brick blocks.  Our photographers pay close attention to every detail when creating custom set designs.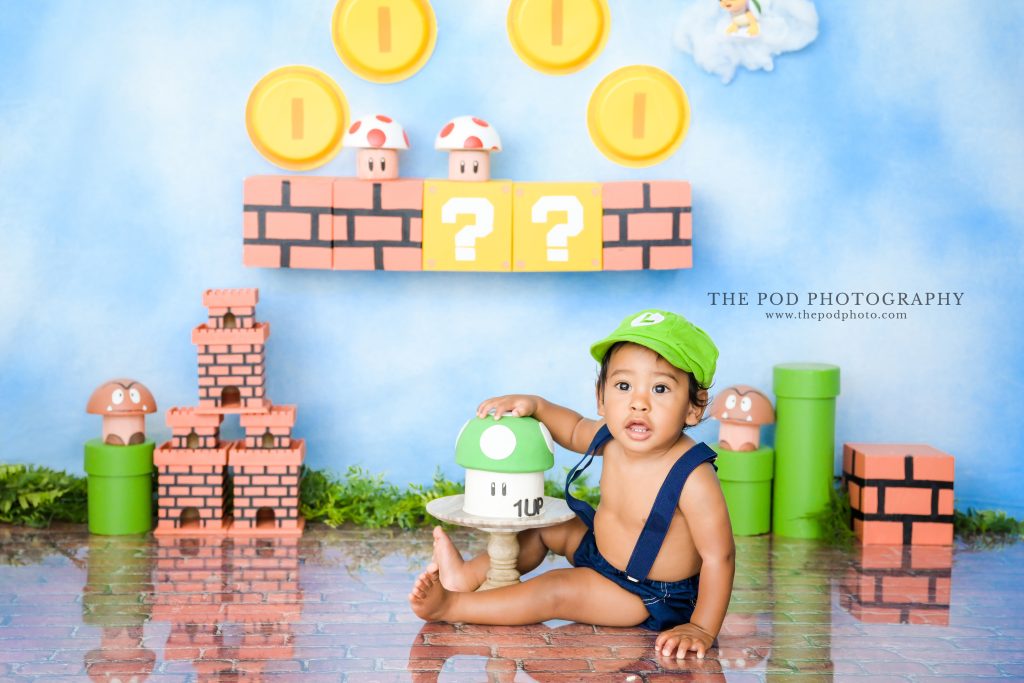 If you have a specific vision for your baby's portrait session, let's discuss it! Book a Session Planning Appointment today!
Let's Get Social
Follow us on our Facebook and Instagram pages, where we share images from our portrait sessions. You can also find us on Pinterest and YouTube for more portrait inspiration. Visit our website at ThePodPhoto.com for scheduling information, and portrait inspiration, and meet the photographers here at our luxury studio in Culver City, California. We look forward to meeting you and bringing your portrait vision to life!