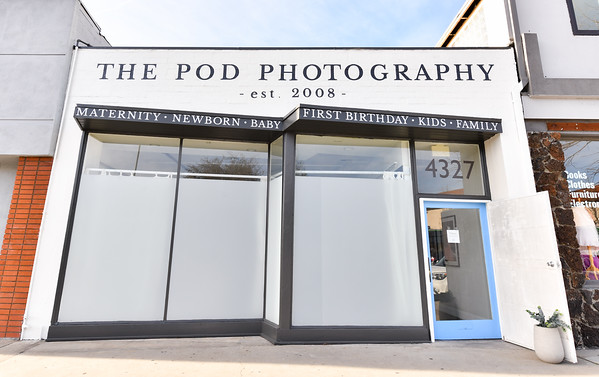 Ever wondered what it's like behind the scenes in a photography studio? The Pod Photography is a modern, luxury portrait studio that offers many perks! Our objective is to make our clients feel as comfortable as possible through every process of their portrait session. Take a sneak peek behind the camera lens with our professional photographers and how we are passionate about every client's comfort and experience. We share what goes on behind the scenes at The Pod Photography studio.
Our Modern, Luxury Portrait Studio
The Pod Photography is located in Culver City, California. We service clients in southern Los Angeles, Beverly Hills, and Manhattan Beach, just to name a few. We designed our studio based on every step in a portrait session. Our studio is full of beautiful, natural light! We also have a wardrobe full of any outfit you can imagine as well as various props. The client lounge is always stocked with drinks and snacks. It is a private place for moms to change their babies or nurse and relax. Then we have a production area where all of the magic takes place! Our post-production experts will edit your images, while our in-house designer and retoucher will care for imperfections and create gorgeous artwork from the edited images.
Our professional photographers create all of the custom set designs by hand. This includes creating any props, painting, or ordering items for the set. We meet with you at a planning session and discuss your likes and dislikes, such as favorite colors, favorite sports, or babies' favorite items or characters.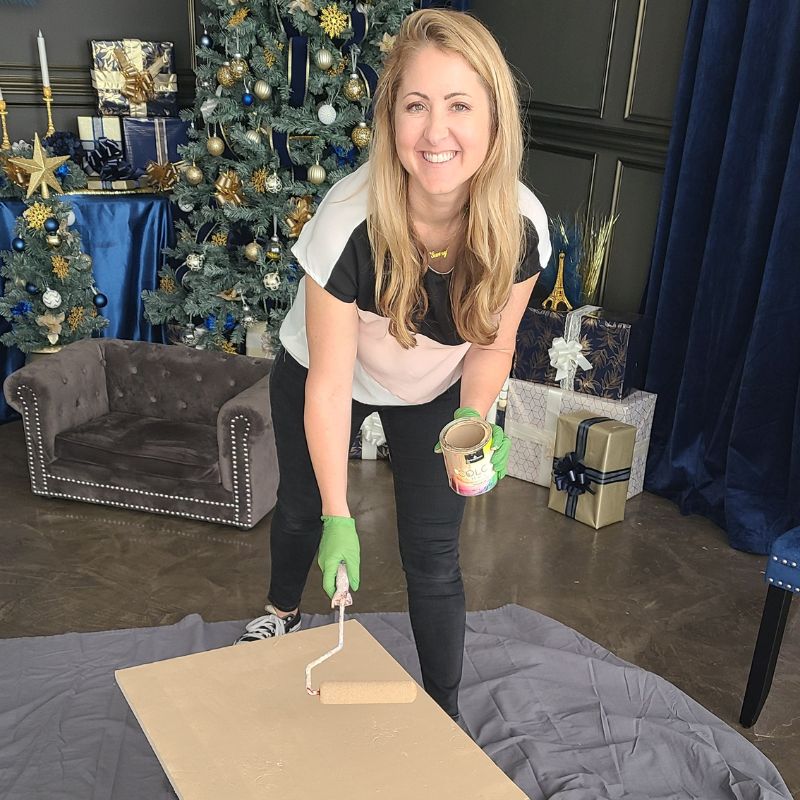 Now, let's take a peek behind the scenes starting with a few of our custom set designs that we put together for our clients!
First Birthday Baby Girl Custom Set Design
One of our specialties is creating a First Birthday Cake Smash Custom Set Design. We love creating beautiful custom sets based on clients' likes or visions, like this one designed and put together by hand. We take care of everything! From ordering props to creating the backdrops, no detail is left untouched. This custom set design was created based on Mom's love of Chanel!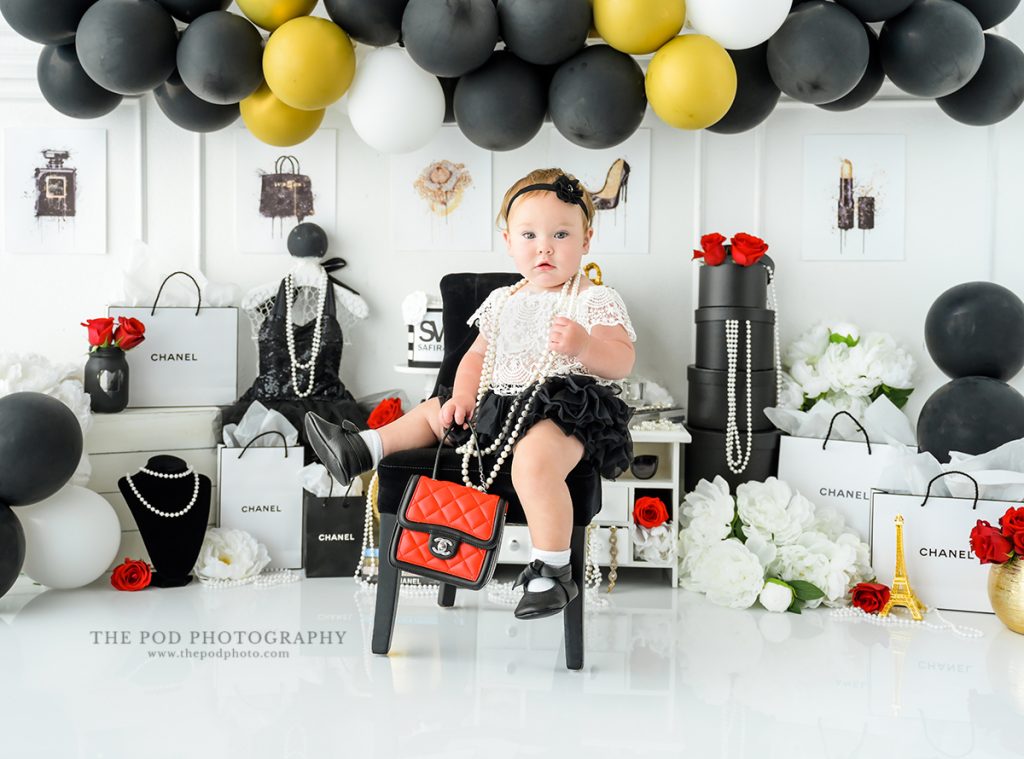 Poolside Newborn Custom Set Design
This set was designed for one of the newborn portrait sessions. The backdrop was created and printed to look like water in a pool. We then added props to give it a more authentic look. These props included beach balls, a float, and a foam "poolside." Baby girl decided to sleep through her portrait session. This made it look as if she were floating in the pool, relaxing.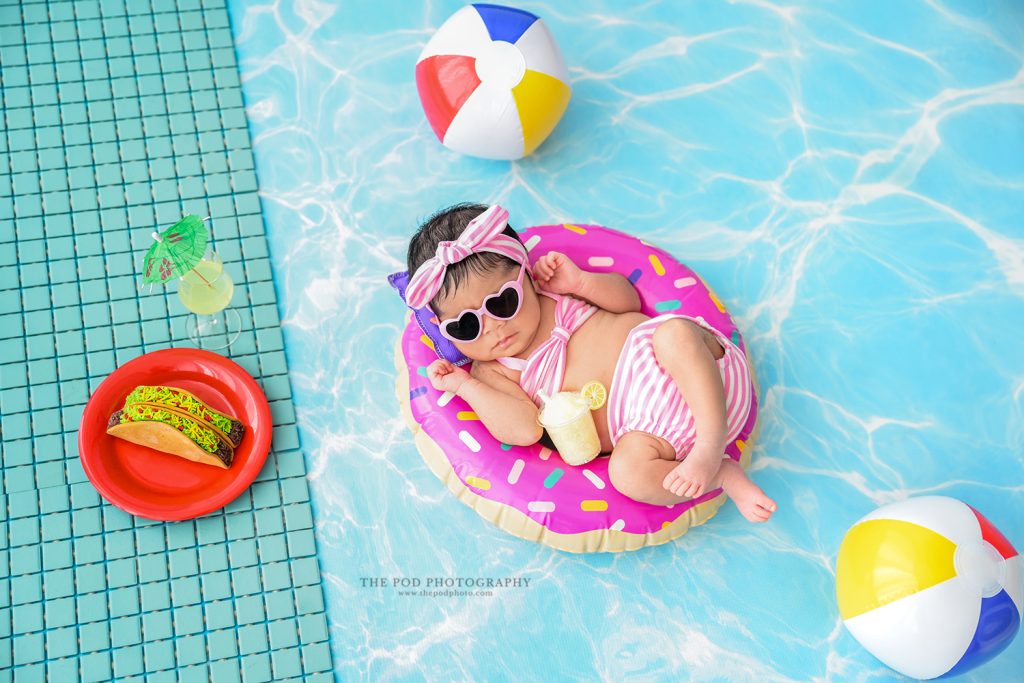 More Than Just Photography
Our newborn babies are such a delight to have in the studio. Most of them sleep peacefully at only a few weeks old, but sometimes our photographers have to work their magic to coax and soothe a crying infant.
And if it is time for a feeding, our professional photographers are up to the job! Our portrait session will come to a complete standstill until the little one has been fed and provided for before continuing the portrait session.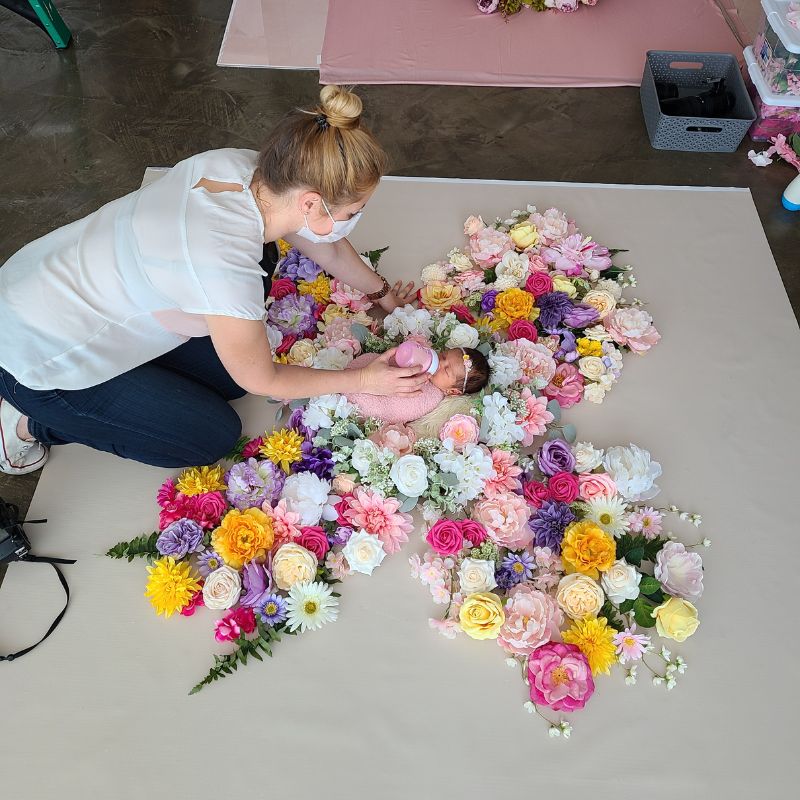 Portrait Session Safety
Your child's safety is a high priority here in our studios. Our photographers are experts who have extensive baby safety training. During a portrait session, at least two assistants assist the photographer in ensuring every aspect of your baby's safety is met.
We hope you have enjoyed looking at behind-the-scenes at The Pod Photography. If you are ready to book your portrait session, then be sure to reach out. Our professional photographers would love to speak with you!
Social Media
In conclusion, we invite you to follow us on our Facebook and Instagram pages, where we share images from our portrait sessions. You can also find us on Pinterest and YouTube for more portrait inspiration. Visit our website at ThePodPhoto.com for scheduling information, and portrait inspiration, and meet the photographers here at our luxury studio in Culver City, California. We look forward to meeting you and bringing your portrait vision to life!