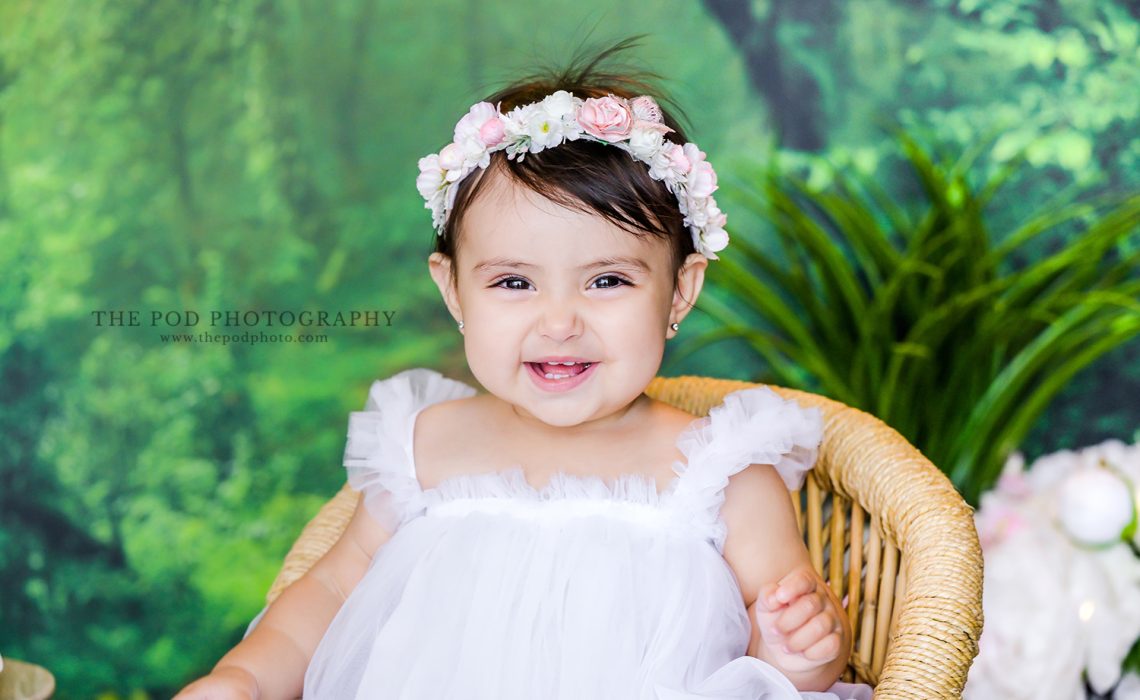 Your baby's first birthday is an important family milestone that you should document. Babies grow up fast; their first birthday is here and gone before you know it! Our professional photographers here at our Mar Vista, California studio can create a beautiful custom set designed for your baby based on your likes and ideas!   Or, you can use one of our past custom set designs! This First Birthday Cake Smash Tea Party portrait session was full of whimsical magic, an enchanted forest, and an adorable host!
Custom Set Design
All of our set designs are custom-made by hand. This set was so much fun to create. We wanted the tea party to take place in a beautiful and whimsical, enchanted forest. The forest backdrop was designed and printed in-house. For the set to look more realistic, we added additional props. Those included pink flowers with a touch of greenery for the background and small lights to give it a whimsical, magical feel. A rustic log for the tea party table, pink cups and saucers, and a pink teapot were also added to the set.
Lastly, you can't have a tea party without friends! Two teddy bears dressed in pearls and tutus joined in on the fun! The tea party princess was the perfect host. She even offered snacks for her guests. Can't you tell how much fun they are having?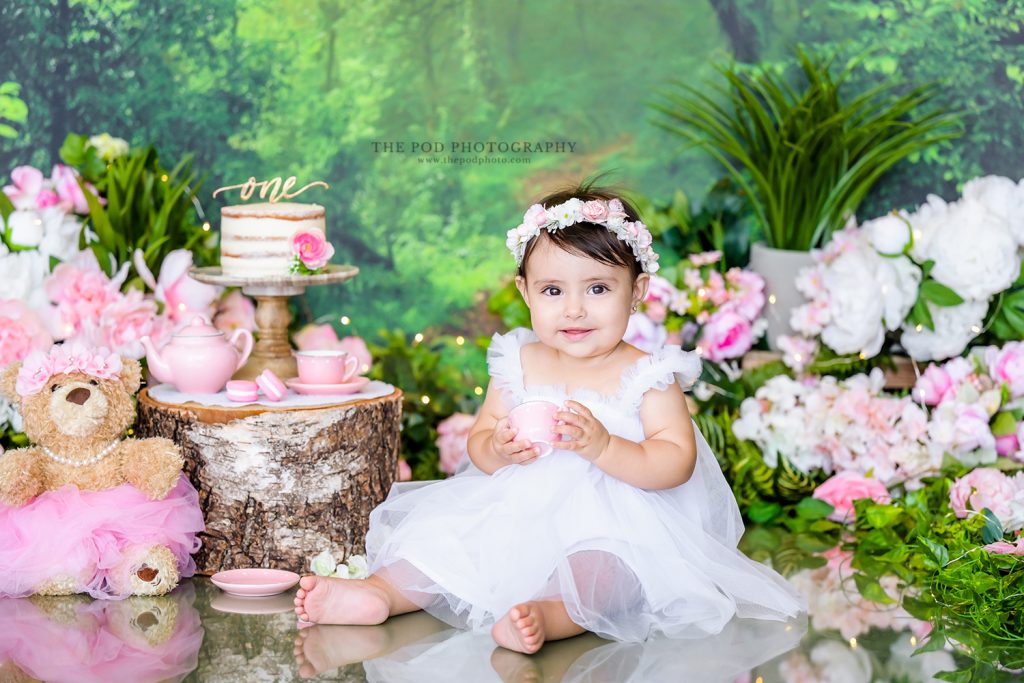 We can also create a custom set that coordinates with your baby's birthday party theme. If you can imagine it, we can create it!
First Birthday Cake Smash Tea Party Mini Birthday Cake
A mini birthday cake is included with all of our First Birthday Cake Smash sessions and is made to order to coordinate with your custom set design. They are the perfect size for the birthday guest of honor! These mini birthday cakes are perfect for babies to smash. Some babies dive head first, while others are more hesitant. We also include a custom-made stand for each of our mini birthday cakes. For this one, we displayed the mini cake on a rustic, distressed cake stand, perfect for the tea party-themed set.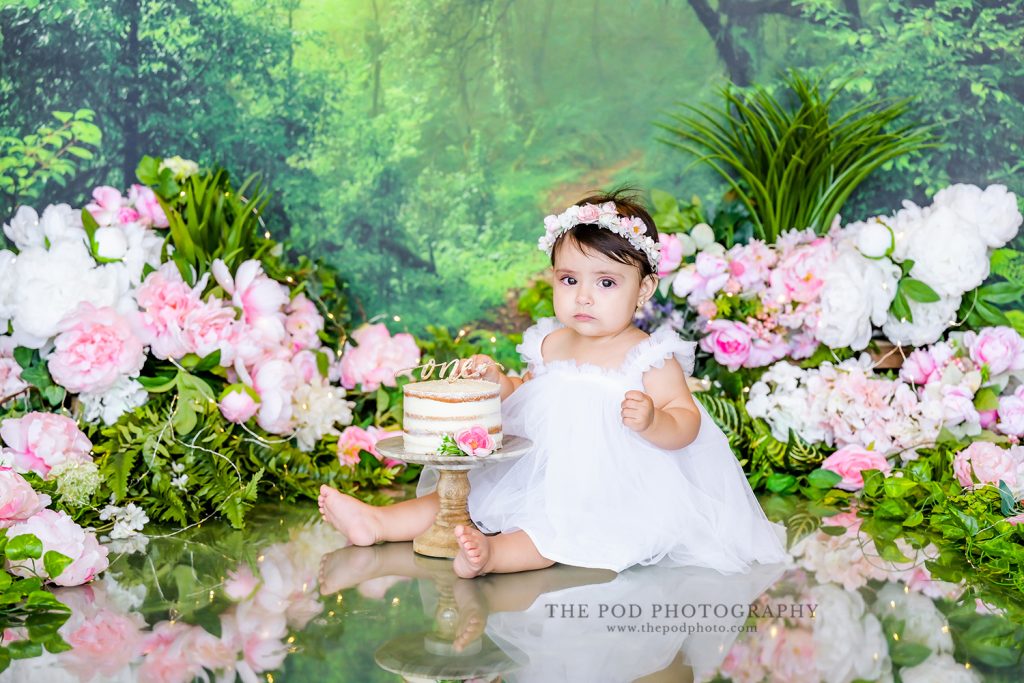 Baby's Outfit
This adorable baby girl was absolutely gorgeous. Her outfit included a dainty white, lacy tutu dress which was perfect for her tea party! She wore an adorable headband made of white and pink florals. Her teddy bear attendees also wore tutus with floral headbands. We added pearls to finish one of the teddy bear's tea party outfits. How cute are they!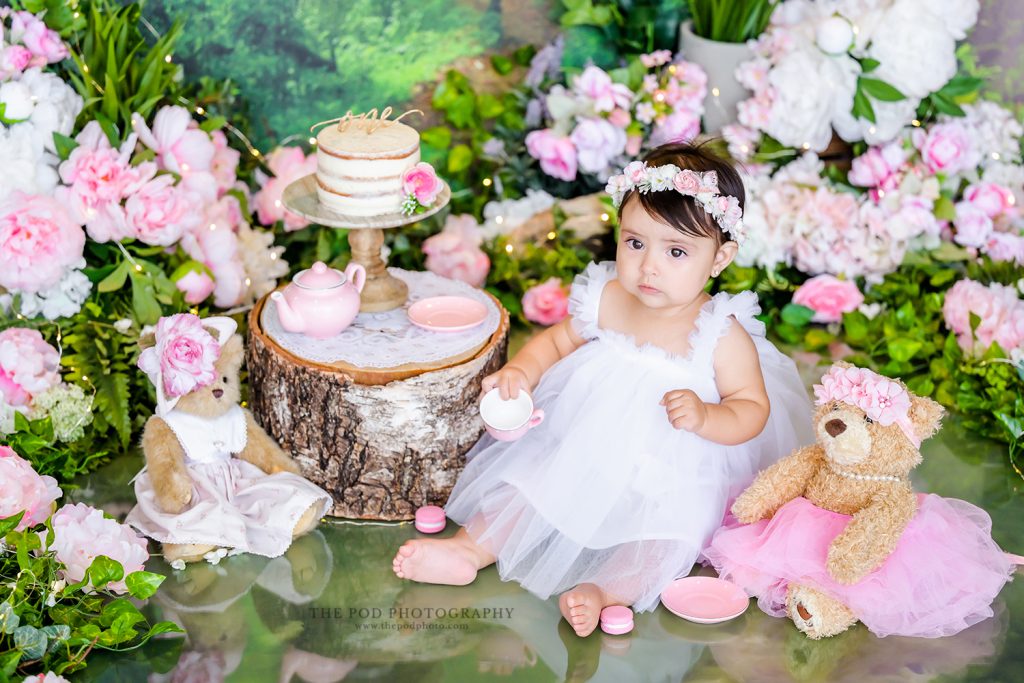 Let the professional photographers here at The Pod Photography create a beautiful tea-party-themed portrait set for your little girl to celebrate her first birthday.
If your baby's first birthday is approaching and you need portrait inspiration, please follow us on our Facebook and Instagram pages, where we share images from our portrait sessions. You can also find us on Pinterest and YouTube for more portrait inspiration. Visit our website at ThePodPhoto.com for scheduling information and portrait inspiration, and meet the photographers here at our luxury studio in Los Angeles, California. We look forward to meeting you and your baby to celebrate their first birthday!