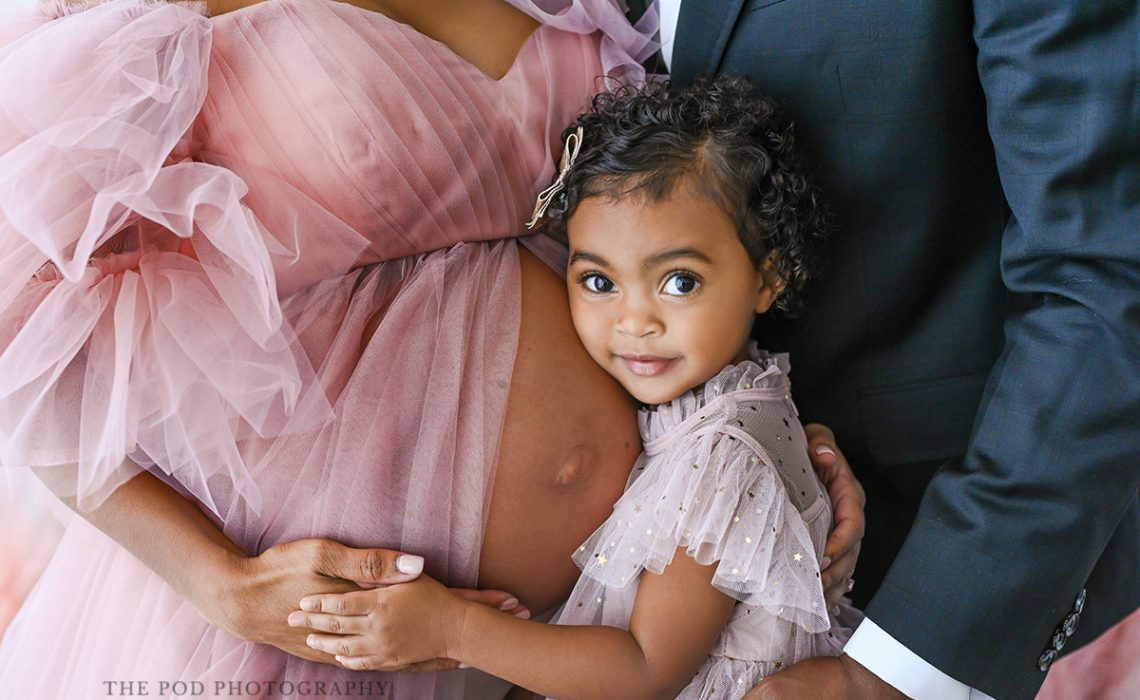 Did you know that our Maternity Portrait Sessions are not just for the mom-to-be? They can also include the entire family! The portraits capture the beauty of your baby bump and the unconditional love and excitement your whole family has for the upcoming new addition! A Maternity Family Portrait Session can document this special time of anticipation and celebration for all your family members!
Portraits are the perfect way to create family keepsakes that you can display in your home or give as gifts. And portraits can capture those last few weeks of togetherness your family has before your new arrival.
The Pod Photography's Malibu, California studio has an extensive collection of maternity gowns to choose from.  You can show as much or as little as you want; it is totally up to you.  You will look as beautiful as you feel.  You can use your portraits for announcements or create a beautiful photo album to share with your children as they get older.  
Maternity Family Portrait Session
This Maternity Family Portrait Session was absolutely amazing! The mom-to-be was simply glowing! You could see and feel the family's closeness and love for one another. Of course, big sister was excited about her brand new role in the family.
To start the session, we wanted to capture mom's baby bump! This gorgeous mom-to-be chose several maternity gown options. The first session included mom in a stunning white, lacy maternity gown. Isn't she simply gorgeous?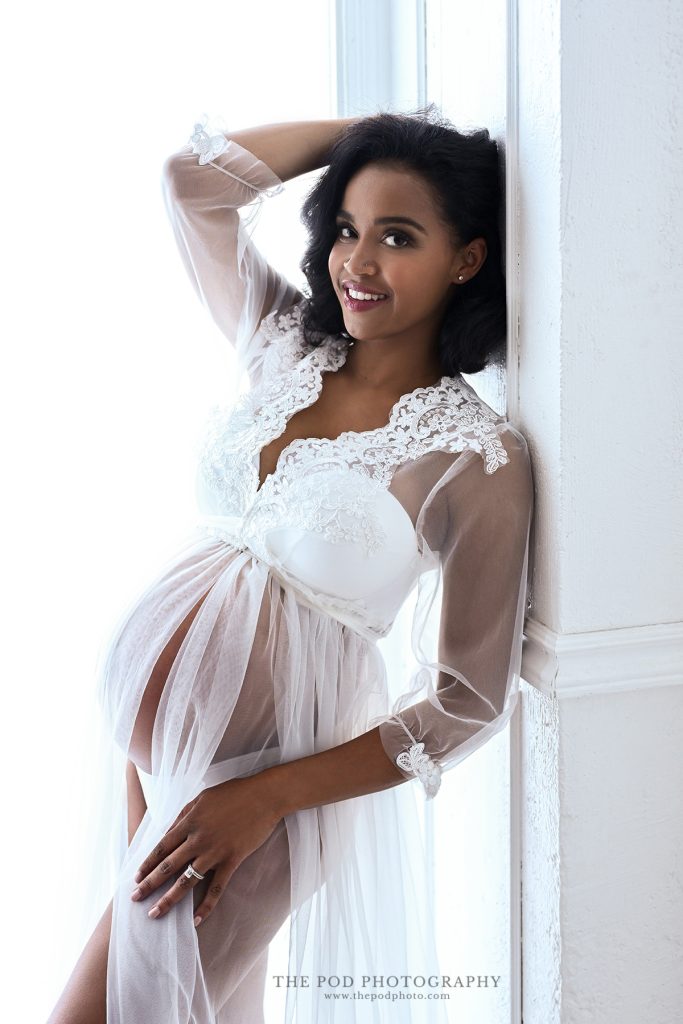 We also took several images of mom and daughter. Daughter wore a matching adorable white tutu dress! I can definitely see similar traits! And both of their smiles were amazing! Is this image not priceless!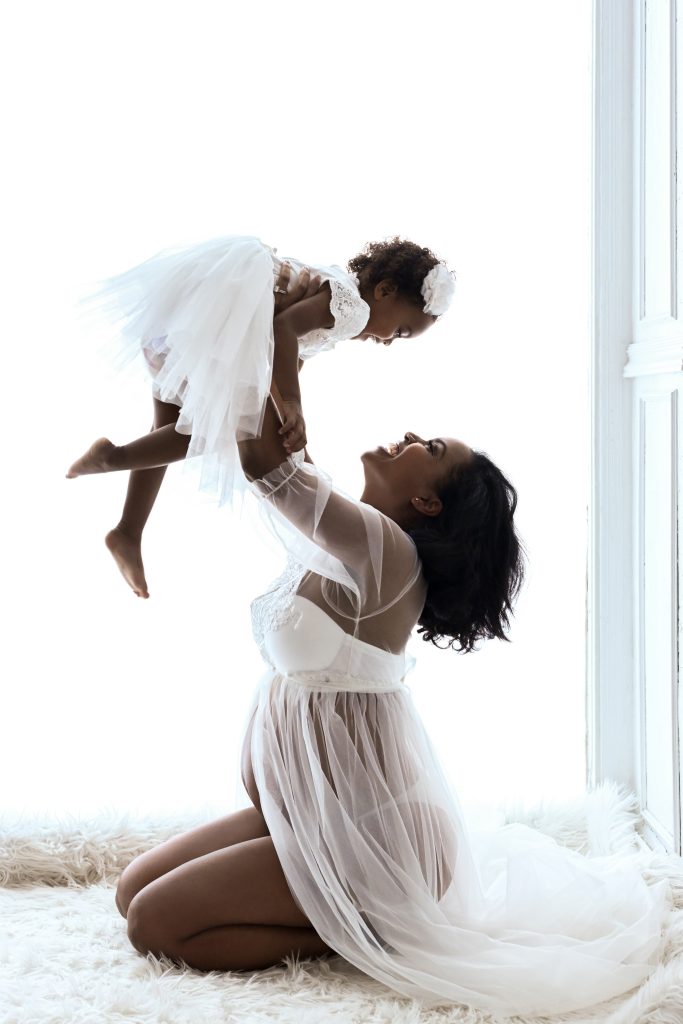 Of course, we could not leave Dad out! For the Mom and Dad images, we got a bit more intimate. Their love for each other showed in every single shot!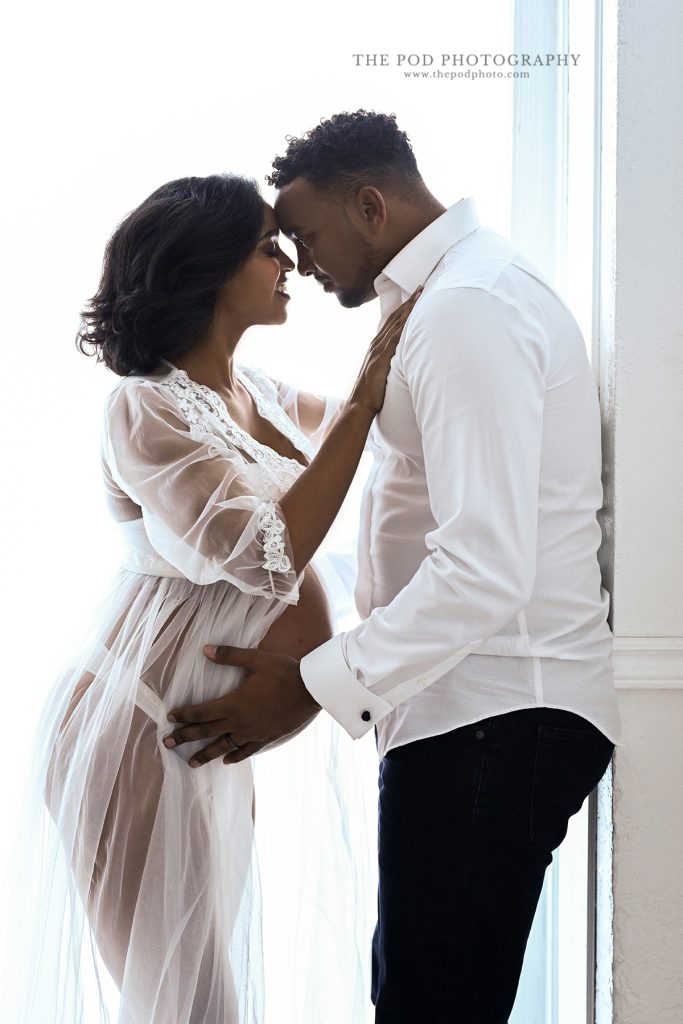 Mom and Dad
Mom chose a flowing, elegant royal blue gown for the second family maternity set. We added a sportscoat for Dad to give it a more elegant, sophisticated feel. And they both pulled it off!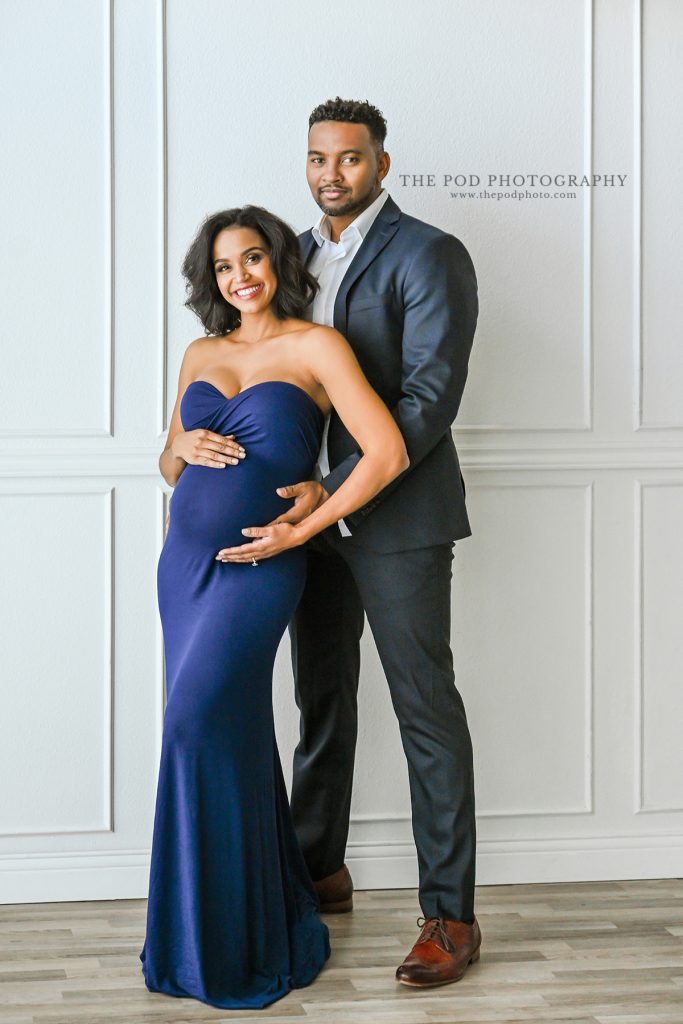 Mom and Daughter Maternity Portrait Session Set
The family portion of the portrait session included mom in a ruffly subtle salmon-colored maternity gown and big sister in a purple lacy dress. For the backdrop, we added a white sofa and a hint of pink, including florals and feathers!
One of the last shots of the mom-to-be was taken from a higher angle, showing mom surrounded by the beautiful tulle fabric with her baby bump slightly peeking through.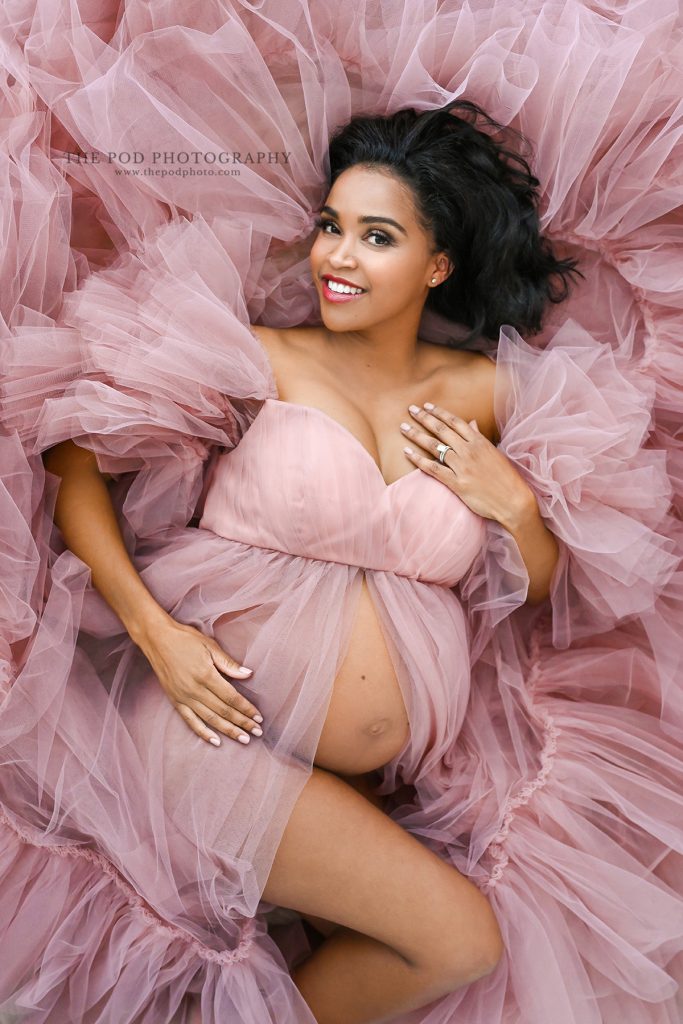 Document your baby bump with a portrait session and relive the precious memories through your portraits. Display them throughout your home for your loved ones to enjoy!
If you are on social media, please follow us on our Facebook and Instagram pages, where we share images from our portrait sessions. You can also find us on Pinterest and YouTube for more portrait inspiration. Visit our website at ThePodPhoto.com for scheduling information and portrait inspiration, and meet the photographers here at our luxury studio in Los Angeles, California. We look forward to meeting you and your family and creating precious portraits to share for lifetimes to come!