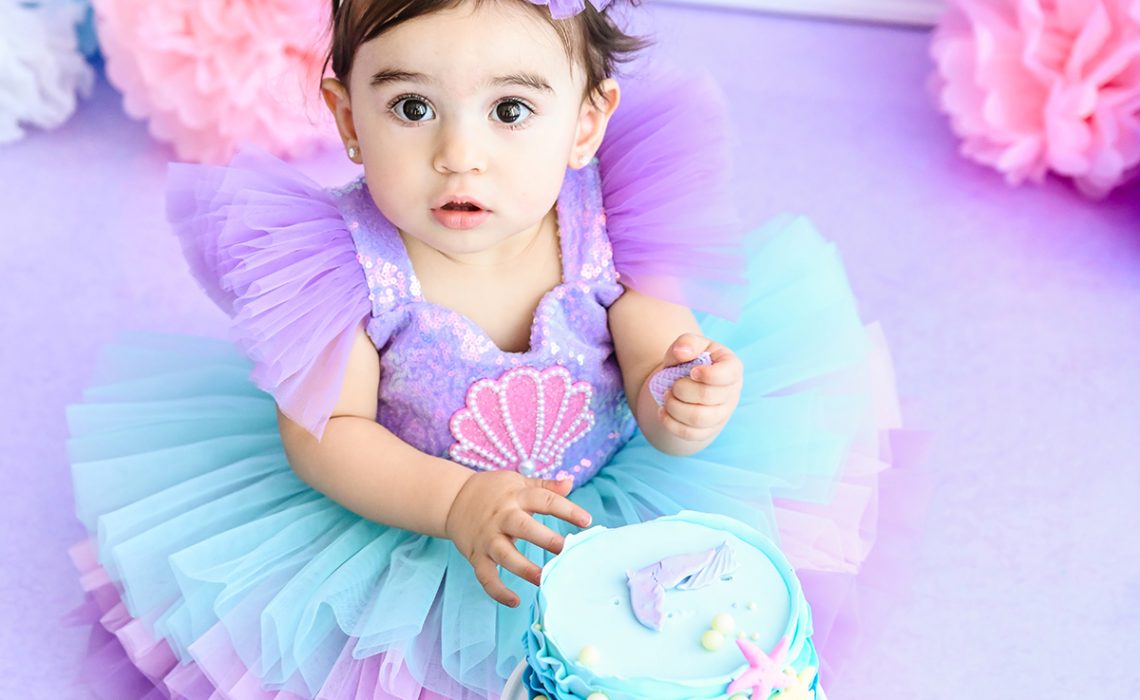 Who doesn't love mermaids? They are magical creatures of the sea and so beautiful! This First Birthday Cake Smash Smash and Splash birthday portrait session was all about the beautiful mysteries of underwater. We transformed the studio here in Culver City, California, into a colorful underwater scene!  The set was mesmerizing and vibrant, with pink, purple, and turquoise colors!  And this beautiful baby girl was full of smiles and cheer! If you love mermaids, let us create a Mermaid First Birthday Cake Smash and Splash portrait session for your little ones!
Portrait Set Design
For the mermaid set design, we used a light blue backdrop to give the set a magical, deep-sea feel. We added colorful pink, purple, and blue balloons and tissue paper florals. To create the bioluminescence jellyfish, we used colorful streamers for their floating tentacles. The jellyfish body was made using round paper lanterns! A "ONE" marquee light was added to signify it was her first birthday!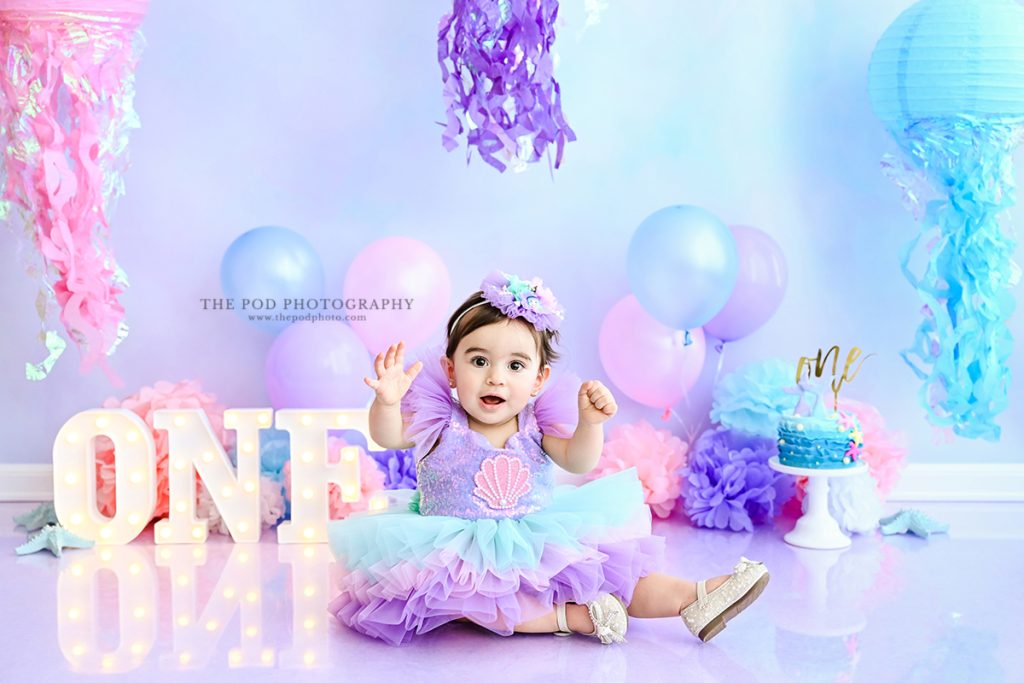 Mermaid Outfit
Two outfits were chosen for this Mermaid First Birthday Cake Smash portrait session. The first is a cute and colorful tutu with a pink seashell on the front. To finish the tutu outfit, the baby wore a matching headband and adorable shiny shoes!
The second outfit, of course, was this unique mermaid suit! How cute is this! We had her stand up against a wicker chair so her mermaid outfit would be visible! She rocked it!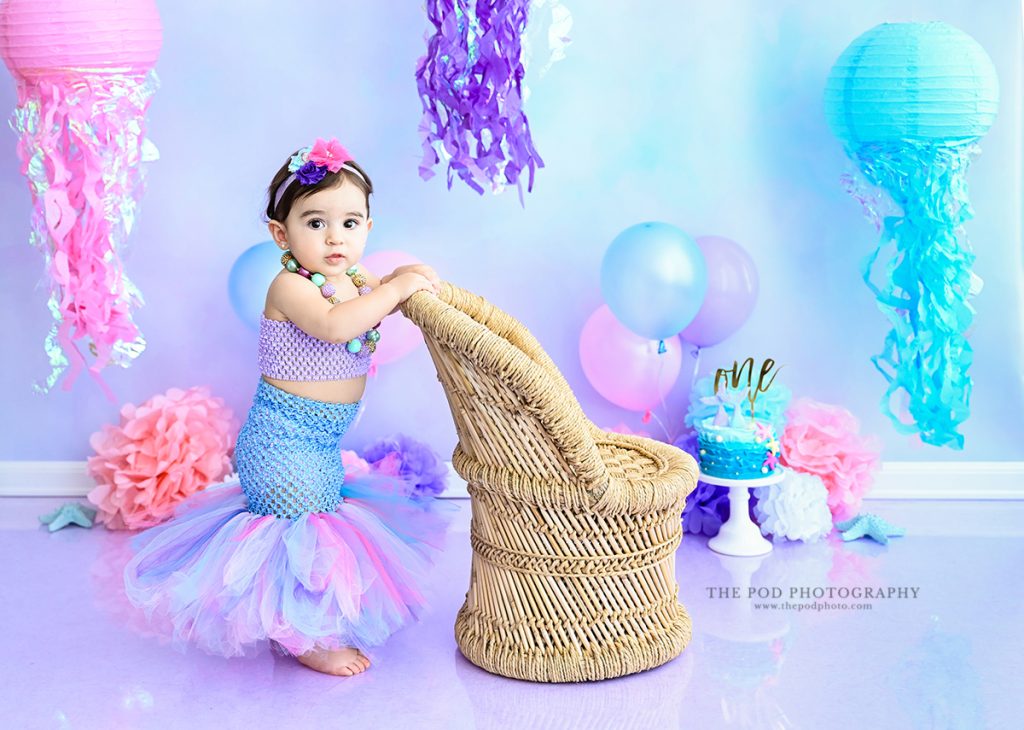 First Birthday Mini Birthday Cake
The mini birthday cake was gorgeous! With a mermaid tale and starfish, it was perfect for our under-the-sea magical mermaid portrait session. And boy, did she seem to love it!
Splash Session
The last part of the portrait session was our Splash Session. We pair this portrait session with our cake smashes in order to clean the birthday baby and remove all the cake!
Splash Set Design
The backdrop for the splash set was a white wall with pink drapes and florals. To give the set a more elegant look, we covered the floor with pink and purple tulle fabric. We filled the mini bathtub with dainty pink roses! And, for a more glamorous look, we added a mini white chandelier!
The birthday girl wore a headband adorned with flowers! Look at those beautiful brown eyes; they are simply stunning!
Lastly, if your baby will soon be turning one, it's time to start planning your First Birthday Cake Smash and Splash portrait session! Let us create a unique custom set design that is perfect for you and your baby based on your favorite things! It can be a favorite sports team or even a favorite Disney character. We are a full-service set design portrait studio! Our professional photographers consider every detail!
Be sure to follow us on our Facebook and Instagram pages, where we share images from our portrait sessions. You can also find us on Pinterest and YouTube for more portrait inspiration. Visit our website at ThePodPhoto.com for scheduling information and portrait inspiration, and meet the photographers here at our luxury studio in Los Angeles, California.
We look forward to meeting you and your baby to celebrate a major milestone in their lives, turning one!