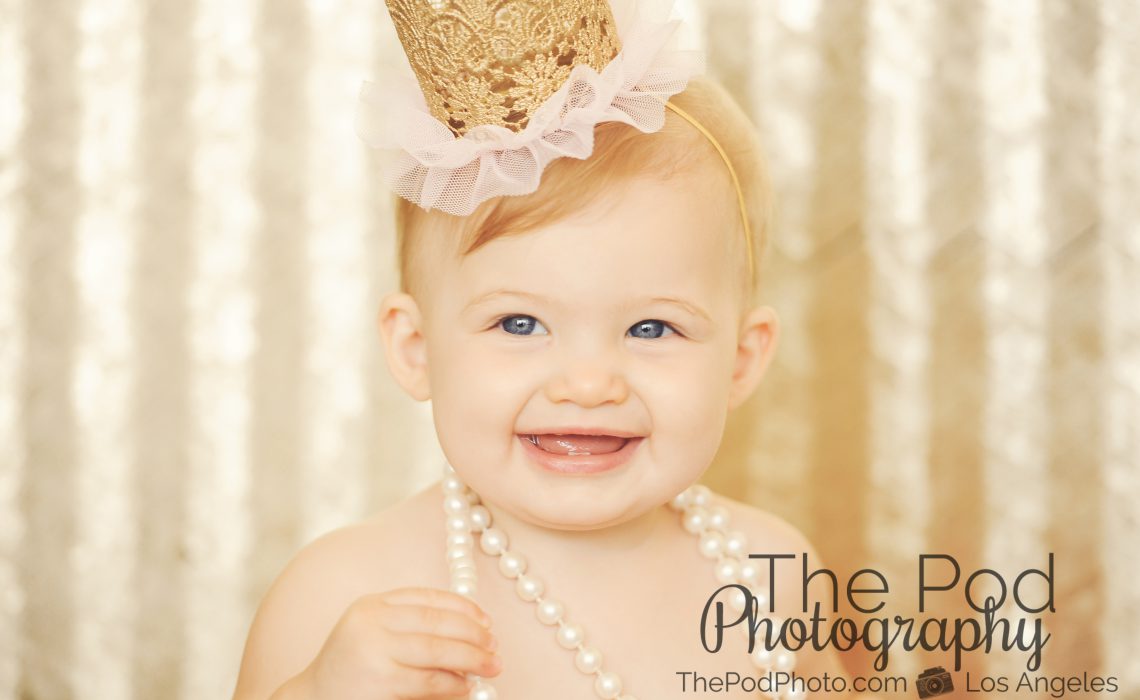 First birthday parties are such a big deal, and we love a mom that goes all out for her baby's big milestone!
I absolutely loved meeting Miss Everly's Momma during our portrait consultation, and when she pulled up her Pinterest inspiration board with all of her big party plans, I knew we were going to have an amazingly styled shoot. Her party theme, which was "Everly in Wonderland," was so darling, and when she showed me her little Alice tutu dress that she purchased from Lover Dover's Clothing, an Etsy shop, I fell in love.
We knew that we wanted to style everything over-the-top girly, and so with Everly's dress, one of our Posh Peanut Kids lace-skirt rompers, and a pink tutu, we couldn't fail! But the tutu was my absolute favorite. Everly rocked the most adorable pink and gold setup using our brand new gold sequins background (purchased in the Fashion District in downtown Los Angeles) and a little princess crown from Love Crush Bowtique.
I really try not to play favorites with babies, but this was hands down one of my favorite cake smash sessions of all time. Most of the time when looking at cake smash photos, there are so many bright color pops (which, don't get me wrong, I do enjoy), but I loved how elegant, classic and feminine this styling was for Everly and her gorgeous complexion. Another favorite thing about this shoot is just how expressive this sweet girl is! She gave us so many, sweet, silly and smiley faces – and that makes for such amazing wall art and album images!
Check out this shoot featured on Life & Lens Blog!
Want more info about First Birthday Cake Smash Sessions or Korean First Birthday Photography?  Click HERE and be sure to check out our Babies Gallery on our website for more photos of great smashers!
We photograph babies from all over Los Angeles, but most of our little ones visit us from neighborhoods around Culver City including Marina Del Rey, Playa Vista, Venice Beach, Santa Monica, Brentwood and Beverly Hills.