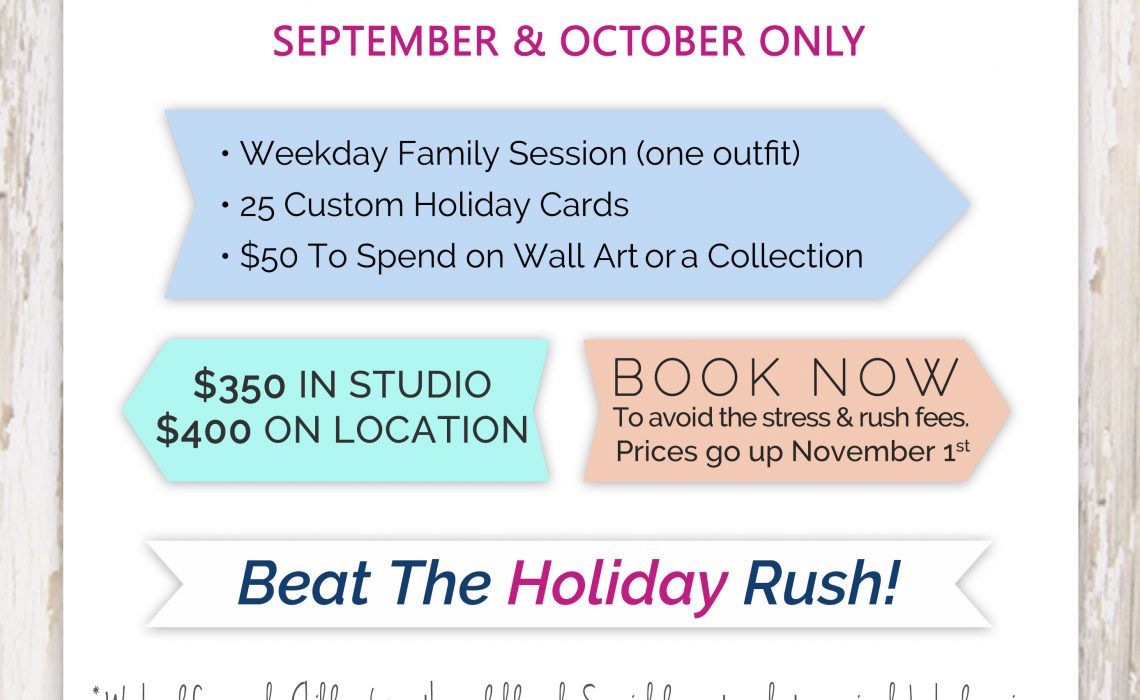 We are so excited to announce our 2015 Holiday Card Family Special going on now through October 31st!
It's holiday photo time! Take advantage of the lovely weather and gorgeous Summer light for your family's photo session. Don't wait until November and get rained out… now is the time for great photos at a special price!
Call us at 310-391-4500 to schedule your family's photo session.
www.ThePodPhoto.com
Please note that a $100 weekend fee applies. Also, since children under the age of 6 months require extra time and longer breaks between setups, we are not able to accommodate children between the newborn age and under six months.  We are still happy to see you with your younger child, but please note that our newborn fees apply.  Please visit our website for more information on our newborn photo sessions. Because of this very special price, there are absolutely no substitutions of other products for either the holiday cards or the $50 wall art or Collection credit. These amounts will be forfeited if you choose not to take advantage of them.
Whether you would like your family's portraits captured in our Los Angeles studio or at the many surrounding outdoor locations where we regularly shoot – our staff are pros at capturing amazing smiles and candid photos of your family. Give us a call at 310-391-4500 to talk more about your family perfect photo shoot!
We are a portrait photography studio located in Culver City Los Angeles and service the surrounding areas: Santa Monica, Mar Vista, Play del Rey, Playa Vista, Manhattan Beach, Pacific Palisades, Redondo Beach, Hollywood, Studio City, Sherman Oaks, Brentwood, Beverly Hills and all of West Los Angeles.