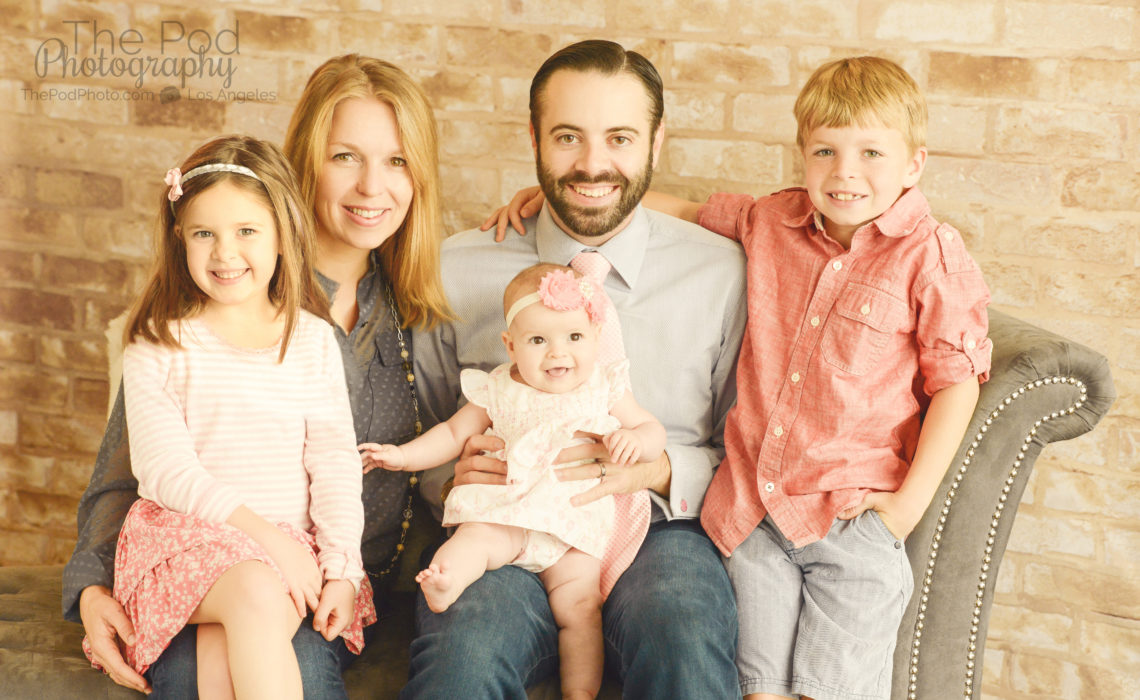 Capturing a family portrait is a really special event! This lovely family recently welcomed their third child – and mom now said "it's time for professional pictures!" The had never gone to a real portrait studio and, aside from one semi-professional photographer who took pictures of them while on vacation – they had never gotten a "real" pro, amazingly captured, family photo. However, this mom knew it was time and when she saw our gift certificate up for auction at her kids' school, she put in the winning bid!
Working with this family was a fun experience because they wanted to work backwards on the photos – with their goal being framed artwork in their home. Before the photo session, this mama and I met for her session design appointment – and that's when we talked about the look and feel she was going for. She wanted casual, candid and cheerful images – and so we went with the brick background for their photos. Next up we decided on a gray and coral color scheme for their outfits. These colors matched the theme of their house and would nicely match the room they wanted to hand the pictures in.
Next up, we planned the frame grouping that they wanted to purchase. We got it down to a few favorite potential groupings using our awesome wall art design software PreeVu . We love this software because our clients can email us a photo of their wall and then we can mock up exactly what different frames will look like, and change out the colors, sizes and other details until we get it just right. It is really helpful for me to know what a client wants in advance so that we are set up for success with the photo session before we event start.  Here's the final version they decided on as well as some of the pre-shoot mock-ups.
The day of the photo session, this family breezed through their fun, easy shoot and we were able to capture the images this mama wanted plus so many other great ones that she purchased an album in addition to the frame grouping. Thanks for a fun shoot guys!
Interested in having our Manhattan Beach Photography studio capture your family's portraits? We'd love to have you come tour our photo studio and custom create your perfect family session as well. Visit our website and give us a call at 310-391-4500.