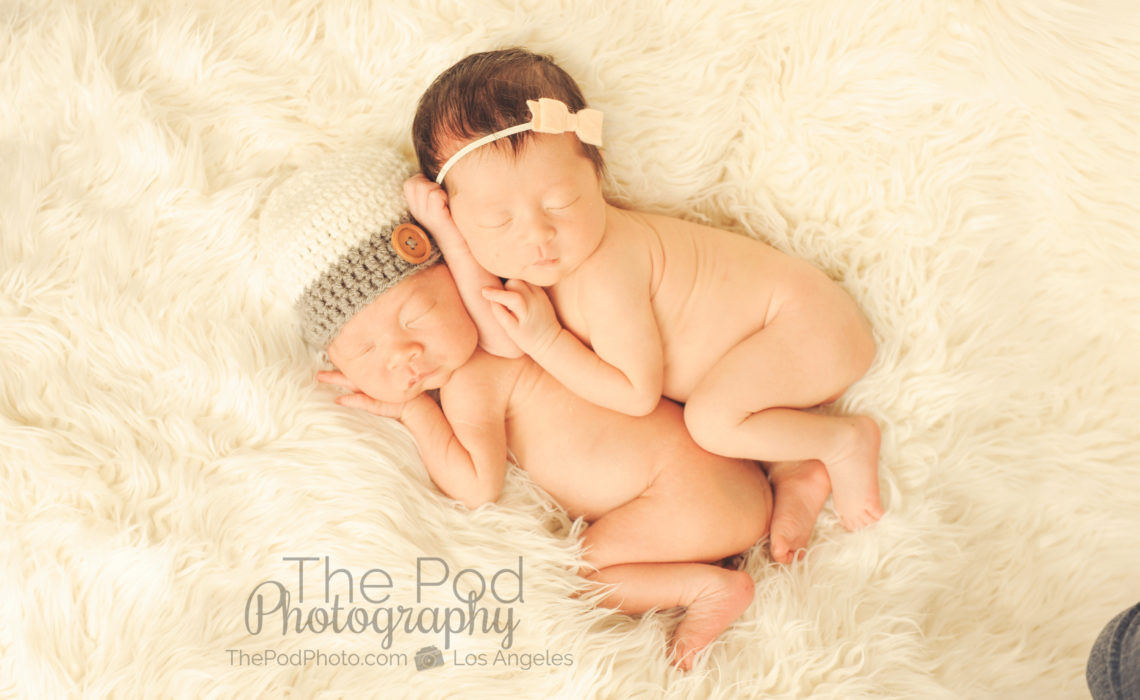 There has been twin fever at the studio recently – we had two sets come for their newborn portraits at our Los Angeles studio just last week! Stay tuned for those blog posts….
This lovely family came in with baby additions two and three to their family – and their older brother couldn't have been more happy to have them. He doted on them throughout the session and was always quick to help with an extra hand. It was a special treat that one twin was a boy and the other a girl since we could create totally unique, gender specific sets that would be just theirs alone. Creating these sets got me thinking about ones individual identity as a twin and reminded me of a conversation I overheard…
So, I was at Indian Springs Hotel in Napa Valley a couple of months ago, and while sitting by the pool I couldn't help overhearing a woman who was very loudly talking to a girlfriend sitting next to her. She was going on and on about leaving her twins with grandma for the weekend – but the part that stuck with me was when she lamented that she doesn't have an individual relationship with either of the twins. She said that since they are the same age and always have the same needs, she does everything with them together. She said that she doesn't know who each of them are individually because she's never had the time to spend one on one time with each child.  So, this lovely lady's parenting skills are questionable – but it does raise an interesting topic.  Since I have a secret fantasy of having twins one day, I thought this would be a nice opportunity to research whether other parents of twins are worried about giving enough one on one attention to each child. I found this interesting article from About Health:
"Parents of multiples often feel concerned that they aren't giving their children enough individual attention. The demands of modern life leave barely enough time for family activities, much less unlimited opportunities to interact one-on-one with each child. Yet, that exclusive attention is vital to multiples as they develop their individual identities.
Here are some suggestions for carving out time together.
On the run.
Have mom and dad divide and conquer, so to speak. When one parent runs errands around town, he or she can take along one multiple. Meanwhile, the parent at home can take advantage of the situation to spend time with the other.
Aside from providing one-on-one time, there is an additional benefit. So often when twins or multiples are out in public together, they attract a lot of public attention. Going out on their own gives them a chance to practice their public manners and conversation skills without the shadow of their status as a multiple.
In my family, this strategy works wonders on days when our twin girls are at each other's throats and arguing over everything. Not only does it give them some breathing space from each other, but they each thoroughly enjoy being in the spotlight — whether at home or about town. The twin that remains at home doesn't feel left out at all. On the contrary, she relishes the release from sharing and turn taking. She'll often request an activity that is usually rationed between siblings, like playing on the computer.
Schedule date nights.
This strategy works wonders for married partners trying to nurture their relationship, and it's equally effective for creating uninterrupted time with kids. Schedule a date with each child. Write it on the calendar. Make it sacred.
Let your lifestyle determine the frequency; even designating one event per multiple every few months is worthwhile. Use the time to do something relaxing or enjoyable. It doesn't have to be expensive or exciting. Consider grabbing a bite at a fast food joint, browsing the public library or taking a walk. The point is to make a commitment to spending time together, and then follow through on that promise.
Find a unique common interest and pursue it together.
As your multiples develop their own personalities and passions, identify an interest that you can share with each one. Whether it is a sport like golf or roller blading, an activity like gardening or scrap booking, or a hobby such as collecting teddy bears or woodworking, you'll both enjoy spending time doing it together. It might be a great chance for both you and your child to learn something new — sign up for karate together!
Take advantage of friends and relatives.
Remember back when your multiples were infants? Many of your friends and relatives said "Just let us know how we can help." Now that your children are a bit older, it's time to take them up on their offer.
For example, allow grandparents the opportunity to take children on separate outings, rather than insisting that multiples be treated as a group. Use the time to give your remaining child some undivided attention. Arrange child swaps with friends and neighbors; let them watch one of yours while you spend time with the other. Then return the favor.
Establish rituals.
In her book The Heart of a Family, Meg Cox defines rituals as "actions we take thoughtfully and purposefully to celebrate and even transform our relationships with the people we love." She explains, "Studies have shown repeatedly that the children who are best equipped to face the rude world and stay centered are those who feel close to their families, and that closeness comes from routine reassurance and shared experiences."
Parents of multiples can establish simple routines within daily life that foster the sharing of one-on-one time with each child. For example, spend a few moments together just before bedtime or just after waking up in the morning, saying a favorite prayer or singing a special song. Or, assign one child to be your partner for a specific chore: collecting rubbish from the trash cans throughout the house or hanging out the laundry. Identify the tradition as unique to them, so that each child knows they have a special opportunity for individual attention.
Arrange child care.
In this article, a mom of toddler twins explains her decision to put them in day care on different days, in order to give them some individual time. It may be a challenge to create such an arrangement, and not all families have the ability to do so, but it's an excellent suggestion for establishing a regularly scheduled session of one-on-one time with each multiple.
No matter how you spend your one-on-one time, it is important and valuable to your children. While it is not always easy to find an opportunity for shared time, every effort will be appreciated and your relationship will be rewarded."
We would love to be the ones to capture your baby twins photos – take a look at the twins gallery on our website and give us a call at 310-391-4500 to keep chatting about the photo session. Our photography studio is centrally located in Los Angeles and services the surrounding neighborhoods of Santa Monica, Culver City, Venice Beach, Mar Vista, Playa Vista, Playa del Rey, Beverly Hills, Brentwood and Hollywood.