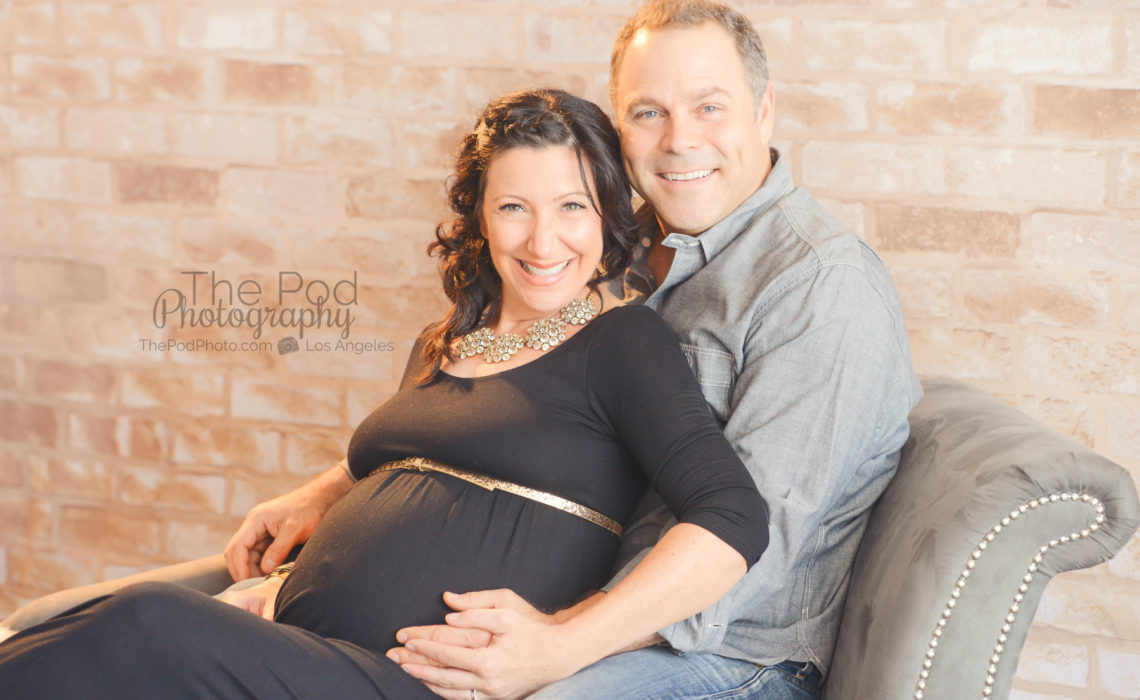 The fun of being a photographer is the ongoing exploration of both ourselves and our subjects. As a maternity photographer, I'm always pushing myself to come up with new poses, ideas, shopping for interesting outfits – and of course new unique ways to light my subjects.
At the studio we are 99% natural light – which is generally the most flattering light on any person, but especially people who come to the studio for their pregnancy portraits. When I shoot with natural light it allows me to photograph these mamas to be with a sharp focus on their eyes, but then a little softness on their belly and thighs to allow for a flattering, slightly soft-focus look. Also, when you properly use natural light, the glowing skin of a pregnant woman is really showcased and we're able to capture the beautiful radiance in her skin.
There are a lot of tricks when it comes to using natural light in your photographs – and I'll share one of my favorites that will help you capture better pictures instantly! Even though I'm talking about maternity pictures here, this rule applies for any type of people photography: newborn, babies, kids, families – whomever! Whenever taking a picture of a person, always have their nose pointed at the light source. What that does is eliminate all shadows from the person's face and create an even light that wraps around the person's face creating a soft, flattering light. Another benefit of turning your subject towards the light source is that their eyes will be nice and bright. People ho come for their maternity pictures at our studio always comment to be how bright the colors of their eyes are – that's just thanks to great light quality! So, to practice this technique – start by taking a picture of a person indoors. Pick a spot that is close to a large window and point your subject's nose right at the window. You'll instantly see the lovely, flattering light on their face and be able to capture great portraits! Once you've mastered seeing the light indoors, look for other places like an open doorway, under a tree, an open garage, int eh shadow of a building or any other place where your subject is shaded and their face can be pointed at the light source.
So, the reason I bring up lighting here is because I played with a little fun lighting during this maternity photo shoot at our Hollywood photography studio. We were all done with the shoot, and then this mama to be brought out an over-size fur vest and said "I didn't know if this would be cool or not, but I brought it just in case." I took this an an opportunity to have some fun and try something new, and so we stripped her down underneath the vest, paired it with a fedora and I pulled out a light to create a glow in her hair.  We captured several images of her looking at the camera, but the one I show here was my favorite since it was very moody and candid 🙂
See more on our website www.ThePodPhoto.com and give us a call at 310-391-4500!