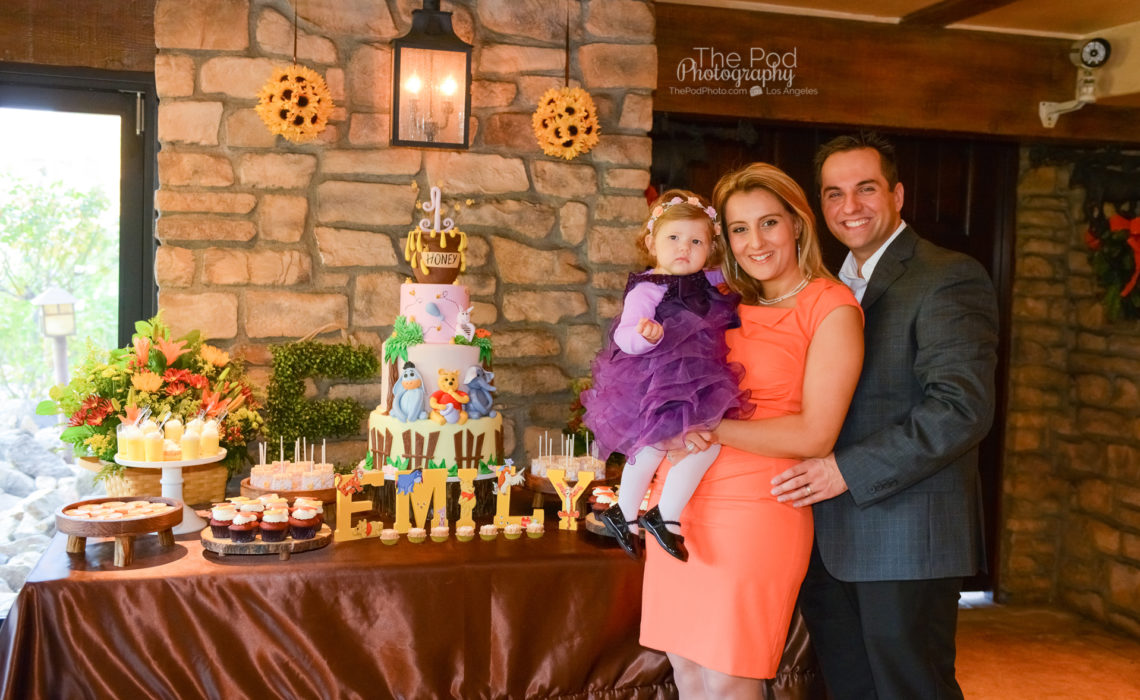 Emily's First Birthday Party at The Westlake Village Inn was absolutely adorable and I had been looking forward to photographing it for MONTHS! Emily's parents first came to our Los Angeles Studio when they were interested in booking our Ultimate Birthday Package that includes both the cake smash session and the party coverage for their little peanut that was about to turn one. I was already excited that we would be seeing them for two photo sessions, but when they first shared the venue photos with me, I became even more excited to photograph at such a beautiful location in Westlake Village. I just LOVE that rustic type of architecture! Fun little fact: Emily's parents (Sara + Jason) got married at this exact location so it was a no-brainer to hold their daughter's first birthday party at the Westlake Village Inn – what thoughtful planning!
Before Emily's big birthday party, she had her studio cake smash session that was also Winnie The Pooh theme to match the party. Our set designer Leah even hand-made several "Hunny Pots" for the custom designed set. The pots were loved so much that they ended up being the centerpieces at each of the tables! Since the cake smash session was planned ahead of time, we were also able to print photos for the party, adding to the party decor. One of her best photos was displayed at the entrance, welcoming guests in. Friends and family all gathered for Baby Emily and I loved that each of her party guests wanted me to snap a photo of them with the birthday girl to treasure later on.
All the "paparazzi" photos must have tuckered Emily out because she took a cute cat nap while everyone enjoyed the delicious food and desserts. After Emily sweetly woke up, Sara and Jason took me to the exact spot that they got married at, so of course I take to take an updated family photo of them to add to their memories and milestones. All the girls and I had such a blast documenting this big milestone for Baby Emily. I know Emily is going to grow up to be an incredible woman with her parents being the best role models for their daughter.
Interested in our Ultimate Birthday Package for your child's first birthday experience? Call our studio at (310) 391-4500 or visit our website at www.ThePodPhoto.com to start planning your studio cake smash session and event photo coverage! We service all of Los Angeles including Brentwood, Beverly Hills, Los Feliz, El Segundo, Manhattan Beach, West Los Angeles, Santa Monica, Studio City, Culver City, Malibu, Encino and more!